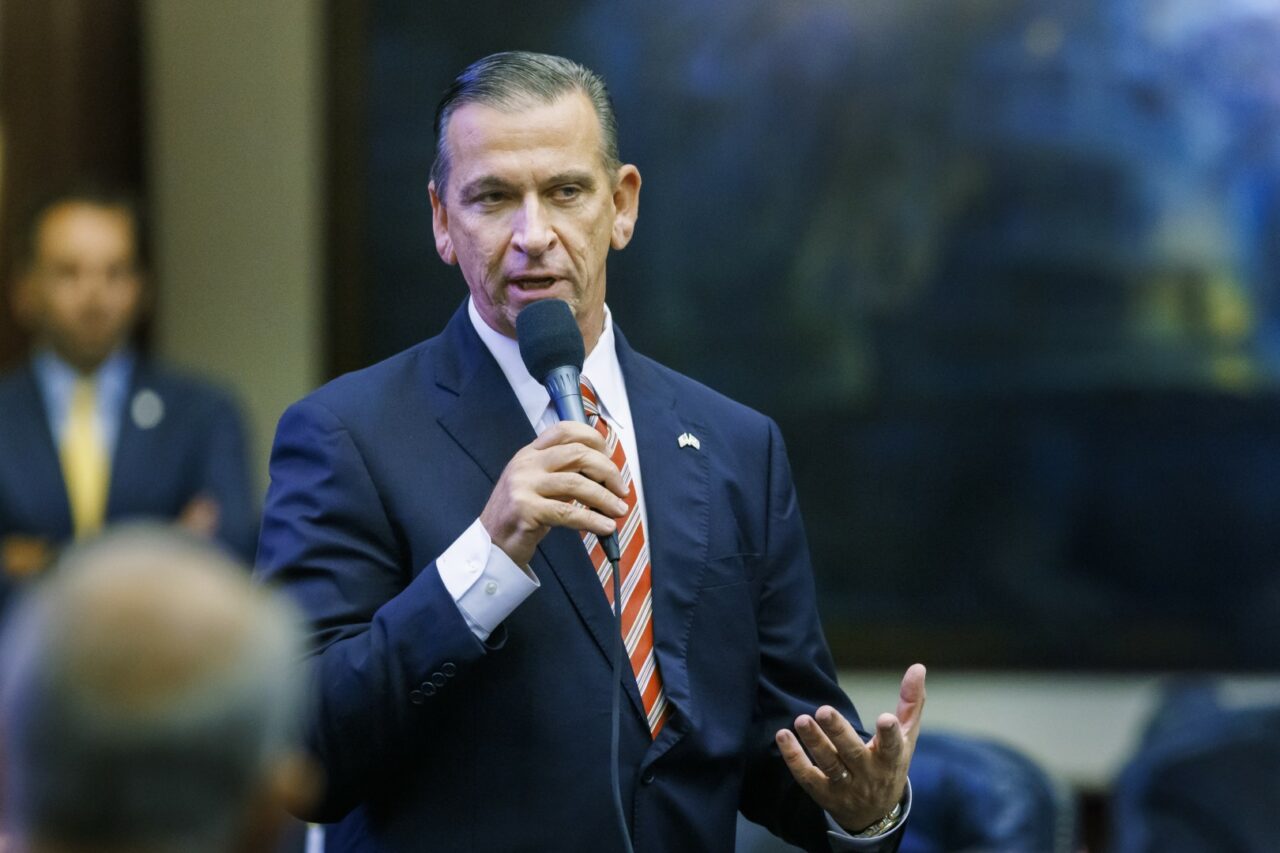 Senate leadership is on board, positioning this bill well there also.
Gov. Ron DeSantis promised a ban on so-called "woke" banking. And now, the House has done its part.
By a 80-31 vote that largely conformed to party lines in the supermajority Republican House, Rep. Bob Rommel's bill (HB 3) passed to applause from GOP members.
"All the bill is trying to do is make sure businesses and banks don't discriminate," the Collier County Republican said in closing, just before the vote.
Rommel's bill aims to "protect Florida retirement accounts and state investments from financial discrimination by eliminating the consideration of environmental and social governance (ESG) investment strategies" and "protect Floridians from being denied loans based on their political or social beliefs."
The legislation is a sequel to last year's ban of ESG investments on the state level, such as in pension funds. The bill targets discrimination for religious, political and social beliefs, and bans social credit scores and housing deposits in what DeSantis called "institutions pursuing this woke ESG agenda." Additionally, the bill will keep ESG out of procurement, contracting, and local and state bonds.
Ahead of Friday's passage, Democrats attempted to undermine the bill with structured debate.
Rep. Michele Rayner-Goolsby reiterated previously made points that the bill is "about things that are not real," such as "corporate activism." The St. Petersburg Democrat also questioned what "woke banking" actually was, noting her "great exception" to the word "woke" because it was "co-opted" in an "offensive" way.
"When I hear woke, I hear the N-word light. That is what I hear," she said.
"All we are doing here today is creating a bigger government (opposing) principles you just don't agree with," asserted Rep. Hillary Cassel of Dania Beach.
Per one committee analysis, the bill may cost the state money, potentially increasing "administrative costs of state agencies that may need to revise policies or practices relating to investments, bond financing, contracts, QPDs, and banking; and train staff accordingly.
"Enforcement costs of state agencies are recoverable through the imposition of administrative fines. Enforcement costs of the Attorney General may be recovered through awards of attorney fees and costs, so long as an enforcement action is successful," the analysis continued.
The legislation has an important ally in CFO Jimmy Patronis.
"It's common sense that if banks are focused on ESG, they're diverting cash away from generating returns and providing quality customer service," Patronis said in a supportive statement earlier this month.
When the bill was introduced, leaders of the House and Senate issued their own hurrahs.
"Florida's investment decisions should be based solely on financial or pecuniary factors, not political virtue signaling through radical ESG investment strategies," said Speaker Paul Renner.
"When financial institutions use ESG to make investment decisions, they drive up the cost of living, undermine our national security and bypass our democratic process. Those with the responsibility of investing state dollars, like state employee pension fund managers, have a primary fiduciary duty to act in the sole financial interest of their client and should not capitulate to the ESG demands of martini millionaires."
"Speaker Renner and Gov. DeSantis have been leaders in creating public awareness of this critical issue and developing concrete steps the Legislature can take this Session to protect the retirement funds of state and local employees by guarding against misguided and discriminatory ESG policies," added Senate President Kathleen Passidomo.
"We all want our state employees and local employees — including many classroom teachers and law enforcement officers who are part of the state retirement system — to have a strong retirement they can count on. Together, we are going to make certain that state funds are managed to prioritize the highest return on investment, as our retirees and taxpayers expect."
Sen. Erin Grall has introduced similar legislation (SB 302) in the Senate, but the House version could be passed on the other side of the building before that measure weaves its way through committees.
"The ESG agenda poses a threat to American families. People should be able to express their religious and political beliefs without fear of retaliation from the financial institutions they rely on for basic banking services. We must safeguard our state investments by focusing on the return on investment for taxpayers, not arbitrary guidelines determined by corporate activists," Grall said last month.
"In Florida, we will continue to push back against the radical agenda of those who seek to socially engineer our economy at the expense of our seniors and working families. I am honored that President Passidomo asked me to sponsor this legislation in the Senate, and grateful to Speaker Renner and Gov. DeSantis for their leadership in crafting solutions to protect our state investments and the retirement accounts of hardworking state and local employees."