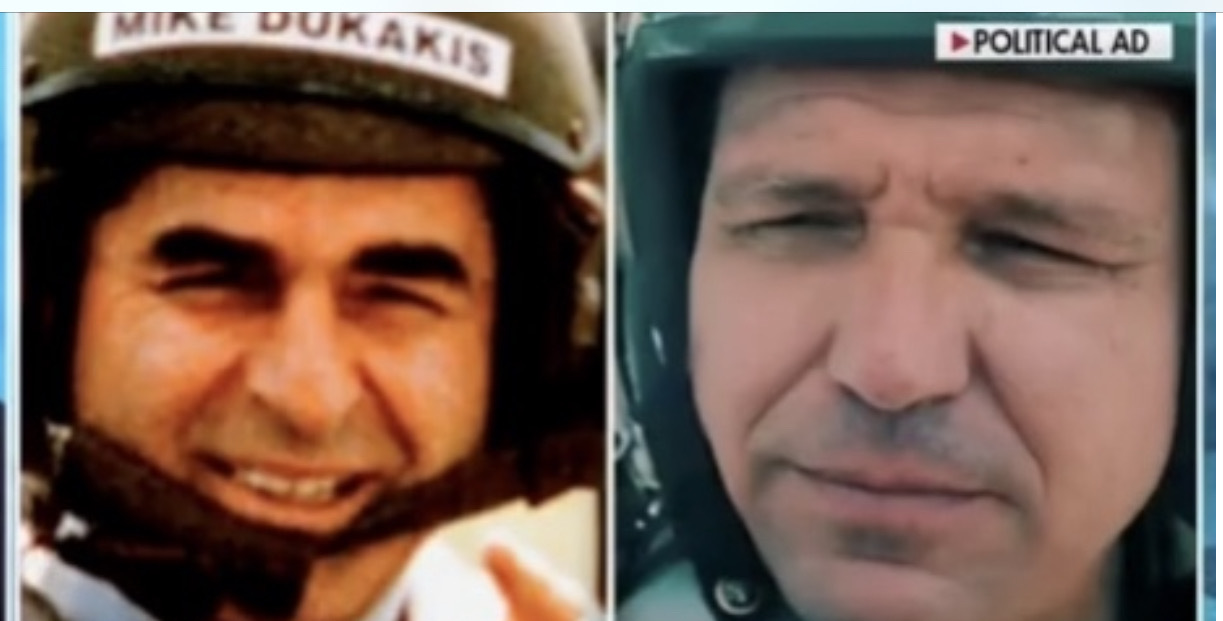 'Just like the hapless Democratic Presidential nominee in 1988,' claimed a clip on Truth Social.
Donald Trump has another nickname for Ron DeSantis, one that may be the least flattering yet.
On Truth Social Monday Morning, the former President posted a video clip with two words: "Ron Dukakis."
The scathing sobriquet is a reference to the 1988 Democratic Presidential nominee Mike Dukakis.
The former Massachusetts Governor's ill-fated choice to demonstrate his ability to be Commander in Chief by riding around in a tank, proved central to his undoing by the George H.W. Bush campaign.
Trump predicated this historical antecedent on footage from the Fox News show The Next Revolution with Steve Hilton, where the host savaged DeSantis' evolving position on Ukraine and the presentation thereof.
"Or as he should perhaps now be known: Ron Dukakis. Just like the hapless Democratic Presidential nominee in 1988," Hilton contended, "DeSantis managed to look weak and incompetent all in one go."
Hilton showed side-by-side pictures of Dukakis and DeSantis in military helmets, with the Florida Governor's shot filched from his "Top Gov" ad which paid tribute to "Top Gun: Maverick," and showed the Governor in flight gear laying down "rules of engagement" for his ongoing battles with the corporate media.
Hilton's skewering of DeSantis' Ukraine position comes after multiple attempts to recalibrate a position the Governor took two weeks ago on the Russian invasion of Ukraine, which he originally deemed a "territorial dispute" and not one of America's "vital national interests" in a statement provided to Tucker Carlson.
"Well, I think it's been mischaracterized. Obviously, Russia invaded (last year) — that was wrong. They invaded Crimea and took that in 2014 — that was wrong." DeSantis told Piers Morgan last week, before seeming to contextualize Russia's claim to Ukrainian territory.
Last Thursday night, he attempted to clarify to Eric Bolling of Newsmax what his position actually is on the conflict.
"So I never changed anything," DeSantis said.
DeSantis' Ukraine positions have left him open to not just attacks from more hawkish Republican politicians, but also to lampoons.
The Center Street PAC rolled out a spot Friday using the "Top Gov" footage that paints "American Ron DeSantis" as a "new Russian hero fighting imperialist American aggression in our glorious liberation of Ukraine." The 15-second spot includes a voiceover with a Russian accent and English and Cyrillic subtitles.
The Lincoln Project offered its own parody of the original spot last year, well before DeSantis' Ukraine U-turns became fodder for the news cycle.