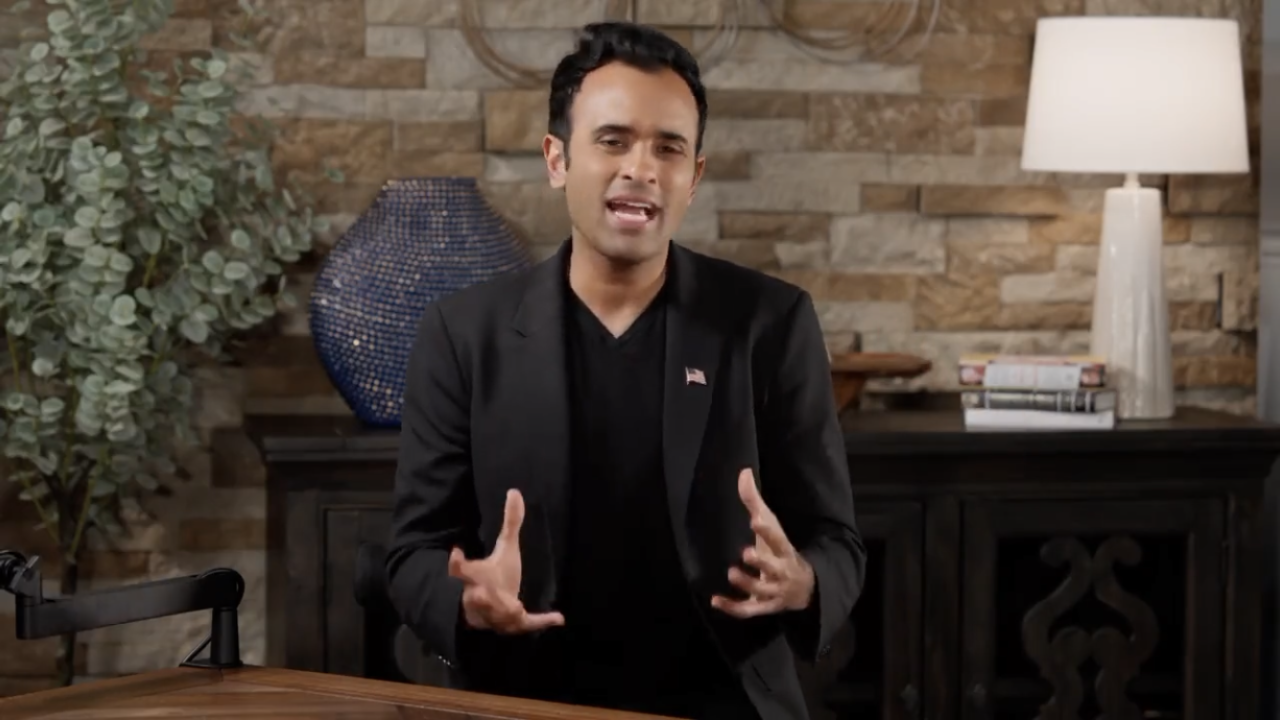 'Why the artifice?'
Yet another Republican Presidential candidate is urging Ron DeSantis to drop the pretense that he isn't running in 2024 and launch his campaign now.
"It's just an example of another plastic politician who's beholden to his donor masters that's running around the country pretending like he's governing in the State of Florida while actually we all know he is running a Presidential campaign," charged Vivek Ramaswamy.
Ramaswamy, a formally declared candidate, ripped the Florida Governor, following in the footsteps of Donald Trump's campaign criticisms of DeSantis for "effectively going on a taxpayer-subsidized book tour across the country and for running a shadow Presidential campaign without actually declaring for President."
While Ramaswamy is agnostic on whether that's legal under Florida law, he argued the Governor's waffling raises questions about "who do we actually want as our next President," and about whether DeSantis has what it takes.
"And I'm now more convinced than ever that it cannot be a career politician, a professional politician that is beholden to the donor class that tries to pull the strings and make the best-laid plans to actually do the right thing politically without just having the courage to do what's actually right as a leader and as a human being," Ramaswamy said.
He then noted the hiring of Heather Barker to the Never Back Down PAC.
"I find it irritating that Ron DeSantis will play this charade and play this game of hiring someone to run his Super PAC, but without declaring for President so that you can then coordinate with the Super PAC, which you can't do after you actually run for President," Ramaswamy charged.
"Why the artifice? What we need more of in this country is courageous leaders who are just actually willing to speak truth if you want to enter the race, great, enter the race," Ramaswamy said. "I would welcome you to it. Let's have that debate in the open."
He said it was "unbecoming of someone who's running for that position to play this game of artifice," adding that "what we really need in the Republican party is some honesty."
Ramaswamy's comments come after the Trump campaign issued similar critiques.
"Gov. Ron DeSantis is a full-time candidate for president, and he's doing it illegally," said Trump campaign spokesman Steven Cheung. "DeSantis shouldn't be forcing Florida taxpayers to foot the bill for this travel. He should have a campaign committee established."
The Trump campaign cites reporting by Gary Fineout of POLITICO Florida in making its claim that the Governor will "campaign in Georgia, Pennsylvania, New York, Tennessee, Michigan, Ohio, New Hampshire, Utah, Texas, and even Israel. All this travel occurs while the Florida Legislature is in session, and before DeSantis has formed a campaign committee to pay for his travel. This means Florida taxpayers are on the hook for the bill."
"Serious questions are also being raised about which donor planes DeSantis is flying on for all of this travel," Cheung added. "And none of this even touches on the fact that DeSantis is leaving Florida at a pivotal time in the middle of the legislative session, leaving his current — and possibly soon to be former — Lt. Gov. running the show."