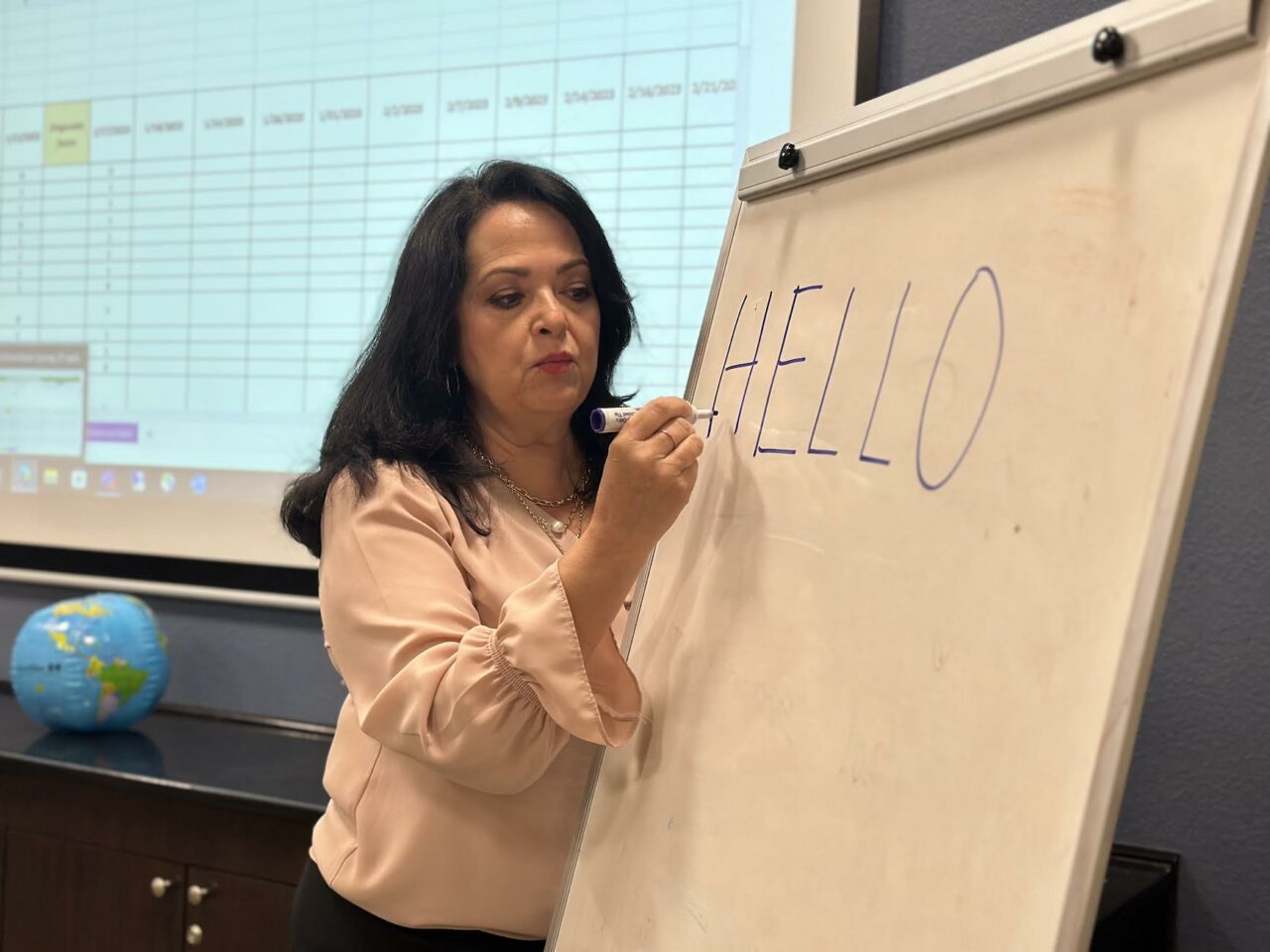 'They're very motivated. They're eager,' said Gloria Palacio, one of the UCF Global instructors. 'They're so proud of their learning.'
In Orlando's tourism district, forces are at play that don't normally coincide.
Rosen Hotel workers are learning English taught by University of Central Florida (UCF) instructors in a pilot program paid for by Orange County government.
That public-private partnership with the three big players in Central Florida is "what really truly makes this a unique program," said Jennifer Haddad, program director of engagement at UCF Global.
EPIC — which stands for English Program for workers in the International Drive Corridor — launched in the fall 2022 and has continued this spring.
Rosen hotel housekeepers and other employees learn English during part of their work day in a makeshift hotel classroom. The classes are free to them.
"Those concerns about child care, transportation, having to pay for it or having to do it or not during work hours, we've removed all of those (barriers)," Haddad said.
So far, roughly about 100 Rosen employees have taken the courses held twice a week for four hours with Orange County government funding about $130,000 from money through the I-Drive Community Redevelopment Area.
Orange County wants to expand the pilot program, and currently program leaders are trying to recruit more employers, beside Rosen Hotels and Resorts, to allow their employees to get the free training. 
"The intention is we want other employers to jump on board," Haddad said.
Post-pandemic recovery, companies from the theme parks, hotels and restaurants are all competing to hire workers, leading to employee shortages. EPIC is an employee investment to help with employee retention on I-Drive.
Haddad added, "It's also the right thing to do."
Harris Rosen is a big advocate for EPIC, allowing his employees to take from their work days to learn.
"I love my associates," said Rosen, president and COO of Rosen Hotels & Resorts, in a statement provided by UCF. "And anything that I can do to help them improve their lives, whether it be learning a second language or a new skill, I will enthusiastically support."
In class, Rosen employees are in their late 20s ranging up to their early 80s. Most speak Spanish or Haitian Creole as their native languages.
"They're very motivated. They're eager. If there's one thing they have in common is their hope and aspiration for improvement," said Gloria Palacio, one of the UCF instructors. "They're so proud of their learning."
Palacio reaches them with helpful phrases to communicate with hotel guests and use in their jobs but also how to navigate daily life, like going to the grocery store. One phrase they gravitated toward is important lingo for Floridians: BOGO.