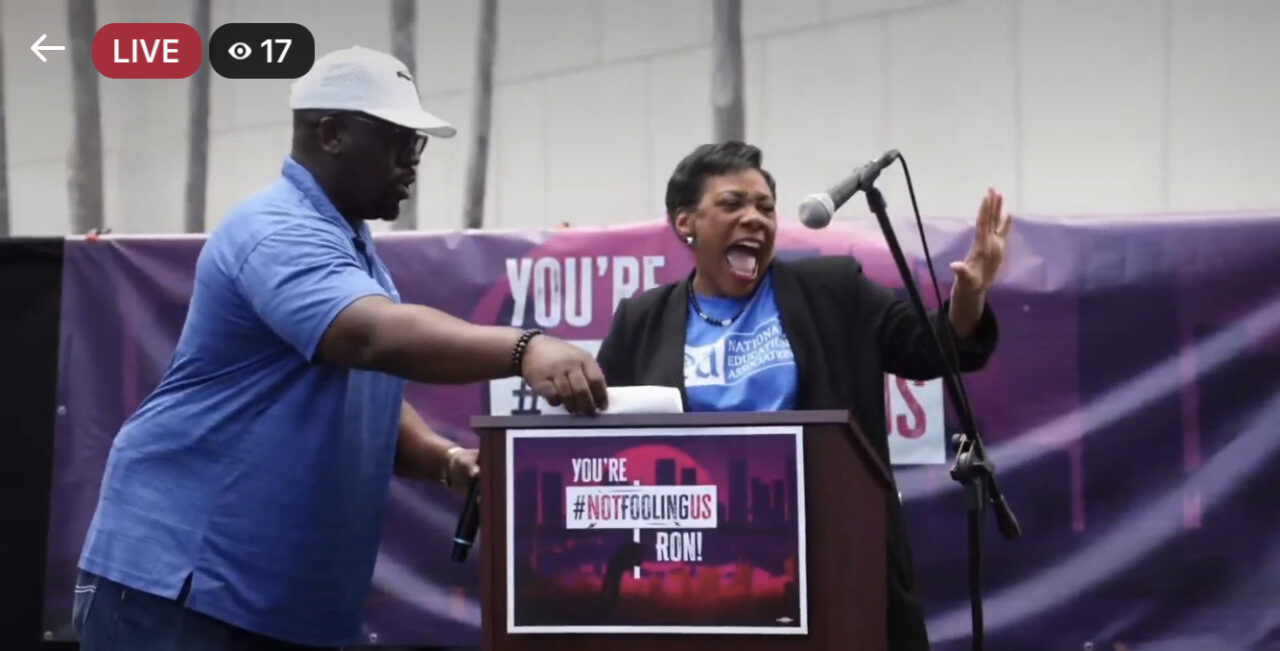 National and state union chiefs sounded the alarm in Miami.
The heat in Miami Saturday was only matched by the critiques from some of the nation's top teachers' union organizers.
A morning rally saw heavy hitters like American Federation of Teachers President Randi Weingarten, National Education Association President Becki Pringle, and Florida Education Association President Andrew Spar decry what they see as "ongoing attacks on education, Black and minority students, and Florida's families" from Gov. Ron DeSantis. Teachers and activists from throughout South Florida made the trip in support.
Weingarten, who often takes heat from the right for her uncompromising stances, was in her element in Miami.
"We have the community," Weingarten noted, citing the diverse coalition in attendance.
"Yes, I know it's April Fools Day, but what Gov. DeSantis has tried to do — and today he's in New York State and Pennsylvania trying to sell his wares — is he's trying to fool people about what his record is," Weingarten said, accusing the Governor of "banning books, criminalizing teachers, censoring the teaching of history, and allowing people to carry guns without permits."
Affordability, homeowners' insurance, and other pocketbook issues were topics thereafter.
"Why does the Governor do nothing about the housing and insurance crisis in Florida? Could it be because he's received $10 million from the insurance industry since entering office?"
Weingarten noted Florida is 47th in the U.S. in health care affordability and access.
"That means only four states do worse," she said.
She contended the state is also bottom five in teacher pay and education funding, even before new legislation that creates universal school choice, which will move more money from traditional public schools.
"DeSantis is literally starving Floridians," Weingarten argued, accusing the Governor of "gagging journalists and trying to decimate unions."
Pringle said she had "the power of three million" behind her during her remarks, noting that "folks all over the world have their eyes on Florida right now."
"We are here today to stand against tyranny, oppression, hatred, and bigotry," the union head contended.
"Instead of working to ensure more Floridians have affordable healthcare, Ron DeSantis is focused on ripping books that promote diversity out of the hands of our students," she says.
DeSantis, she said, wanted to "destroy our public schools for political gain." She noted the irony of DeSantis pushing for permitless carry during a week when yet another school shooting made news nationally, and thrashed the Governor for not doing "something about skyrocketing housing costs" in favor of "Don't Say Gay bills."
"Ron DeSantis is trying to weaken (teachers) unions," she said. "We are not fooled!"
Spar quoted Martin Niemoller's "First they came" poem as a lead in, before he blasted Florida for threatening teachers, school board members, superintendents, and professors for "speaking out."
"Every day there's a new edict from above, edicts that are meant to divide us," Spar said.
"You can't call us the Free State of Florida when you're taking away our freedoms," Spar continued, making the case that the rally was to "protect our freedoms" ranging from affordable housing to the right to read books of their choosing.
The critiques of DeSantis were a leit motif of the rally with other speakers as well. FEA Secretary Fedrick Ingram noted that the Governor was out of state, speaking in Pennsylvania, and not "doing his job" as a result.