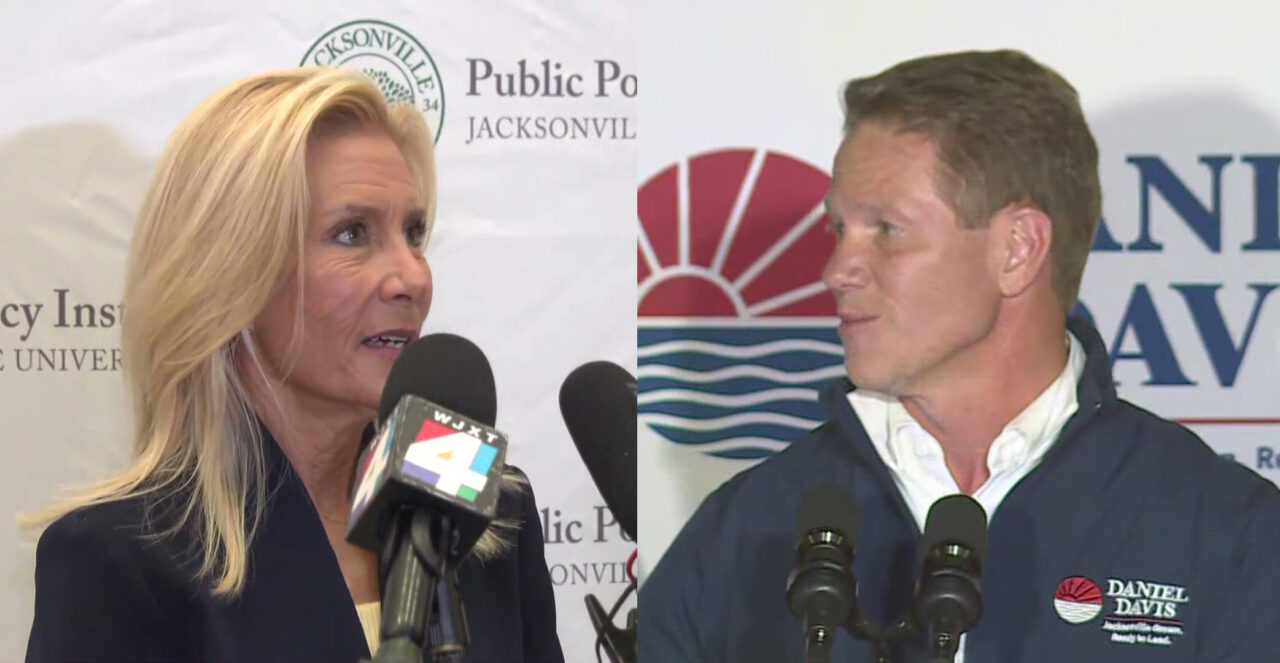 The survey shows Republicans are crossing over to back the Democratic change agent.
Donna Deegan is still well-positioned to be the first Democrat elected as Jacksonville Mayor in twelve years, according to a new poll commissioned by her campaign
The survey from Frederick Polls shows 54% of those likely voters in the May 16 General Election support the former newscaster and CEO of the DONNA Foundation, with 46% backing Republican Daniel Davis, the current CEO of the Jacksonville Chamber of Commerce.
The memo calls the 8-point advantage a "decisive" lead, contending that "with every public poll during the Primary campaign and her +14 lead over Davis in the March 21st election, Donna Deegan continues to be the clear front-runner to be Jacksonville's next Mayor."
The 8-point lead, which was in the field last Monday and Tuesday, is outside the margin of error of +/- 2.9 percentage points.
The sample actually accounts for even more of a Republican turnout advantage than was seen in the March election, where Democrats had a 4-point advantage.
"This +8 margin is striking because it comes from a poll sample skewed to a +6 Republican party registration advantage — 48% Republican, 42% Democrat. Actual registration for all Duval County/Jacksonville's voters is +4 Democrat," Frederick Polls asserts.
Some Republicans who supported defeated First Election candidates LeAnna Gutierrez Cumber and Al Ferraro are supporting Deegan in this survey.
"Donna gains just over 20% 'crossover' support from Primary voters of each of three non-run-off Republicans — Ferraro, Cumber, and Frank Keasler — who captured 26% of the March 21st vote. Republican Davis ran millions of dollars in attack ads against both Cumber and Ferraro," Frederick Polls contends.
While defeated Democrat Audrey Gibson did not endorse Deegan in the General Election, that doesn't seem to matter, as 92% of her voters are backing Deegan in this survey.
Davis faces a likability problem, according to this poll: "Donna is rated 54% favorable — 16 points higher than Daniel Davis at 38%. Davis is rated net negative among Primary voters of Republicans Cumber and Ferraro."
The survey also suggests Davis is yoked to a status quo, from which 68% of poll respondents want change.
"Chamber of Commerce head, Daniel Davis, with his establishment support by current Mayor Lenny Curry, is swimming against this powerful CHANGE tide. Davis' voters are the only ones of all six candidates (representing 75% of the March 21st vote) who support continuing Jacksonville's direction."
The General Election is May 16, but votes by mail are already trickling in, meaning that Davis is running out of time to change perceptions, if the survey is accurate.