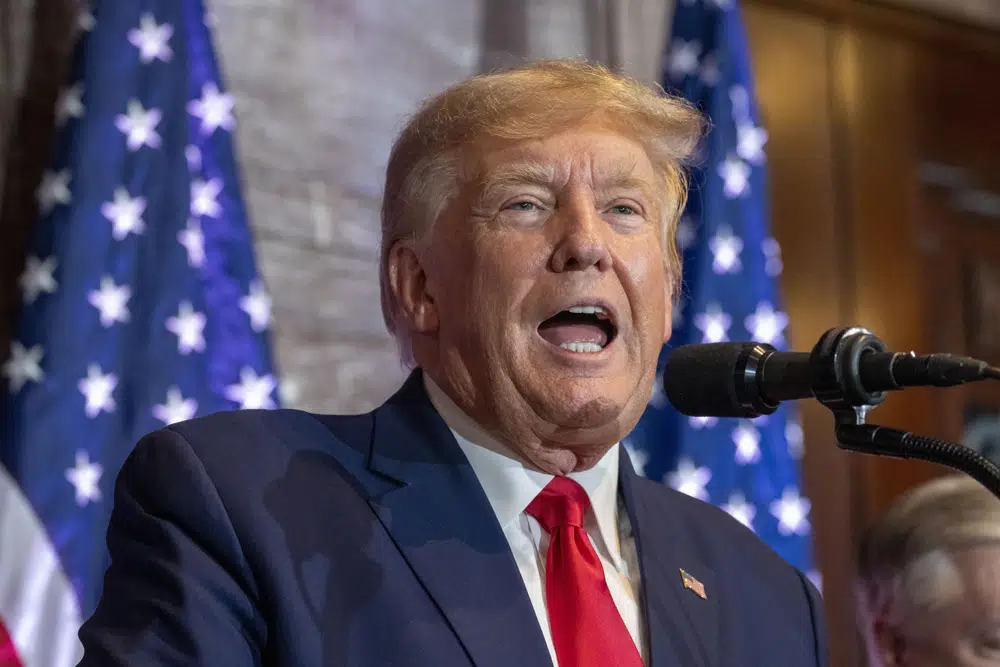 As the mentions of the former President's name have increased on the news network, Ron DeSantis' has receded.
For several months, Fox News treated Donald Trump like yesterday's news. But now the former president has come roaring back at the popular network for conservative viewers, most notably since his indictment in New York on hush-money charges.
The Trump revival was on display Tuesday night, when Tucker Carlson devoted his entire prime-time program to a "historic interview" with him, promising more excerpts on Wednesday. It was two weeks after Sean Hannity similarly gave Trump extensive airtime.
Left unmentioned were Carlson's two-year-old private text messages, revealed in a defamation case against the network, in which he disparaged Trump and talked eagerly of putting the former president behind him. In one of the exchanges, from Jan. 4, 2021, Carlson wrote that "we are very, very close to being able to ignore Trump most nights" and "I truly can't wait."
Trump's return reverses what some had been calling a "soft ban" by Fox News, which had no on-air interviews with him between Sept. 22, 2022, and Hannity on March 27.
"He's getting attention, he's getting ratings, and cable news needs it because they've been down," Hall said.
Records released as part of Dominion Voting Systems $1.6 billion defamation case against the network and its parent company, Fox Corp., show that Fox repeatedly aired false allegations about the 2020 presidential elections as part of a bid to win back viewers angered that the network had called Arizona for Joe Biden on election night. The lawsuit also revealed how Fox executives and many of its star hosts, including Carlson, didn't believe those claims but aired them anyway.
The judge presiding over that case said Wednesday he probably will order an independent review to determine whether the network has improperly withheld evidence
A week ago, Fox News Channel carried in full Trump's speech from Mar-a-Lago on the day he was indicted by a Manhattan grand jury on charges that he falsified business records to conceal payments made ahead of the 2016 election to silence a porn star who says she and Trump had an extramarital sexual encounter years earlier; Trump denies the two had sex.
The speech reached 6.7 million viewers, or about double the typical audience Carlson generally receives at the same time, the Nielsen company said.
Fox says Trump's return is because of the news, not ratings. The Hannity interview was billed as Trump's first after his indictment, Carlson's the first after his arraignment, when the former president pleaded not guilty to the charges. Fox personalities and commentators leapt to his defense when news of the grand jury indictment came out.
Trump's higher profile also coincides with his growing strength in polls of Republican voters, according to the network.
While Fox News continues as the top-rated cable network, its prime-time viewership was down 18 percent in the first three months of the year, compared to 2022. CNN was down 34 percent in the same measurement and MSNBC was down 8 percent, Nielsen said.
Trump's return "was always inevitable," said Sykes, also an MSNBC contributor. "They can't quit him. Fox knows what its audience wants and what its audience will accept."
If Fox wasn't quitting Trump, it surely had been pulling back.
Florida Gov. Ron DeSantis, viewed as Trump's chief GOP rival, has made 12 appearances on Fox News this year — but none since March 13, according to the liberal advocacy group Media Matters for America, which monitors Fox.
March 5-11 was the first week this year where the name "DeSantis" received more mentions (177) than "Trump" (142) on Fox, Media Matters said. Others recognized Trump's potency for their viewers as well: The same week, Trump was mentioned 925 times on MSNBC, compared to 268 for DeSantis.
"We want to make Trump a non-person," Murdoch wrote, according to documents revealed as part of an elections technology company's defamation lawsuit against Fox.
The trend away from Trump accelerated following the midterm elections when candidates he supported did more poorly than he expected. When he announced in November he was running again for president, Fox didn't carry his speech in full.
Other Murdoch-controlled media properties were even harsher: The New York Post headlined its story: "Florida man makes announcement." Following the midterms, a Wall Street Journal editorial was headlined, "Trump is the Republican Party's biggest loser."
Yet, as spring neared, Fox warmed again to the former president. The network carried Trump's entire 90-minute speech to the Conservative Political Action Committee live on the network March 4.
Tuesday night, understandably, Carlson didn't talk about his critical texts and emails directed at Trump following the 2020 election, as seen in court papers related to the Dominion Voting Systems lawsuit. Back in January 2021, when Carlson said his show was close to being able to ignore Trump most nights. he wrote, "I hate him passionately."
Carlson said in an interview with WABC radio last month that a wounded Trump had called him, seeking an explanation after the text messages became public. Carlson said he'd been angry about election information passed on by Trump's team that proved false.
He told the radio station that he found Trump "funny and insightful" and that he spent four years on the air defending his policies.
___