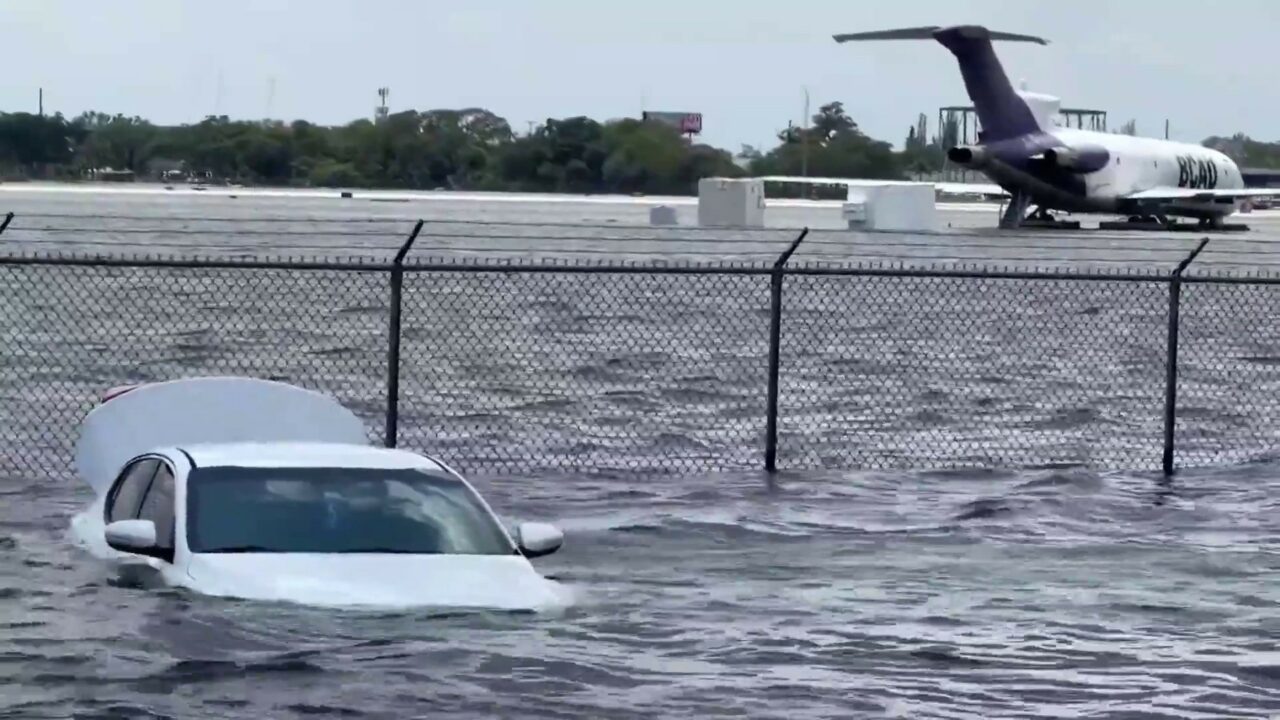 A 'rain bomb' is thought to have shattered a 43-year-old record, leaving some picking up the pieces.
Gov. Ron DeSantis hasn't yet toured the damage a midweek deluge wreaked on Fort Lauderdale and other parts of Broward County, but the administration is opening a state-sponsored center to help those affected in the emergency.
A one-stop resource site is ready to help with business damage assessment, business continuity and job search assistance, starting at 1 p.m. Monday at the Broward Boulevard Park & Ride, located at the northwest corner of Interstate 95, according to a news release.
They better have a tent or some sort of shelter to set up, though. Wet, stormy weather was continuing Monday afternoon — bad enough to halt flights from Fort Lauderdale-Hollywood International Airport.
The Florida Department of Economic Opportunity (DEO) is directing the effort in partnership with the state Division of Emergency Management (DEM), CareerSource Florida and the Florida Small Business Development Center Network, the news release said.
The site will be open until 6 p.m. today and from 9 a.m. to 6 p.m. daily this week, although the news release from the DEM doesn't specify how many days it will be open after Monday. An inquiry was not immediately successful.
The center's opening follows DeSantis' emergency declaration for the county Thursday after about 2 feet of rain fell on the area — a "rain bomb" — thought to have shattered a 43-year-old record for rainfall in Florida over a 24-hour period. More than 600 people were brought to emergency shelters and the Broward Sheriff's Office fielded hundreds of calls for help.
The Governor was in Ohio at the time he declared an emergency, and his no-show in the county prompted a flood of criticism from some quarters.
DeSantis called county officials but not Fort Lauderdale Mayor Dean Trantalis and Sun-Sentinel columnist Steve Bousquet noted his absence and his travel schedule that had him in Ohio, back to Florida briefly for a bill-signing Thursday night, and then on to Virginia to address students at Liberty University.
Monday's news release quotes three administration officials, including Greg Britton, Florida Small Business Development Center Network state director, and acting DEO Secretary Adrienne Johnston.
"Getting local businesses back up and running is one of the most crucial components in the aftermath of a disaster," said Kevin Guthrie, DME Executive Director. "This one-stop shop will help (businesses) get back on their feet and help the local economy continue to recover from the devastating flooding."
County officials said they are glad help is here, the release said.
"Our community has seen devastating impacts due to the recent flash flooding event, and we are working alongside our state and local partners to do everything that we can to get our county residents the resources they need," said Monica Cepero, County Administrator of Broward County.
"We are encouraging our local businesses to seek out available assistance to help them get back on their feet and reopen their doors and as quickly as possible."