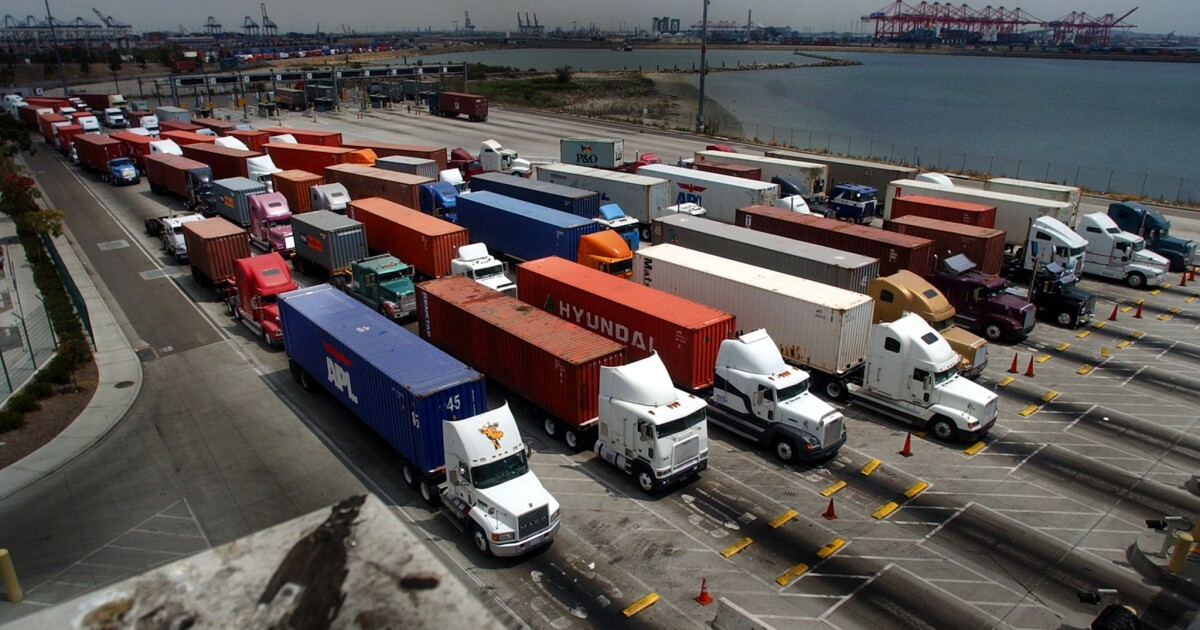 This legislation only takes us backward.
Florida legislative leaders have been asked to pass a bill limiting the rights of all Floridians and making our roadways more dangerous by eliminating critical lifesaving safety equipment duties from trucking companies.
After the passage of a historic rights-grabbing bill (HB 837) approved by the Florida Legislature and signed into law by Gov. Ron DeSantis in the first three weeks of the 2023 Session, lawmakers are now moving forward with legislation that would eliminate the duty of trucking companies to ensure commercial motor vehicles on Florida roads are safe.
A global corporation making billions of dollars (with a capital "B") annually by leasing commercial vehicles on our highways wants the Legislature to give them immunity for putting dangerous trucks on the roads. The most important and fundamental function of government is public safety.
The Legislature should say no to this bad bill.
This dangerous trucking legislation, HB 7055, is being pushed by Penske, which markets itself as, "a diversified international transportation services company and one of the world's premier automotive and commercial truck retailers."
Penske has come to Florida and shopped this bill in hopes of getting a free pass from the government to strip safety equipment off trucks, just to save a few bucks.
What does greed say when you ask, "How much is enough?" Greed says, "Just a little bit more."
This legislation would grant immunity to trucking companies like Penske for failing to equip their trucks with modern safety equipment that protects us all and gives Penske IMMUNITY for killing or maiming innocent Floridians if Penske has just the bare MINIMUM in safety equipment set by federal bureaucrats in Washington D.C.
HB 7055 would turn what is now the basement for safety into the ceiling of safety. What's worse, the bill allows for the truth to be hidden from juries of what responsible trucking companies do, embracing industry standards much higher than the federal standards, and making our highways more dangerous in the process.
To be clear, the Federal regulations state, "The rules in this part establish minimum standards for commercial motor vehicles." (49 CFR § 393.1.)
HB 7055 would exempt Penske and its ilk from liability for failing to have simple safety equipment, which is the standard of care in the industry if Penske just does the bare minimum under Federal regulations. This violates and contradicts the very law that created the federal minimum standards, which states, " … compliance with any Federal motor vehicle safety standard does not exempt a person from any liability under common law. … It is intended, and this subsection specifically establishes, that compliance with safety standards is not to be a defense or otherwise to affect the rights of parties under common law particularly those relating to warranty, contract, and tort liability."
While federal law sets minimum standards, in Florida, a carrier still has a duty to maintain their vehicles and ensure they are safe on state roadways. This bill discourages carriers from installing modern, industry-standard safety measures and it would allow truck carriers to go without basic lifesaving equipment on their vehicles like retro-reflective tape, blind spot mirrors, lane departure warning devices and backup cameras.
Some of these features are standard in our personal vehicles. It's inconceivable that lawmakers would consider removing the responsibility to maintain these lifesaving, industry-standard measures from some of the most dangerous vehicles on our roads.
Since 2014, fatal truck crashes in Florida have increased by over 80%, claiming on average, 350 lives annually and accounting for 10,000 injuries in the last year, according to the U.S. Department of Transportation. Florida ranks second in the nation for deaths caused by commercial motor vehicles. HB 7055 would quickly make Florida No. 1 in the nation in the number of deaths caused by commercial vehicles. This is not a distinction we want for our state.
Florida lawmakers should be taking action to decrease truck crash deaths, rather than lowering measures that keep us safe.
We are living amid a truck crash fatality crisis in Florida — all one must do is Google "trucking accident Florida" to see the alarming rate at which fatal trucking accidents are occurring in our state. After weakening the ability of accident victims and their families to hold dangerous trucking companies and drivers responsible when they cause crashes with HB 837, instead of adopting stronger safety measures, the trucking industry is shamelessly asking Florida lawmakers to pass laws that further protect the trucking industry and makes Florida more dangerous for every citizen.
Florida lawmakers should stop the race to the bottom — competing to be the most dangerous state in the country — and oppose HB 7055. Floridians should not have to share the roads with dangerous vehicles that are only equipped with the bare minimum safety standards. We are living in a time that technology moves us forward, and this legislation only takes us backward.
___
Attorney Curry Pajcic currently serves as president of the Florida Justice Association. He is also a shareholder with The Law Firm of Pajcic & Pajcic in Jacksonville.