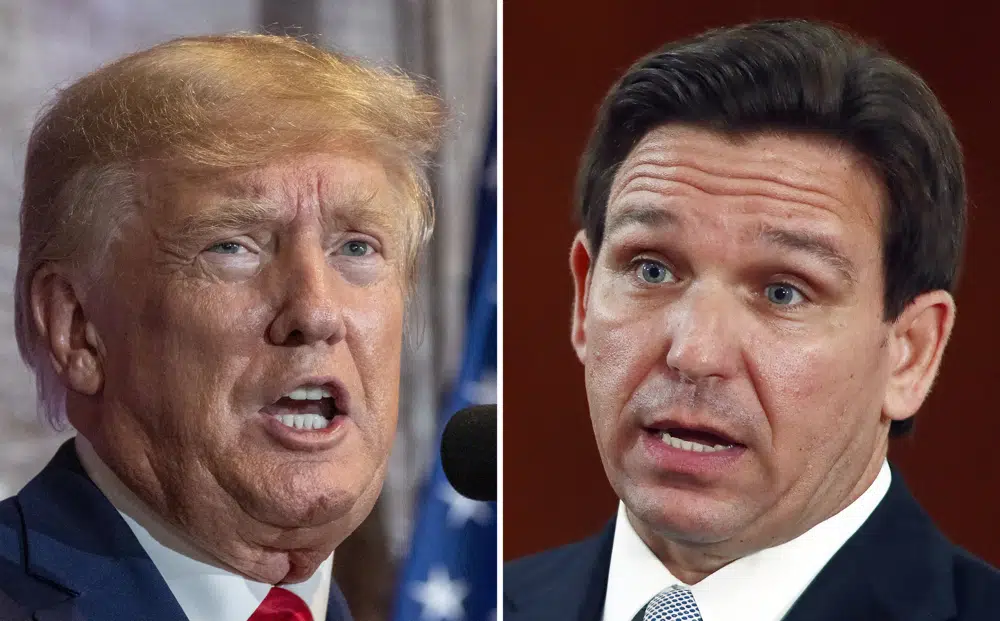 'This is all so unnecessary, a political STUNT!'
Ron DeSantis' chief political nemesis is slashing the Governor, accusing DeSantis of mishandling his ongoing feud with The Walt Disney Co.
In a post to Truth Social, former President Donald Trump thumped the Florida Governor for fumbling his ongoing response to the entertainment giant daring to oppose last year's Parental Rights in Education law.
"DeSanctus is being absolutely destroyed by Disney. His original P.R. plan fizzled, so now he's going back with a new one in order to save face," Trump opined.
The former President is responding to the Governor's moves on Monday during an increasingly rare in-state press conference, in which DeSantis teased new legislation to wrestle control back from Disney and add more oversight on Disney World's monorails and theme park rides.
DeSantis accused Disney of orchestrating a special deal and circumventing the state when the company and its old governing board — with members selected by Disney — approved long-term land agreement deals in the weeks before the state seized control of the board. Disney leaders previously said the old board did nothing wrong and that the deals were approved out in the open during a public meeting.
Trump also suggested that DeSantis could drive Disney toward capital disinvestment or even out of the state altogether.
"Disney's next move will be the announcement that no more money will be invested in Florida because of the Governor — In fact, they could even announce a slow withdrawal or sale of certain properties, or the whole thing. Watch! That would be a killer," Trump contended. "In the meantime, this is all so unnecessary, a political STUNT! Ron should work on the squatter MESS!"
DeSantis' issues with Disney began last year when the company spoke out against the Parental Rights in Education measure, which critics dub the "Don't Say Gay" law. He even suggested Monday that the state could plan coercive uses for property abutting the theme park, including a prison.
"People are like, well, 'What should we do with this land? Maybe create a state park? Maybe try to do more amusement parks,'" DeSantis said, before adding the prison quip. "Somebody even said, 'Maybe you need another state prison?' Who knows? I just think that the possibilities are endless, and so that is now going to be analyzed to see what would make the most sense."
___
A.G. Gancarski and Gabrielle Russon of Florida Politics contributed to this report.