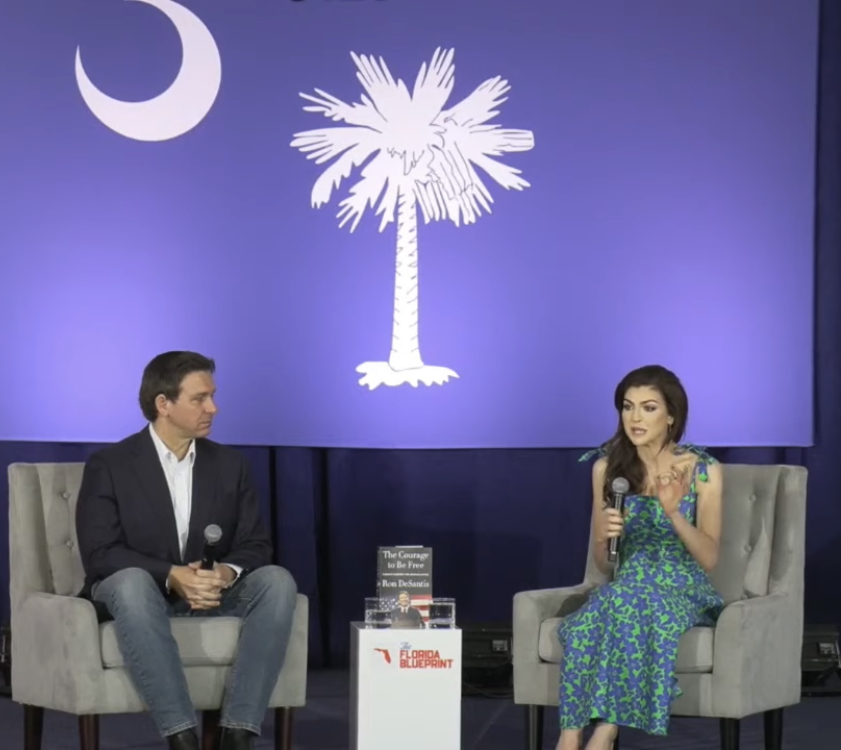 'We'll see how they behave.'
In South Carolina, Gov. Ron DeSantis and First Lady Casey DeSantis told a crowd their children Madison and Mason will be on their next overseas trip.
The Governor is slated to go to Japan and Israel next week, and the First Couple divulged in North Charleston the trip is going to be a family affair.
"But I mean, we are actually doing a state trade mission overseas. And so the 6-year-old and the 5-year-old, not the 3-year-old, are going to be accompanying the First Lady and I, and we're going to end up in places like Israel, which is going to be very, very interesting to do that long trek," Gov. DeSantis said.
"We'll see how they behave."
First Lady DeSantis said their children have been fine on other recent trips.
"We brought them to Ohio the other week, which was a lot of fun because that's where I grew up in Troy, Ohio," she said. "But it's another thing when you're looking at the clock and literally we're flying out there, there is no Sunday. We lose all of Sunday.
"So as moms and dads, you're thinking, like, schedule, right? What do you do when you're trying to keep a schedule? But you lose an entire day on the calendar and I think they're like 16 hours, or 15 or 14 hours, (ahead). But so we don't know, it could be really good. It could be really bad."
The DeSantis children will see some statecraft up close and personal, at least potentially.
In Japan, DeSantis will meet Japanese Foreign Minister Yoshimasa Hayashi. He will also seek a meeting with Prime Minister Fumio Kishida.
DeSantis also will travel to Israel to attend the Jerusalem Post and Museum of Tolerance Jerusalem 'Celebrate the Faces of Israel' event on April 27. The Governor will speak to a crowd of 400, including 120 "philanthropists," in a visit that is timely given his expected run for President in 2024. He will, per the Jerusalem Post, "speak about the importance of the U.S.-Israel relationship, especially in difficult times."