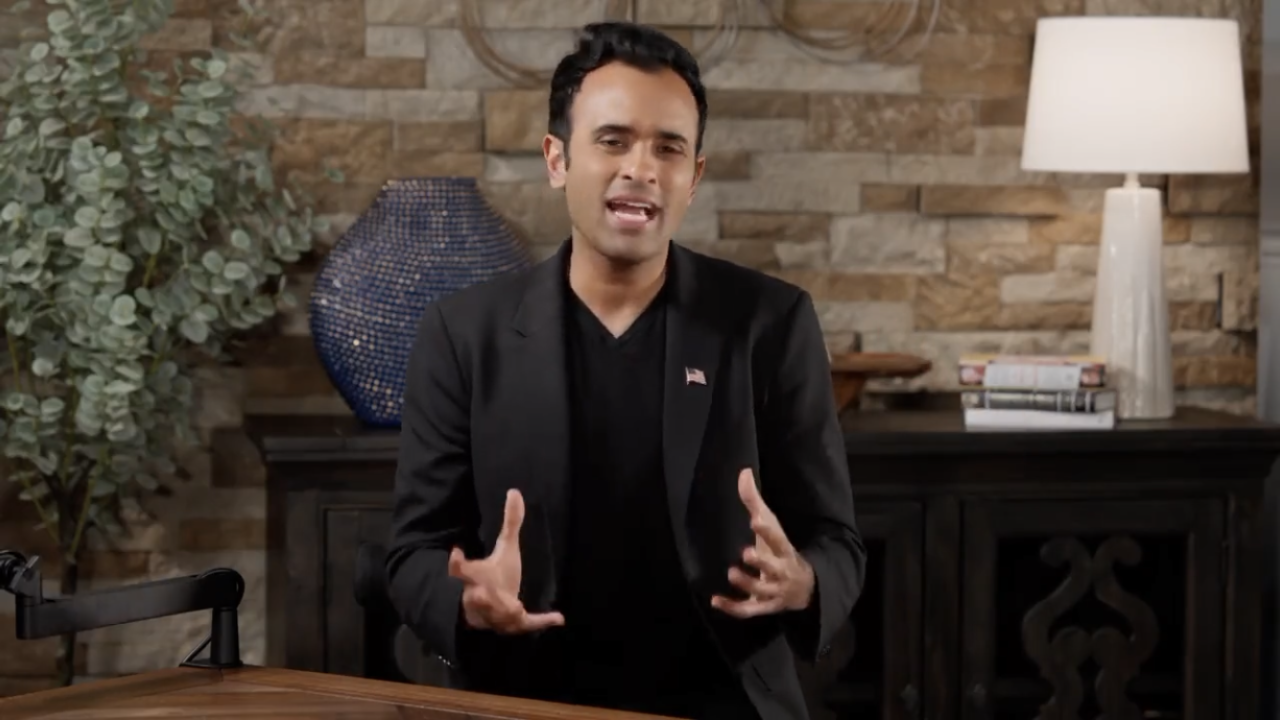 'He wants to do whatever allows him to get in the news cycle.'
Florida's Governor is not a "leader" and not presidential material. That's the take of 2024 Republican candidate Vivek Ramaswamy, who contends that Ron DeSantis' handling of The Walt Disney Co. imbroglio establishes him as unfit for the White House.
"That's Ron DeSantis in a nutshell, which is part of why I think for the presidency, we need somebody who's an original thinker, not a follower," Ramaswamy said on Fox Across America With Jimmy Failla, as transcribed by Real Clear Politics.
Ramaswamy, the author of "Woke, Inc.," suggested DeSantis is driven more by headlines than principle.
"I think he thrives on news cycles. He wants to do whatever allows him to get in the news cycle, but he's off by half."
Ramaswamy blames DeSantis for cutting Disney a deal to their benefit.
"The thing with Disney, not a lot of people know this, under DeSantis, he's the one that gave them a special protection under the law. So the special protection he gave them, because you remember when there's a lot of Big Tech censorship, Florida led the way, and I give him credit for passing an anti-discrimination statute against viewpoints," he said.
"But there was a little carve-out in there."
His comments reference back to 2021, before Disney opposed the Parental Rights in Education bill.
"The carve-out was the Disney rule, which says that if you operate a website like Disney streaming, and you also own a 25-acre or more amusement park, then that restriction doesn't apply to you. So Disney lobbied DeSantis and got that into a law he passed himself. So he walks himself into his own traps, but then says, OK, I'm going to roll that back if I don't like what you're saying."
While DeSantis signed the law rather than passed it, his point remains that the Governor was willing to do business with the company — until he wasn't.
"The worst part of the story is after he gets the news cycle, he's not paying attention to the details. Disney gets the better of him and has the last laugh as they actually completely castrate the board from its power. So that's my issue with DeSantis, is he wants to do the right thing, he thinks, which is a stunt. But the stunt doesn't work because the company's smarter than the stuntmen and they'll just wait for the storm to pass and then get whatever they need out of him."
The Governor spent Thursday in Jerusalem, where he defended his actions against Disney at the Jerusalem Post's Museum of Tolerance event.
"That arrangement was not good for the state of Florida. We did not think that that should continue. So we now have brought accountability. And so the idea that somehow being pro-business means giving companies their own governments, that is not what a free market is all about," DeSantis said, in footage shown on Fox & Friends Thursday.
"They've been treated much different than Universal, Sea World and all these other places. They don't want to have to pay the same taxes as everybody else and they want to be able to control things without proper oversight."