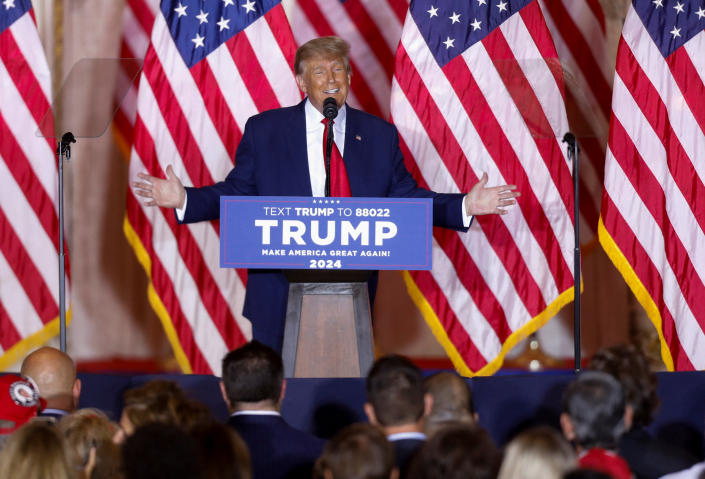 Trump said DeSantis 'failed' before he endorsed him, and now he's 'failing again.'
In New Hampshire, Donald Trump is continuing his assault on Ron DeSantis.
On Thursday in Manchester, the former President described DeSantis as "crashing and burning" in polls. He said DeSantis "failed" in 2018 before he endorsed him.
"And now he's failing again, because he's getting a chance to campaign without Trump, to put it mildly," Trump said.
An Emerson College poll in the field Monday and Tuesday shows 62% of voters polled choosing the former President. DeSantis was 46 points behind in second place, pulling 16% support — his worst showing in any national survey of the 2024 field in recent memory.
Trump called it a "very, very respected poll" before he was interrupted by "We Love Trump" chants.

"These polls are very amazing," Trump said, noting "DeSanctus" was at 16% in the Emerson survey.
Trump also cited a Morning Consult poll where he was up by 37 points over DeSantis and a Clarity poll where he led by 45 points.
State polls tell a similar story, including in Massachusetts, Trump noted, with one survey from UMass-Amherst and WCVB giving him 70% support in a head-to-head matchup against DeSantis.
Trump also cited the unscientific Florida's Voice poll on Twitter, where he had 80% support. As well, he mentioned similarly lopsided margins in South Carolina and Iowa.
A recent New Hampshire poll from J.L. Partners shows the Florida Governor way behind Trump. The former President nearly triples DeSantis' vote share, 51% to 18%.
"We're 33 points up," Trump noted. "But we will not play prevent defense."
Other New Hampshire polls tell a similar story.
Trump is up by 20 points over DeSantis in the new Granite State Poll from the University of New Hampshire Survey Center.
A poll from the St. Anselm College Survey Center pegs the former President at 42% support, 13 points ahead of DeSantis.
A March poll from Emerson College found Trump taking 58% support, with DeSantis in a distant second place with 17%.