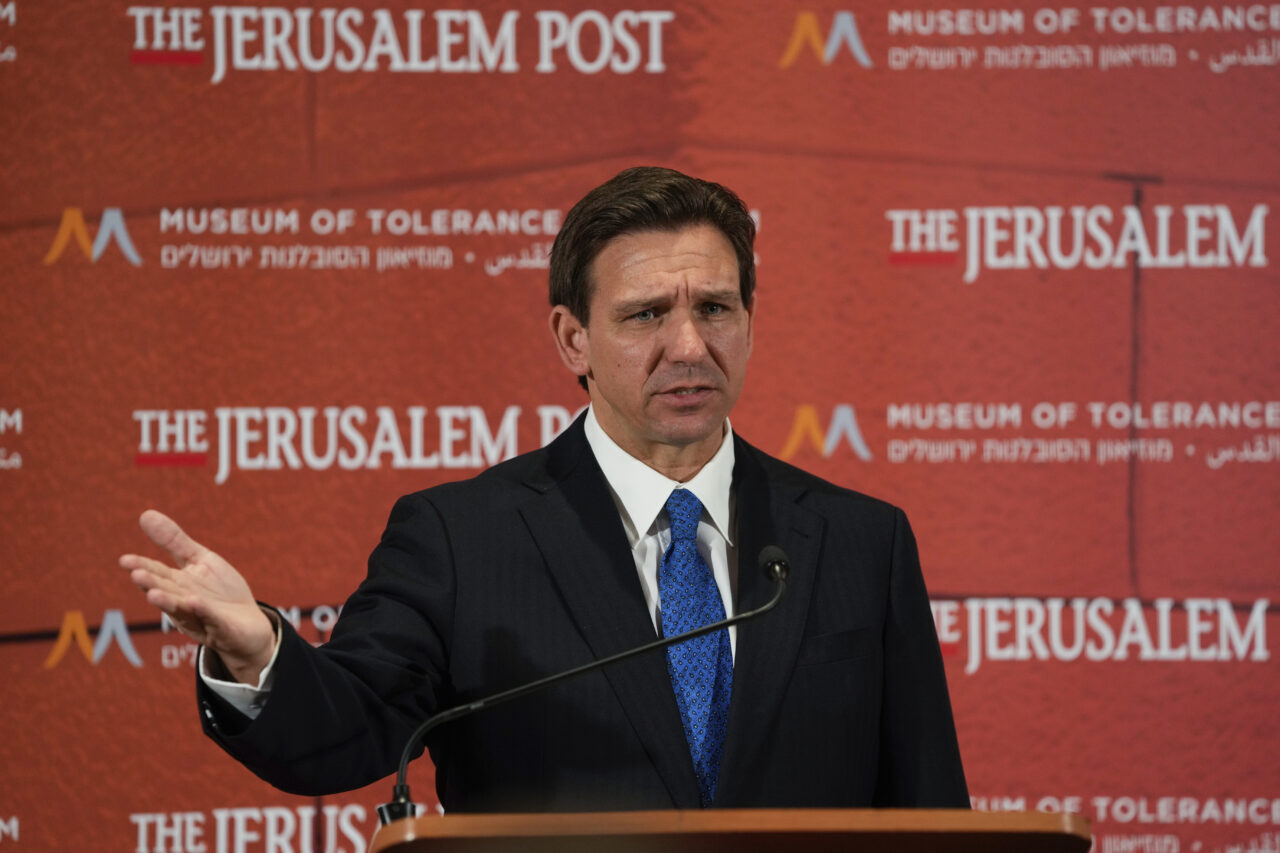 DeSantis signed the law, effective immediately, during an overseas stop in Jerusalem.
On the same day he delivered a keynote speech at the Museum of Tolerance in Israel, Gov. Ron DeSantis signed a law designed to curb a disturbing rise in antisemitism across Florida.
The measure (HB 269), titled "Public Nuisances," makes it a felony to harass people for their religion or ethnicity. It also penalizes leaving flyers with hateful images, messages or any other 'credible threat" on a person's private property.
Despite arguments from the public that the bill, however well intentioned, hampers people's First Amendment Rights, it ultimately cleared both chambers of the Legislature this month with unanimous support.
DeSantis signed the bill, effective immediately, during an overseas stop in Jerusalem while flanked by its two Republican sponsors, Delray Beach Rep. Mike Caruso and Palm Bay Rep. Randy Fine.
Republican Miami Sen. Alexis Calatayud carried a similar version of the bill in the Senate.
"I will not stand here and do nothing. I will not be complacent, and I will not sit around. With that attitude, are we just going to wait for these haters to start breaking the glass windows and storefronts of the Jewish store owners again, like they did in the past, before we wake up?" Caruso said when announcing the legislation in January.
"I hope I speak for all the legislators, my fellow legislators, that enough is enough."
Agudath Israel of America, which represents Haredi Orthodox Jews, applauded DeSantis for signing the bill, which the organization signaled support for while it moved through the committee process.
"Gov. DeSantis once again has shown that he is committed to fighting antisemitism not just with words and condemnations but with concrete action," said Rabbi Moshe Matz, who leads the group's Florida office. "The state of Florida was facing a very specific and targeted campaign from antisemites and came together in a bipartisan manner (to) pass a bill … that will hopefully put a stop to these displays of hate."
The new law comes amid an all-time high in hate acts against Florida Jews, according to the Anti-Defamation League, which tracked 269 antisemitic incidents in the Sunshine State in 2022 — a 42% increase from the year prior and more than double the number in 2020.
That included projections of antisemitic messages and swastikas on buildings in downtown West Palm Beach and Jacksonville and antisemitic flyers left outside of homes in Boca Raton.
Similar flyers popped up in Fort Myers, Fort Pierce, Jacksonville, Miami, Naples, Orlando, Punta Gorda, Sarasota and Vero Beach in July, prompting calls for a federal probe into the matter.
Earlier still, bigots hung banners over overpasses urging drivers to "end Jewish supremacy," blasted light projections in Jacksonville saying Kanye West was "right about the Jews," and hoisted a Nazi flag outside Disney World.
Those acts prompted officials in Palm Beach County and Jacksonville to propose legislation criminalizing the projection of unauthorized light displays on buildings, with the latter passing an emergency measure to do just that.
More recently, antisemites gathered in Florida for a "day of hate" in February that included the harassment of Jews outside a Chabad center in Orlando. DeSantis directed the Florida Department of Law Enforcement to dedicated additional resources to tamp down similar acts.
The signing of HB 269 did little to quash criticism a Democratic coalition of Jewish American citizens lodged at DeSantis for saying during his Museum of Tolerance speech that Florida has "led the way on combating the scourge of antisemitism."
That's an outrageous assertion, the Jewish Democratic Council of America (JDCA) said, considering the Governor's slow response to neo-Nazi rally in Orlando, the "tepid" attention he and his staff paid to more than a year's worth of hateful protests and his use of the antisemitic dog whistles of claiming George Soros controls elected officials.
That flub and other, more deliberate actions DeSantis has taken while in office, the group said, highlight why the setting of his speech is inappropriate at best.
The group cited legislation DeSantis signed restricting LGBTQ-inclusive instruction in school, a congressional map his office produced that erased two Black-performing districts and Florida-funded "political stunt" of flying migrants from Texas to Martha's Vineyard.
"DeSantis has no business speaking at the Museum of Tolerance unless he was aiming to serve as an example of intolerance that has been normalized by the Republican Party in recent years," the JDCSA said in a statement.
"(DeSantis saying) that, in Florida 'we treat antisemitism the way we treat racism' … is only true in the sense that (his) policies have emboldened both antisemites and racists in Florida and beyond."
The Governor's stop in Jerusalem, which coincides with the 75th anniversary of Israel's founding, is part of a global trade mission he's taking this week funded by Enterprise Florida, a public-private agency GOP state lawmakers agreed to defund Tuesday.
During his speech at the "Celebrate the Faces of Israel" event, DeSantis spoke of his "long track record of support" for the U.S.-Israel alliance and his vision for their joint future.
"Israel stands tall as a beacon of freedom in a troubled region, an engine of economic growth and opportunity and center of innovation and technology that is the envy of the world," he said.
"Israel is also one of America's most valued and trusted allies. Maintaining a strong Israel relationship has been a priority for me during my time in elected office, and I know it's been a priority for the overwhelming majority of the American people."
He discussed several policies friendly to Israel and Jewish people under his administration, including policies he began in 2019 to punish companies that participate in the "boycott, divestment and sanctions" movement protesting Israel-Palestinian relations and add religion as a protected class for students and public school employees.
He also noted "millions and millions of dollars" apportioned yearly in Florida's budget to Jewish day schools, museums and memorials throughout the state.
DeSantis did not detail what he said in response to the many antisemitic demonstrations that have taken place since he took office. He has mostly left that to members of his staff, for better or worse, though he did describe Democratic complaints in early 2022 that he wasn't speaking out against hatred as an attempt to "smear" him.