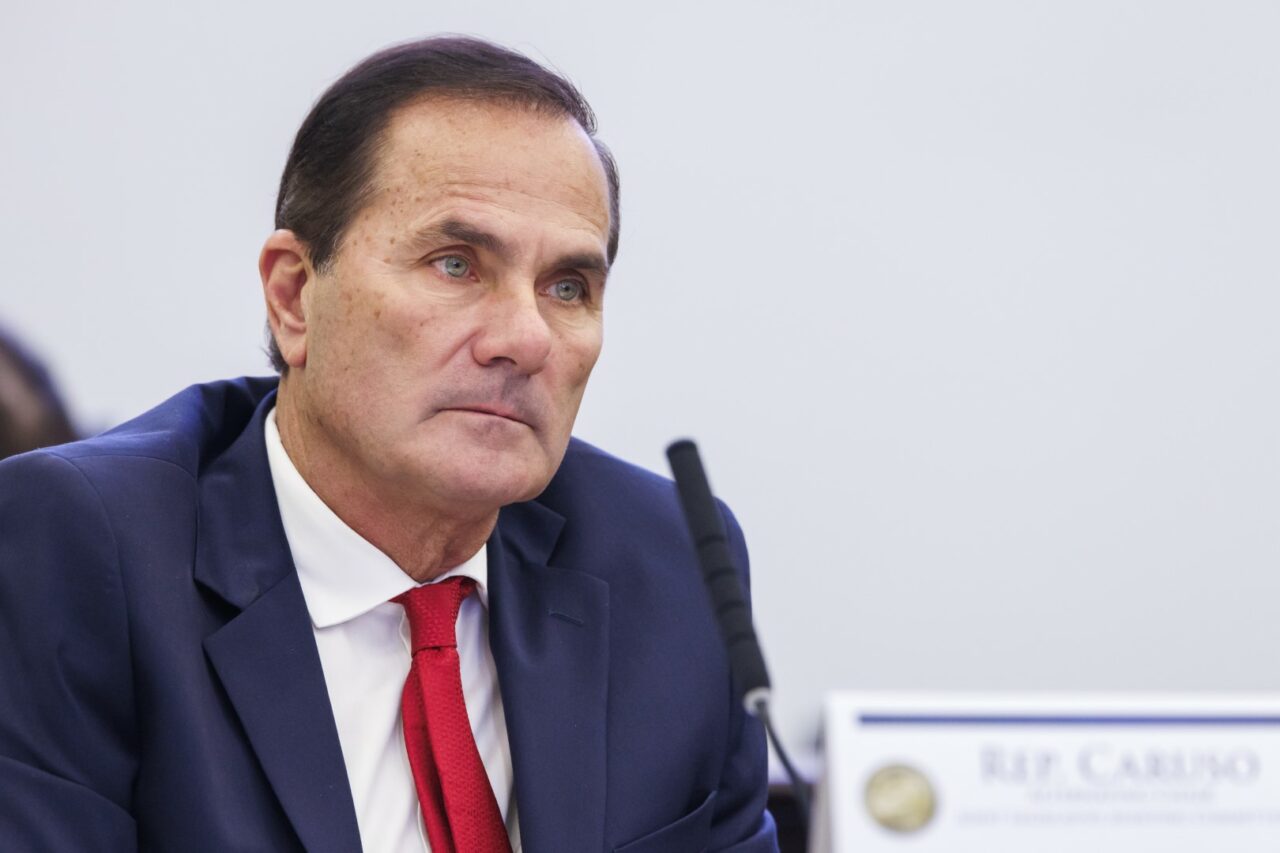 'If we don't do something now, then soon we may just have 1933 Nazi Germany here all over again.'
Delray Beach Republican Rep. Mike Caruso is trying to crack down on a disturbing rise in antisemitism through new legislation that would make publicly displaying a swastika and other intolerant imagery a felony.
That classification would also apply to people who distribute materials "with religious or ethnic animus," harass others for their religious or ethnic heritage, and "maliciously deface" or damage public or private property, namely cemeteries and schools.
Each would be a third-degree felony, punishable by up to five years in prison.
The proposed new law would also allow for first-degree misdemeanor charges — punishable by up to a year in prison — to be filed against a person who publicly distributes flyers featuring any material, objectionable or otherwise, if the flyers lead to littering.
"I will not stand here and do nothing. I will not be complacent, and I will not sit around. With that attitude, are we just going to wait for these haters to start breaking the glass windows and storefronts of the Jewish store owners again, like they did in the past, before we wake up?" Caruso said at a Thursday morning press conference.
"I hope I speak for all the legislators, my fellow legislators, that enough is enough."
Caruso's bill (HB 269) comes in response to intolerant displays across the state, including projections last week of antisemitic messages and swastikas on buildings in downtown West Palm Beach and Jacksonville and antisemitic flyers left outside of homes in Boca Raton.
Similar flyers popped up in Fort Myers, Fort Pierce, Jacksonville, Miami, Naples, Orlando, Punta Gorda, Sarasota and Vero Beach in July, prompting calls for a federal probe into the matter.
It's unclear if Caruso's proposed legislation would raise potential First Amendment concerns down the line.
In October, former U.S. Rep. Charlie Crist blasted Gov. Ron DeSantis, whom he unsuccessfully tried to supplant, for remaining largely mum about rising antisemitism across the state. Incidents include banners hung on overpasses urging drivers to "end Jewish supremacy," light projections in Jacksonville saying Kanye West was "right about the Jews," and the appearance of a Nazi flag outside Disney World.
In a since-deleted January tweet for which she received no official reprimand, DeSantis' then-Press Secretary Christina Pushaw intimated — without any evidence — that a pro-Nazi demonstration that month in Orlando may have been the work of Democratic operatives trying to make the Governor look bad. DeSantis later repositioned Pushaw as his re-election campaign's "rapid response director" after characterizing the subsequent outcry as an attempt to "smear" him.
Officials in Palm Beach County and Jacksonville have proposed legislation to categorize projecting unauthorized light displays on buildings as "blight and graffiti," punishable by up to 60 days in jail or at least $2,000.
Jacksonville passed an emergency measure late Tuesday night doing just that. In West Palm Beach, a closed-door discussion at County Hall last week resulted in Caruso's bill, which he filed Jan. 19.
"We are called to stand for the six million Jews that were murdered by Hitler's Nazis in World War II. Today, we are called to stand for the 672,000 Jews that live in Florida. If we don't do something now, then soon we may just have 1933 Nazi Germany here all over again," Caruso said.
Republican Reps. Randy Fine of Palm Bay, Peggy Gossett-Seidman of Highland Beach and Democratic Reps. Michael Gottlieb of Davie, David Silvers of Lake Clarke Shores and Allison Tant of Tallahassee signed on as co-sponsors to the bill.
Fine and Miami Republican Rep. Vicki Lopez also co-filed a related bill (HB 245) last week, one day before Caruso filed his measure, that would make intimidating or harassing someone based on their race, color, religion, gender or national origin a third-degree felony.
As of Thursday afternoon, Senate versions of both bills remained pending.
According to the Anti-Defamation League, 2021 was the highest year on record for documented reports of harassment, vandalism and violence against Jews. The group, which has tracked antisemitism since 1979, said in December that 2022 was likely just as bad or worse.
Jewish people make up about 0.2% of the world population, roughly 2.4% of the U.S. population and 3.9% of the Florida electorate.