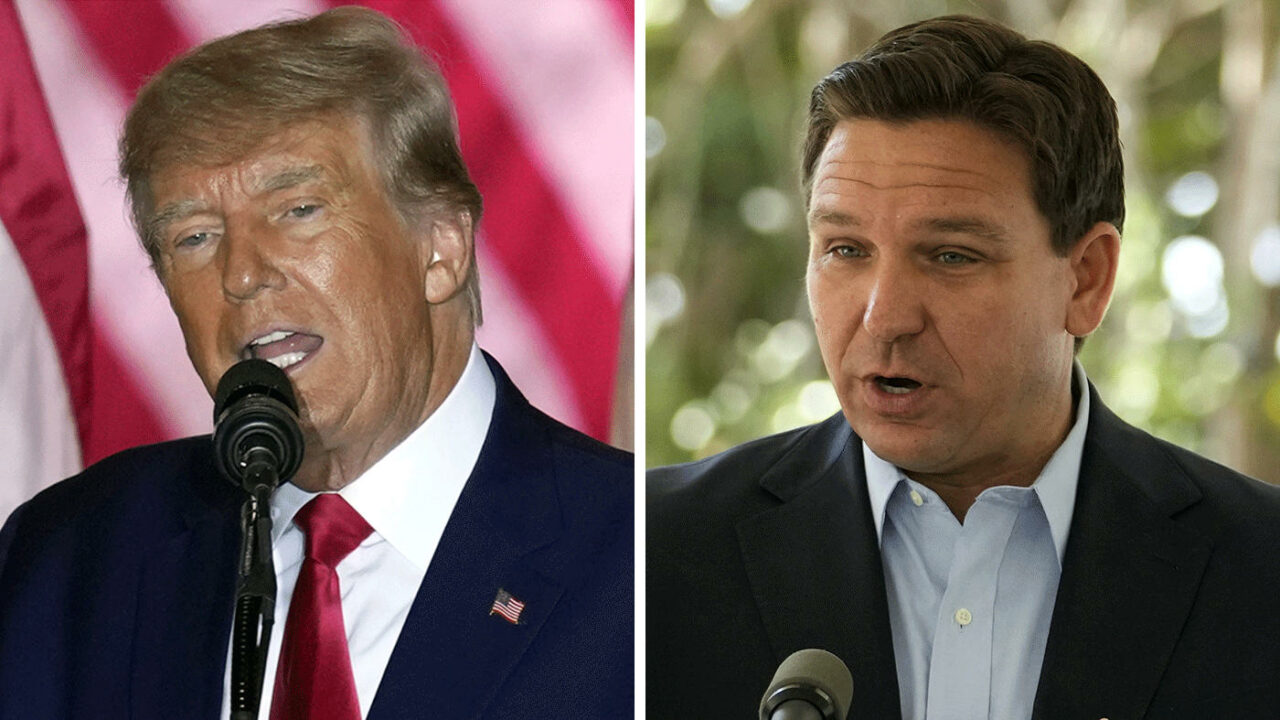 The former President continues to dominate Hawkeye State surveys.
A new Iowa caucus poll shows Donald Trump with the most significant lead yet over Ron DeSantis.
In the Victory Insights poll of 400 likely Iowa caucus participants, the former President has the most substantial advantage of any Hawkeye State survey.
"On a six-way ballot where voters were asked to indicate who they're most likely to support, Trump (54%) holds a 30-point lead over DeSantis (24%), his closest challenger. Nikki Haley comes in third with 14% of the vote, while the remaining three candidates each garner less than 4% of the vote," reads the polling memo.
A hypothetical two-person race is somewhat better for DeSantis: "In a head-to-head matchup between Trump and DeSantis, Trump (59%) holds an approximately 19-point lead over DeSantis (41%)."
Some good news: DeSantis would be the odds-on favorite if Trump did not exist in the field: "When Trump is removed from the ballot, DeSantis becomes the clear front-runner, leading Haley, 59% to 24%."
DeSantis is headed to Iowa next month, where he may be able to reverse the trend.
The Governor and First Lady Casey DeSantis will appear at the "Feenstra Family Picnic" held by U.S. Rep. Randy Feenstra in Sioux Center.
The Hawkeye State visit will allow DeSantis to get some face time with future caucus participants who say they prefer Donald Trump in two surveys this month.
In a survey conducted by Cygnal for Iowans for Tax Relief, the former President leads DeSantis, 37% to 30%. An additional 19% of respondents are undecided, with other candidates struggling for support.
This is a better poll for DeSantis than the other post-indictment poll of the Iowa race, a J.L. Partners survey in which the former President commands 41% support, 15 points ahead of the Florida Governor.
Both Trump and DeSantis have been to Iowa in recent weeks, and, in the case of the former President, the Governor was a topic of his remarks. Trump hammered DeSantis on his previous positions on entitlements for senior citizens and ethanol mandates, the latter an issue of particular importance in the state.
DeSantis stuck to a familiar script during his stop in the Hawkeye State, which was functionally a promotional visit for his recently released book on March 10. At that point, polling from the Des Moines Register showed the Governor in a virtual dead heat with Trump.