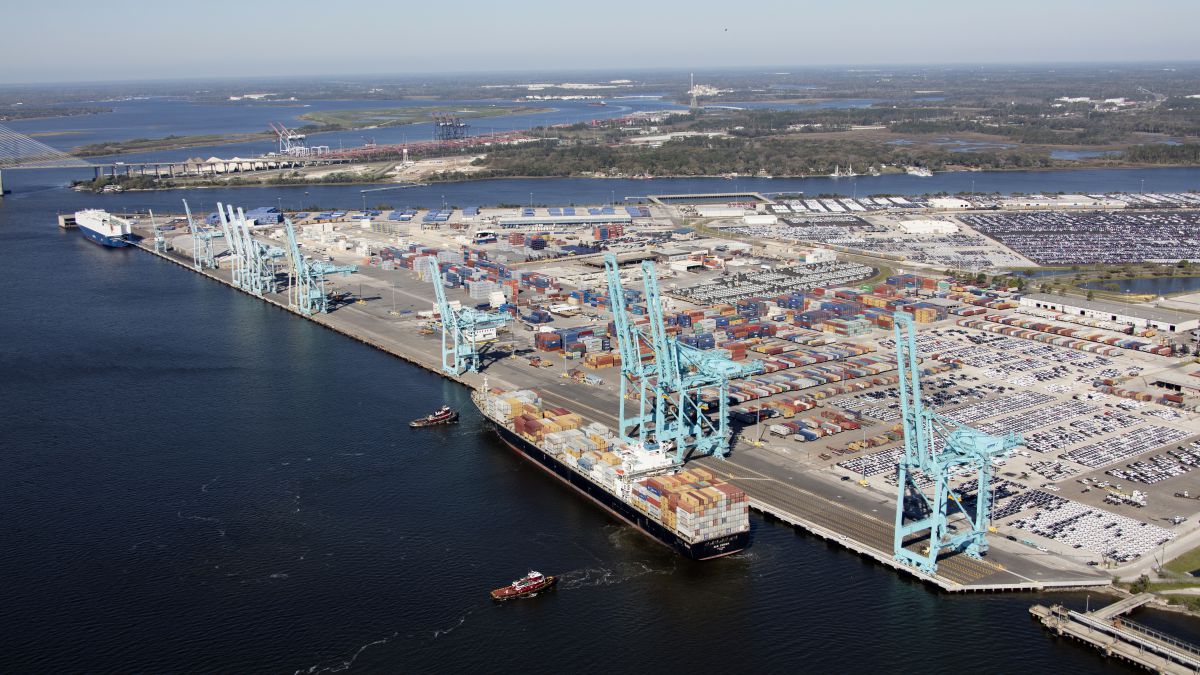 Ponte Vedra dunes, Flagler College also are winners here.
The House and Senate sprinkle lists include some wish list items for Northeast Florida.
The biggest item looks to be for a key economic driver in Jacksonville and surrounding areas.
House lawmakers are sending $15 million to JAXPORT for a crane replacement, which is one of the more high-profile items on the 2023 "sprinkle list" of supplemental appropriations from the Legislature.
While the $15 million is just a third of the total requested by Jacksonville Democratic Rep. Kimberly Daniels, the money will allow for the replacement of one of the three cranes that are already more than 12 years past their lifespans.
A second crane will be funded also, via the Transportation budget, leaving one to go.
The House budget request also has $12.5 million for dune replacement in North Ponte Vedra Beach, a priority of Rep. Cyndi Stevenson, the St. Johns County Republican who represents the erosion-prone area. This will complete the $25 million appropriation sought, half of which was agreed to already in budget negotiations, carried by Sen. Travis Hutson.
The $25 million total appropriation adds to $5.2 million in already provided state funding and $8.2 million in local funding. Expectations are that the project will begin in July 2023 and finish within a year.
Another Hutson priority, the St. Johns County Police Athletic League (PAL) Youth Sports Complex, is getting $5.4 million from the Senate.
"The project includes the planning, permitting, engineering and construction of two synthetic turf multi-sport fields, one natural grass multi-sport field, one running Track, one covered multi-sport court, parking, irrigation, restrooms, storage facilities, and lighting systems. St. Johns County has donated 35 acres for this project. The funding would provide PAL with a permanent home," the funding request notes.
Another House Sprinkle List winner: the Flagler College Institute for Classical Education, which is slated to get just over $2.9 million, a boon for Flagler President John Delaney.
That money will supplement the $5 million in recurring funds in the base budget, and will serve as a carryover for previous funds thus far allocated but unspent, per the funding request.
"Funds were allocated during the 2022-2023 Legislative Session to establish the Classical Institute at Flagler College … to be spent over a five year period to develop a model for focusing on first-year students. … Due to hiring timelines, only $838,068 were spent during this fiscal year. This request is to carry-forward $4,161,932 in unspent funds."
Nassau County will get $1.5 million from the Senate for its County Road 108 Extension, paralleling the east/west corridor to SR200/A1A through Yulee.
The Wayman Academy of the Arts is slated to get $500,000 of the $1 million sought by Rep. Angie Nixon.
That money will match more than $2.6 million from federal, other state, and local sources, and will allow for "expanding access to technology … improving energy and sustainability improvements around campus, extending school day for students living in high crime, low-income communities within the urban core of Duval County, while also improving wrap around educational services for the underserved community."
As with the other partially fulfilled asks, more money could be coming from the Senate side.
The Jacksonville School for Autism STEP Program, which stands for Supportive Transition and Employment Placement, looks likely to come out ahead also, with $150,000 from the House side in the budget, and another $150,000 from the Senate, fulfilling the full $300,000.
The sprinkle list is a set of supplemental funding items tacked onto the budget at the end of the negotiations. They are often member projects, but they can also be used to add money to a program that one chamber sought to fund at a higher level.