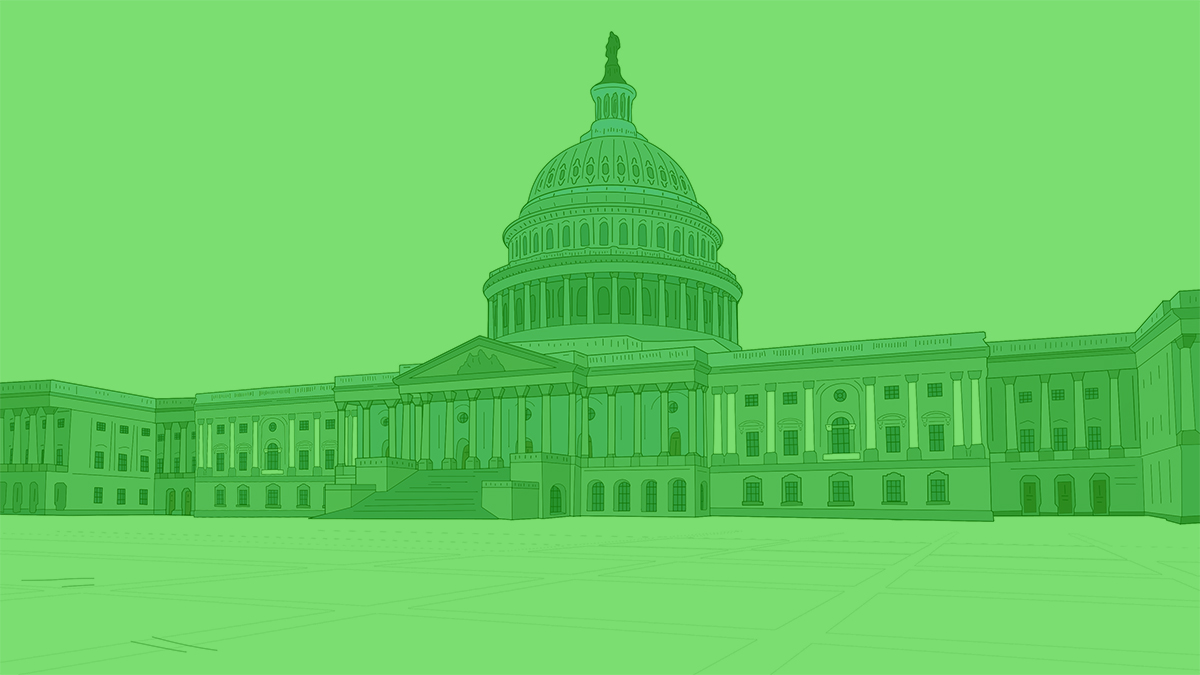 With the end of Title 42, conservatives warn of an impending wave of migrants.
Title change
Call it the last pandemic restriction that conservatives want to be maintained.
Title 42 expires this week. The immigration rule, put in place by President Donald Trump, limits the number of individuals allowed to seek asylum when crossing the U.S.-Mexico border. The order used the COVID-19 pandemic as a premise, citing the threat of spreading the coronavirus as a public health emergency.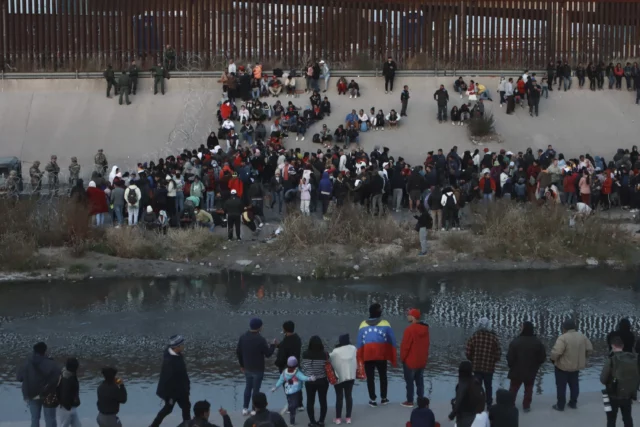 But as President Joe Biden promises to lift the restriction, thousands have lined up at the border. Republicans in Congress voiced concern this will make an already dire situation at the border worse.
Sen. Rick Scott, Florida's junior Senator, toured the Del Rio, Texas, area by helicopter and received a briefing from Border Patrol.
"I have been to the southern border three times since President Biden took office, and the crisis is worse each time I visit," the Naples Republican said.
"It is a fact that the horrific amnesty policies and open border agenda of President Biden, along with the incompetent leadership of (Department of Homeland Security) Secretary Alejandro Mayorkas, has caused a humanitarian crisis. America's brave Border Patrol is working around the clock to keep Americans safe, and today I got to see that work firsthand. Unfortunately, they have zero support from Washington and now the one tool that was doing some good, Title 42, is going away."
He said the shift in policy will bring an influx of illegal fentanyl and empower "save cartels" and "known terrorists" to operate in the U.S.
Meanwhile, Rep. Mario Díaz-Balart introduced a Republican alternative proposal for securing the border and enacting immigration reforms.
"The crisis at our Southern border is among the gravest threats to U.S. national security in our history," the Hialeah Republican said. "For the last two years, President Biden and his Administration have entirely neglected the escalating crisis at our border, and their lack of action has ceded all control to narco-terrorist cartels, who are now among the most powerful in deciding who comes into our country and at what price."
He issued a lengthy statement on his Secure The Border Act (HR 2), which he crafted with Rep. Tom McClintock, a California Republican. Speaker Kevin McCarthy said the bill "fulfills our promise to the American people to deliver solutions to a crisis that affects not just cities and states along the border — but every city and state across the country. With Title 42 ending and a surge of illegal immigration already occurring, we cannot afford to be blind to the truth, as the Biden administration has been for over two years. Our border is not secure and we must act."
Florida Democrats haven't offered much commentary but have voiced support for Biden's promise to terminate Title 42. Rep. Darren Soto, a Kissimmee Democrat, last year co-signed a letter from the Congressional Hispanic Caucus (CHC) calling for an end to the policy.
"Under the Biden administration, we have made tremendous progress in reversing the xenophobic and harmful policies of the Trump administration," Soto said then in a statement as whip for the CHC.
"As we know, Title 42 was never about public safety — it was another tactic used to punish vulnerable communities looking for refuge in the United States. I'm proud to stand with the CHC in urging the administration to put an end to this awful practice."
Unaccompanied minors
Years after migrant child separation policies under Trump sparked outrage, both Florida Senators say Biden's approach encourages the trafficking of children.
Sens. Marco Rubio and Scott have now introduced legislation to combat the moving of unaccompanied minors across the border.
The Stop Human Trafficking of Unaccompanied Migrant Children Act would require Homeland Security to go through a new set of steps to unite those children with sponsors in the U.S.
"The Biden administration's reckless approach to immigration puts vulnerable migrant children at risk," said Rubio, a Miami Republican. "The recent reports of child labor violations are a disturbing reminder of the consequences of the President's open border policies. The Stop Human Trafficking of Unaccompanied Migrant Children Act is an important step in preventing this from happening and ensuring that proper vetting procedures are in place to protect these vulnerable children."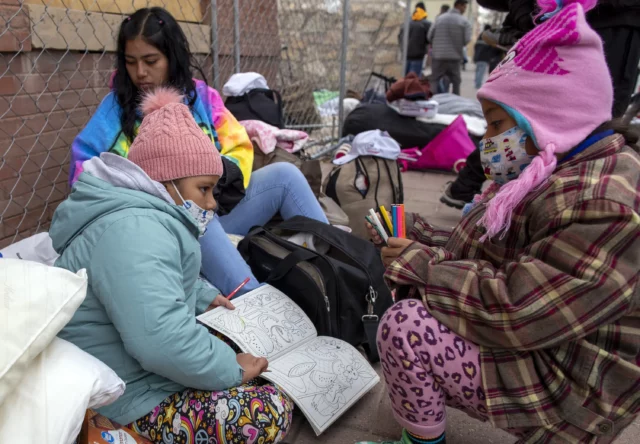 His office pointed to an investigation by The New York Times showing Homeland Security has handed children crossing the border over to those forcing them to work. The article referenced some children being sent to work with a Florida man who had paid coyotes to take boys across the border.
The new bill, introduced by Rubio, Scott and Sen. Tom Cotton of Arkansas, would set up a system similar to foster care to place children in qualified homes. The legislation would also require updating Congress on the number of unaccompanied children crossing the border and the status of those in the system.
"No one is safe from the suffering caused by President Biden's border crisis, especially children. The savage cartels don't care about a child's life; they happily traffic them across Biden's wide-open border and collect the payment without a minute of regret. That must end now," Scott said.
"I have seven grandkids and I cannot imagine them ever being put at risk. Every child is worth protecting. Hundreds of thousands of migrant children have entered the federal government's shelter system and President Biden's administration is not doing nearly enough to keep them safe. We must ensure that these unaccompanied children placed with a sponsor by this administration are not being trafficked. I'm proud to lead my colleagues in introducing this good bill and implement real vetting that protects kids."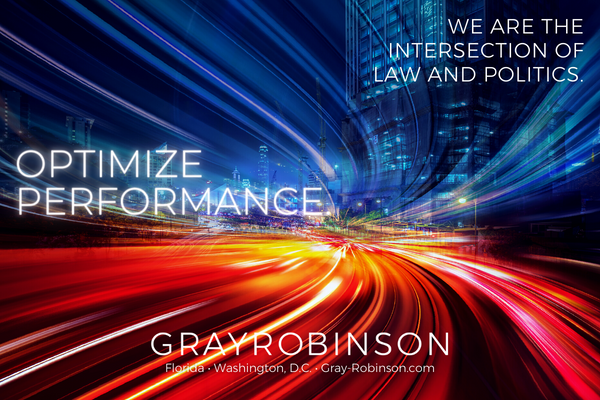 Stand any ground
Florida's Stand Your Ground law has generated controversy now for decades, but also served as a model to other states expanding self-defense laws. Rep. Matt Gaetz wants to take the language nationwide.
"Every American has the right to defend themselves and their loved ones from an attacker," the Panhandle Republican said. "If someone tries to kill you, you should have the right to return fire and preserve your life. It's time to reaffirm in law what exists in our Constitution and in the hearts of our fellow Americans. We must abolish the legal duty of retreat everywhere."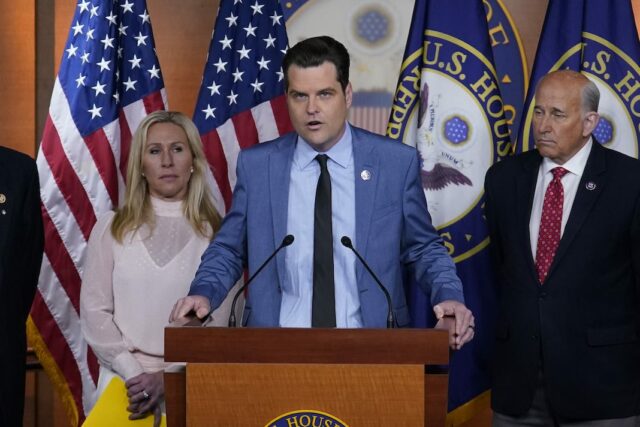 He filed the federal Stand Your Ground Act in the House, while Sen. Markwayne Mullin, an Oklahoma Republican, sponsored a Senate companion bill.
The law notoriously was cited when a jury in 2013 exonerated Sanford man George Zimmerman after he shot and killed Trayvon Martin. That case helped give birth to the Black Lives Matter movement.
Election integrity
Rep. Laurel Lee convened some of Florida's election officials for roundtables in Tampa and in Jacksonville.
The Thonotosassa Republican chairs the House Administration Subcommittee on Elections. She brought in Supervisors of Elections Craig Latimer of Hillsborough County, Ron Turner of Sarasota County and Leah Valenti of Charlotte County for a roundtable at MacDill Air Force Base on military voting access. Later, she convened an event in Jacksonville with Supervisors Mark Early of Leon County, Turner and Wesley Wilcox of Marion County.
The latter event also hosted Glynn County Elections Director Christopher Channell of Georgia. That event touched on disaster relief situations, such as when Hurricane Nicole threatened Florida as a General Election unfolded and included Florida Division of Emergency Management Director Kevin Guthrie and Jacksonville Assistant General Counsel Mary Margaret Giannini.
Rep. Aaron Bean co-hosted the Jacksonville roundtable.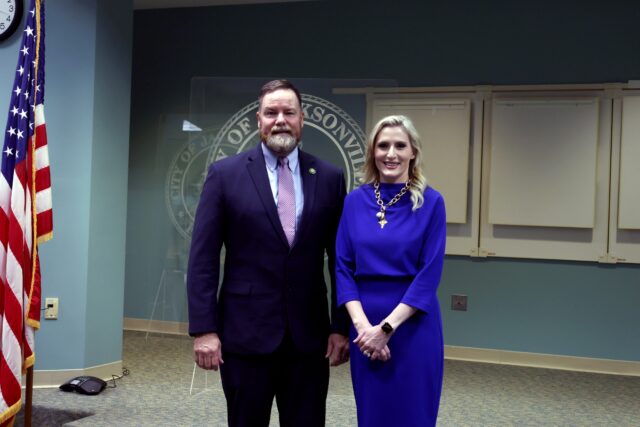 "We have a responsibility to ensure voters trust our electoral systems and results, particularly when a natural or man-made disaster strikes," said Bean, a Fernandina Beach Republican. "That is why Florida created an emergency contingency plan for administering elections that clearly lays out what to do in the event of a disaster. I applaud Chair Laurel Lee for hosting this roundtable discussion at a time when election integrity has been top-of-mind and for highlighting Florida's Election Emergency statute as a model for the rest of the nation to follow."
Lee said the information provided important input for crafting federal election laws.
"I'm grateful for Director Guthrie and our Supervisors of Elections for their leadership during disaster relief situations and their constant service to Floridians," Lee added. "Supervisors of Elections play a vital role in preparing for natural disasters and ensuring eligible voters have the ability to cast their vote during emergency situations."
Baby talk
One member of the Florida delegation looks to be personally adding to her constituency. Rep. Anna Paulina Luna confirmed to TIME that she and her husband Andy Gamberzky are expecting their first child.
"We are very excited to welcome our son later this summer," Luna told the publication. "Children are a blessing, and we could not have asked for a greater gift."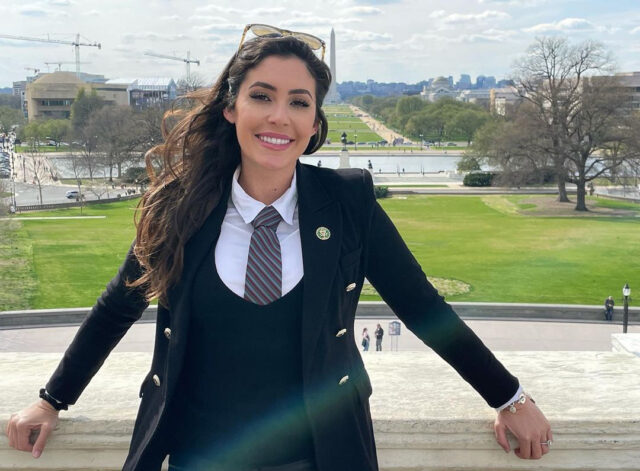 The 34-year-old is the youngest Republican serving in Congress now. TIME notes she's expected to be only the 12th sitting member of Congress ever to deliver a child while serving. That remarkable stat results from a low percentage of members of Congress who are female, 28%, not to mention the fact the federal body remains a gerontocracy, with a median age of 58.
For all children
The health of children remains a top priority for members of both parties. Now Rep. Kathy Castor, a Tampa Democrat, will be one of the lead voices on the issue in Congress. She was tapped as a co-leader of the Children's Health Care Caucus, along with Rep. John Joyce, a Pennsylvania Republican.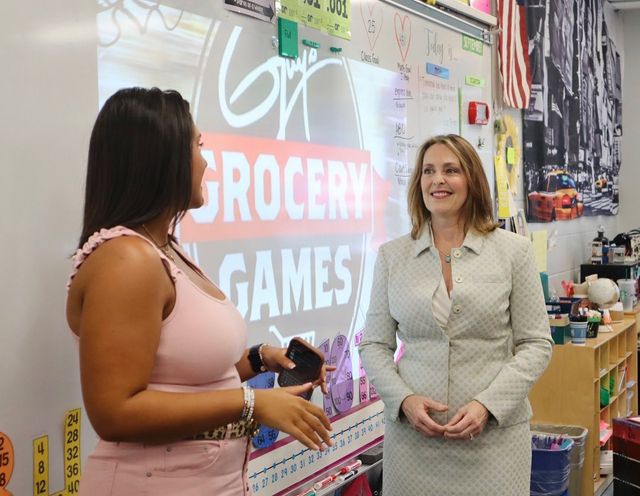 "The children and families who call the Tampa Bay area home benefit from the compassionate, cutting-edge care provided at St. Joseph's Children's Hospital and Johns Hopkins All Children's Hospital," she said. "I am committed to supporting our medical professionals and researchers so that kids are connected to the best treatment and outcomes possible."
Some institutions within her district celebrated Castor's new role and stressed the importance of lawmakers working together on health issues for America's youngest patients.
"We are thankful for all of the members of the Children's Health Care Caucus who are working together (to) ensure that no family has to travel far for specialized pediatric care or sacrifice the quality of care for their child," said Alicia Schulhof, president of Johns Hopkins All Children's Hospital.
Castor said she was excited to work with all members of Congress on the topic.
"I'm glad to have Congressman Joyce join me and continue the bipartisan nature of the Children's Health Care Caucus — when we come together, we can save lives, expand critical research and provide America's children healthy, successful futures," she said.
Due credit
During Small Business Week, Rep. Greg Steube, a Sarasota Republican, filed a bill requiring credit-reporting companies to offer protections to entrepreneurs.
The Small Business Credit Protection Act would direct credit bureaus to inform business owners as soon as it's clear that non-public personal data has been breached. The bill would also prohibit charging a business for a credit report within six months of being victimized.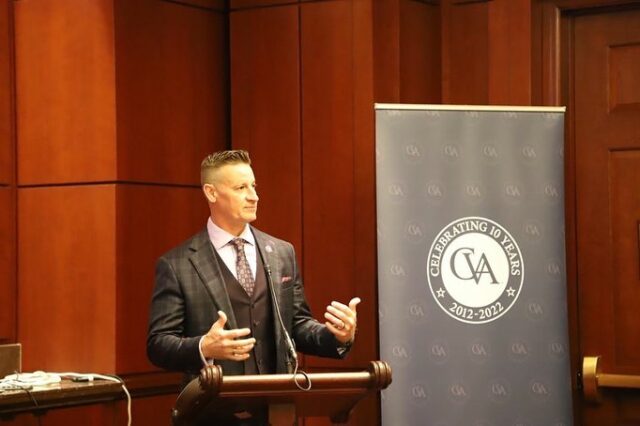 "Data breaches continue to plague consumers across America. Congress has attempted to protect consumers from these events, but unfortunately, nothing has been done to protect our small businesses," the Sarasota Republican said. "Small businesses are the backbone of our local economies. This legislation is needed to ensure small businesses have the tools to navigate recovery from a data breach."
Rubio already filed the Senate companion bill.
"The federal government must uphold the trust that Americans need to fully participate in our economy. My legislation, the Small Business Credit Protection Act, would ensure that small businesses receive protection in cases of a security breach," Rubio said. "I urge my colleagues to join me in passing this bipartisan bill so that we can continue to protect America's small businesses — the cornerstone of our economy."
Screening source
Nearly $900,000 will make its way to Palm Beach County to ensure more people get screened for cancer. Rep. Sheila Cherfilus-McCormick announced a grant of $894,000 for the Promise Fund of Florida and FoundCare.
"Cancer inflicts an emotional and physical toll on many families across Florida's 20th Congressional District," the Miramar Democrat said. "Income level should never determine the quality of treatment that cancer patients receive. This funding is critical to dismantling barriers uninsured women face in accessing breast and cervical cancer care, reducing health disparities in Palm Beach County."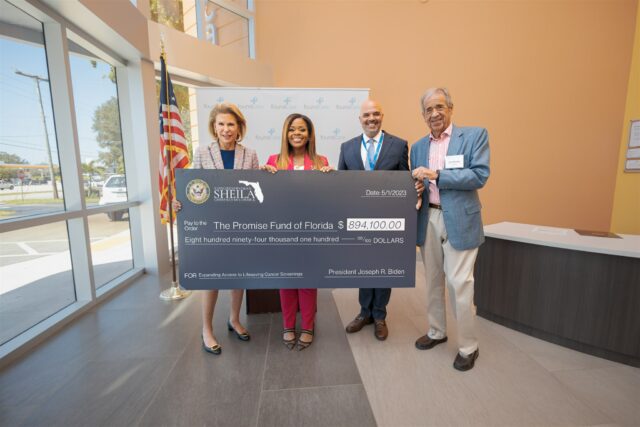 Nonprofit leaders said the funding will go toward new equipment and facility renovations at the Promise Fund's Women's Health Center at FoundCare Yolette Bonnet Center in West Palm Beach. Money will also be used to cover some costs of readings, imaging and other administrative costs.
"The work we have accomplished together has been nothing short of remarkable," said FoundCare CEO Christopher Irizarry. "Through our partnership, we have been able to reach more women than ever before and provide them with the quality care they deserve. We are grateful to the Promise Fund of Florida and Congresswoman Cherfilus-McCormick, for their unflagging commitment to this important cause."
Promise Fund of Florida Founder Nancy Brinker added: "This funding will allow us to improve accessibility to quality, preventative breast and cervical cancer care to the 80,000 uninsured women in Palm Beach County — many of whom are facing barriers related to social determinants of health. We are excited to replicate our successful model, as seen at FoundCare Palm Springs, and catch these cancers early when they are still highly treatable."
Infertility awareness
It took extraordinary measures for Rep. Debbie Wasserman Schultz to first become pregnant. Now she wants Congress to seek bipartisan ways to help women wanting to have children.
The Weston Democrat introduced a resolution with Rep. Dan Crenshaw, a Texas Republican, affirming a commitment by the body to address the causes, costs, diagnoses and treatments of infertility. She filed the bill during Infertility Awareness Week.
"Infertility affects millions of Americans," Wasserman Schultz said. "Bringing a child into the world is truly a blessing and that possibility should be available for anyone who truly wants to start a family. I know from my own infertility experience that in order to realize that goal, we must understand how the disease affects individuals and families to better advocate for sensible solutions."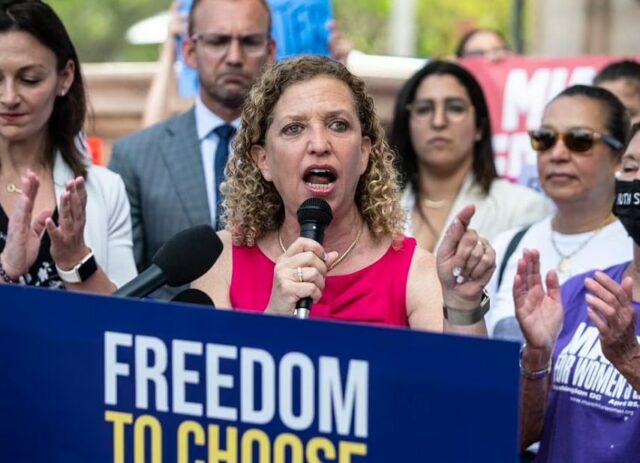 Wasserman Schultz turned to in vitro fertilization before becoming pregnant with twins. While serving in the Florida Senate, she filed the Florida bill that eventually required insurance to provide coverage for medical treatment and diagnosis of infertility. She wants Congress to explore similar policies.
"This Resolution is a first step and one that addresses what infertility is, who it impacts and how and what we as legislators need to focus on moving forward," she said. "It clearly states that Congress needs to work toward developing bipartisan, common-sense policies on this issue so we can ultimately mitigate the burden on individuals, couples, and families. I am so very proud to be a part of that solution."
Latina voice
Rep. María Elvira Salazar continues to keep an eye on the governmental shifts in Latin American nations. The Coral Gables Republican sent a letter to Mayorkas demanding the Homeland Security Department supply resources to Guatemala to help deal with a surge of migrants in Central America.
"The Guatemalans have been pleading with the Biden Administration to help them stem the flow of illegal immigration through Guatemala, only to be treated with contempt in return," she said. "The United States cannot afford inaction on the Southern Border any longer. President Biden — it is time to end this crisis NOW."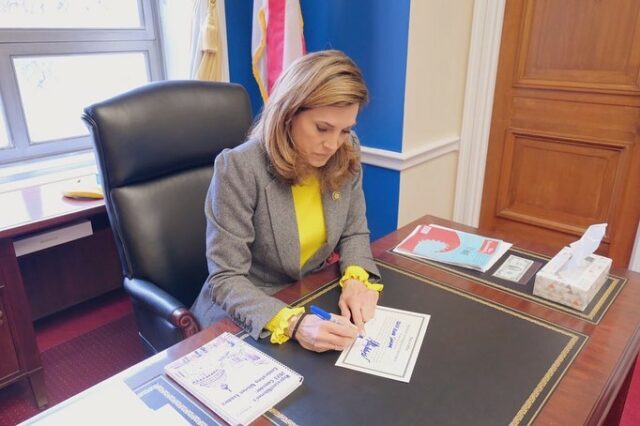 The government's ability to process migrants heading north has been strained, she said, requiring U.S. intervention to confront a crisis.
Meanwhile, she has introduced legislation in the House to require the administration to conduct an international investigation of Argentine officials, including Vice President Cristina Fernández de Kirchner. She wants to see sanctions imposed. Rep. Carlos Giménez, a Miami-Dade Republican, co-introduced the Corruption in Argentina Stymied by Enforcing Sanctions to require such a move.
"Cristina Fernández and her inner circle are some of Latin America's most prolific embezzlers of public funds," Salazar said. "It is time the United States take action against their unchecked abuse of power, which has resulted in theft and loss of billions of dollars belonging to the Argentine people."
This all comes shortly after she called on the U.S. to provide sanctuary to Venezuelan opposition leader Juan Guaidó and voiced her support for Ecuadorian President Guillermo Lasso.
On this day
May 9, 2012 — "Barack Obama supports same-sex marriage" via ABC News — President Obama said, "I think same-sex couples should be able to get married." With that one statement, he made it clear that he believes that it's wrong to prevent couples who are in loving, committed relationships from getting married. Obviously, the President has spent time giving this issue serious consideration, and his view has been shaped by conversations with his family, his friends, neighbors, and the people who work with him at the White House. He said he'd heard from service members who, even after the repeal of "don't ask, don't tell," felt constrained because they aren't allowed to get married.
May 9, 1960 — "FDA approves 'the pill'" via History.com — The Food and Drug Administration approved the world's first commercially produced birth-control pill — Enovid-10, made by the G.D. Searle Company of Chicago, Illinois. Development of "the pill," as it became popularly known, was initially commissioned by birth-control pioneer Margaret Sanger and funded by heir Katherine McCormick. Sanger, who opened the first birth-control clinic in the United States in 1916, hoped to encourage the development of a more practical and effective alternative to contraceptives that were in use at the time. In the early 1950s, Gregory Pincus, a biochemist at the Worcester Foundation for Experimental Biology and John Rock, a gynecologist at Harvard Medical School, began work on a birth-control pill.
___
Delegation is published by Peter Schorsch, compiled by Jacob Ogles and edited and assembled by Phil Ammann and Ryan Nicol.