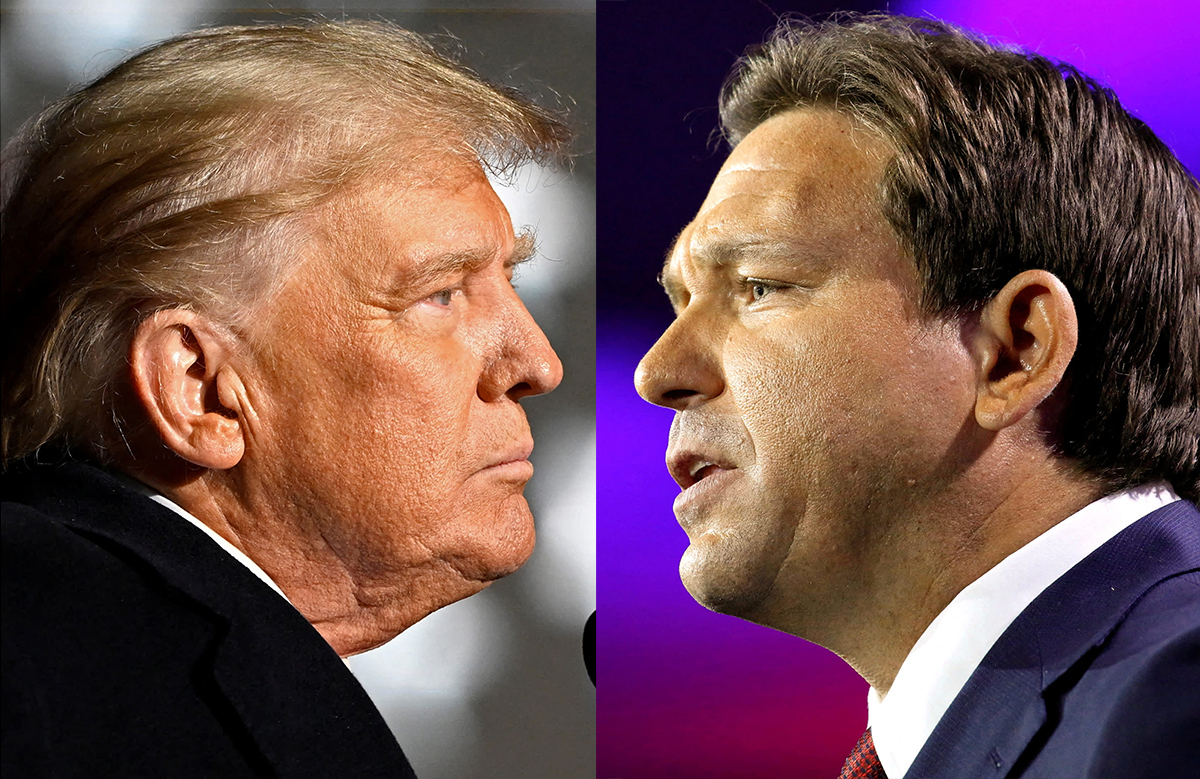 DeSantis' best chance is to convince enough people that nominating Trump is the sure way to lose in 2024.
After spending many months using the Governor's mansion as a staging area for his presidential ambitions, Gov. Ron DeSantis is about to make it official. He is entering the race for the Republican nomination against the incompetent, indicted, twice-impeached, molester-of-women.
It's just what we've all been waiting for, the Republican political equivalent of Godzilla vs. MAGAliar … I mean, Megalon. Now it's here. Place your bets on whether the Republic will survive.
In this corner: former President Donald Trump. He's that guy who would push a grandmother out of the last lifeboat on the Titanic and justify it by saying she had it coming. His death grip on the GOP is a testament to the gullibility of followers to believe he gives a rat's behind about them.
The man who demands loyalty from everyone returns it only as a matter of transactional convenience.
Sad.
DeSantis can be just as ruthless, but he's smarter about it. 
He would say he had no choice because the grandmother supported Disney, had a transgender kid, or wore a life jacket with an LGBTQ+ patch. Or worse, she was a card-carrying member of the legacy media.
And the tail-wagging, panting Florida GOP Legislature would bark its approval.
Actually, maybe we better check that line about DeSantis' smarts. If his run-up to this moment shows anything, he has done the impossible. Some of his positions are so extreme he has made Trump look almost like a moderate.
I'll give you time to re-read that last sentence and let its enormity sink in.

Polls show DeSantis' support for a ban on abortions after six weeks of pregnancy is wildly unpopular, and it crosses party lines.
On that point, even Trump has gone, "Wow, dude. Six weeks? Harsh."
Big D doesn't care because he doesn't listen to anyone outside his inner circle, considered small enough to fit comfortably inside a Volkswagen Beetle.
Then there's the pointless real-life game of Risk he's playing with Disney. The company's crime? Disagreeing with DeSantis' insipid "Don't Say Gay" law that sent public school teachers scrambling to update their résumés.
Again, he has done the impossible: making a behemoth like Disney seem sympathetic to millions of Floridians and GOP voters.
For all the shouting about the Second Amendment, DeSantis seems to believe the First Amendment doesn't apply unless you say, "Golly gosh, Governor! You are the bestest EVER. I never liked Mickey Mouse anyway."
He can get away with that in Florida, which is turning as red as someone from Ohio forgetting to bring the sunscreen for an afternoon at Daytona Beach. There are plenty of states where the whole "thou shalt bow before me" approach to governing won't work.
Plenty of people will sandblast his "Free State of Florida" shtick to the point where it becomes a punchline. The far-right MAGA crowd won't be enough to overcome that in a General Election, and that's the problem that already hangs over the DeSantis campaign. He won't be able to walk back the attacks on teachers, Disney, LGBTQs, et al.
Of course, he wouldn't walk those back anyway. If anything, he'd double down.
DeSantis' best chance is to convince enough people that nominating Trump is the sure way to lose in 2024. He's not wrong, but Trump's true believers refuse to accept that he lost the last election, so there you go.
There is a scenario that, frankly, should terrify Republicans of all stripes. DeSantis wins the nomination, and in a fit of pique, Trump runs as a third-party candidate and drags them both down just for spite.
How about a Trump-Steve Bannon ticket? Or Trump-Michael Flynn? Or Trump-Marjorie Taylor Greene?
Either way, it's game-on now. DeSantis has to prove he can be Trump without actually being Trump. It begs the question: Is this the best that Republicans can come up with?
If so, don't delay. The seats in the lifeboats may be going fast.