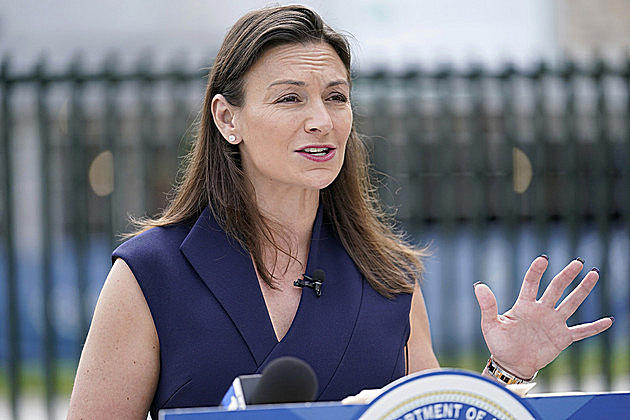 The Democratic leader served in Florida's Cabinet through the GOP Governor's first term.
The only Democrat to hold statewide office during Gov. Ron DeSantis' tenure as Governor has a warning for America: Don't elect him as President.
"The entire country will be on pins and needles every single day if he dared to become President of the United States," said Nikki Fried, the Florida Democratic Party Chair.
"I will be so bold as to say our democracy will be over."
The dire language may not be surprising coming from the opposition party Chair in a state that took a significant turn to the right under DeSantis. But it's a significant change in tune from Fried when compared to the start of DeSantis' first term.
She won election in 2018 the same day as DeSantis. Both had campaigned as moderates and won election by razor thin margins; DeSantis defeated Democrat Andrew Gillum by just over 30,000 votes while Fried beat Republican Matt Caldwell by under 7,000.
As Fried prepared to join the Florida Cabinet as the only Democratic member, she said DeSantis even reached out assuring her the two could work in concert when possible.
"I got a voicemail the night before the inauguration from him saying we would be able to work together," she said. "We were two leaders of separate parties, but were of similar ages, and were similar on some issues we campaigned on, like the environment. So I was extremely hopeful."
For a while, those hopes panned out. Fried was the first Cabinet member to push for a full pardon for the Groveland Four, and DeSantis and other members all got on board. DeSantis prioritized increasing spending on Everglades restoration and water quality, issues Fried had to tackle in the wake of red tide and blue-green algal blooms hitting South Florida at the time.
But over time, things changed. Fried said her first notice of a shift was at the time of an overseas trade mission to Israel in 2019. All Cabinet members were part of it, but she said the Governor's Office wasn't coordinating smoothly with Fried's.
"There was a complete lack of communication between the Governor's Office and at least my office," she said. "I don't know how the other Cabinet members felt. But it became all about Ron DeSantis, not the best interests of the Florida economy."
By Fried's telling, matters worsened in the 2020 Legislative Session as the Republican Legislature started moving departments from Fried's control to the auspices of the Executive Office of the Governor.
But the division between Fried and DeSantis widened during the pandemic, which ultimately turned DeSantis into a national figure. Fried, along with many Democrats, had urged more restrictions to limit the spread of the coronavirus. But DeSantis started rebuffing all input, even from President Donald Trump's administration.
"He became much more isolated. He refused to bring different views to his administration and how he governed," Fried said. "He was no longer listening to the majority, just a minority in the state and country. He refused to work across the aisle on issues."
It's important to note Fried's own ambitions. She made the decision that summer to run for Governor, and formally launched her campaign the following summer. Fried ultimately lost the Democratic nomination to then-U.S. Rep. Charlie Crist. But as the only statewide elected Democrat, she often served as a de facto face of the party even before her election as state Chair.
Over DeSantis' first term, Fried's relationship with the Governor grew increasingly icy. DeSantis started canceling Cabinet meetings, a move widely seen as avoiding public confrontations with a political opponent.
"I said at a press conference in 2020, he became a dictator," Fried said. "It was his way or the highway."
At this point, Fried said DeSantis' ambitions unlocked the worst aspects of his nature. While she believed DeSantis always had presidential ambitions, he has decided the way to the GOP nomination now lies in appealing to a rabid base.
"It is imperative that Florida Democrats tell our story of what has happened in our state in the last four and a half years," Fried said.
"From women who no longer have access to reproductive health care, to teachers no longer willing to be a part of their profession anymore and families leaving the state," Fried continued. "The books banned, the anti-protest law passed after George Floyd and BLM. It's imperative Florida Democrats share our stories. It is important for America to know what happened in our state. He doesn't lead by bringing America together."