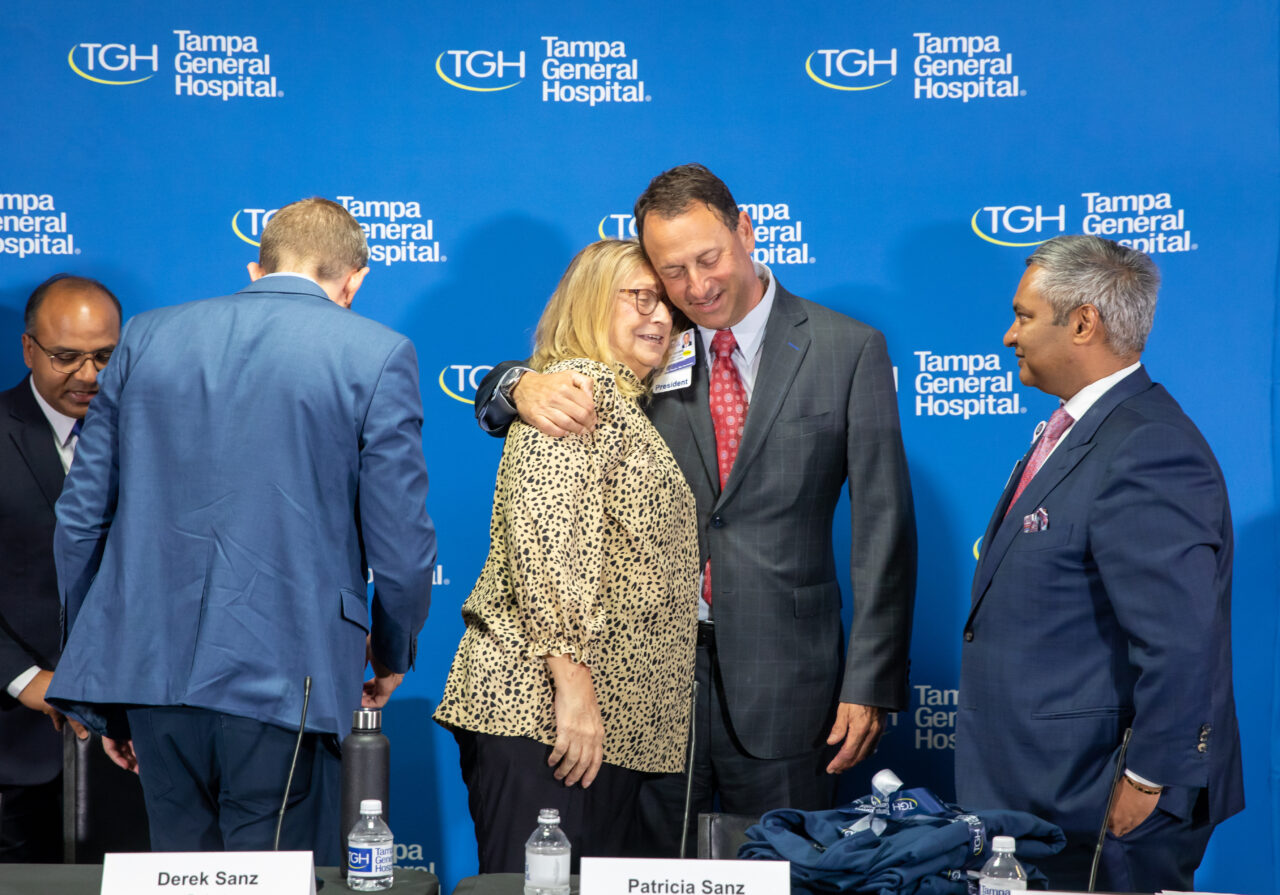 A love story between a mother and son.
Tampa General Hospital, one of the nation's top 10 transplant centers and a U.S. News & World Report's 2022-23 Best Hospitals, announced this week the academic health system completed a successful liver transplant from a living donor earlier this month.
"Our living donor liver transplant program is a prime example of Tampa General continuing to drive innovation to deliver world-class health care," said John Couris, president and CEO of Tampa General. "This program opens up additional access to patients in need of a liver transplant and has the potential to transform the lives of patients and their families in the Tampa Bay region, Florida and across the United States."
TGH's first living donor liver transplant is a significant milestone not just for the health system, but for the region. This successful surgery marks the first of its kind on the west coast of Florida.
It's also a special story between a mother and son.
Patty Sanz had been suffering from liver disease for more than two years. The waiting period for a liver transplant from a deceased donor can last up to five years, according to the National Institutes of Health. Her son Derek volunteered to give a portion of his own.
"He said: 'Mom I'm in 100%, and you can't stop me'," according to Patty Sanz, organ recipient. "Now, thanks to Derek, I'm going to live my life to the fullest … It's going to be fantastic."
"It's special to be able to do that for your mom," said Derek Sanz.
Both TGH patients appeared healthy and full of joy at a news conference Tuesday in Tampa alongside the surgeon who performed the recipient operation, Dr. Kiran Dhanireddy.
"Living donor liver transplant is another avenue to save more lives of patients with liver disease in our community," said Dr. Dhanireddy, vice president and chief of the TGH Transplant Institute and surgical director of the Comprehensive Liver Disease and Transplant Center at the TGH Transplant Institute. "The profound generosity of living donors circumvents the need for extended periods of time to gain access to lifesaving transplantation."
An entire team of health care professionals joined Dhanireddy to participate in the transplant operation, including Dr. Ashish Singhal, director of Living Donor Liver Transplant, who performed the donor surgery; Dr. Diego Reino, an experienced Tampa General transplant surgeon, who supported Dhanireddy; and Dr. Vijay Subramanian, a liver transplant surgeon at Tampa General who assisted Singhal.
Live-donor transplantation has many benefits. Most notably, a person who decides to donate a portion of their liver can reduce the waiting time for a recipient to receive a transplant. In addition, a closer match is more likely to occur with a live donor, and surgery can be scheduled more quickly and easily. Research also has shown that recipients of organs from living donors have better outcomes than those who receive organs from deceased donors.
The Tampa General Comprehensive Liver Disease and Transplant Center began in 1987 and is now one of the busiest such transplant centers in the country, with a record of more than 2,200 operations. The high patient volumes reflect the uncommon and challenging hepatic diseases the TGH Transplant Institute treats compared to other hospitals. In addition, the time required for a transplant is historically shorter than national averages, according to the Scientific Registry of Transplant Recipients data.
For nearly 50 years, Tampa General has been a national leader in lifesaving organ transplantation. In 2022, the hospital performed 682 transplants, a 20% increase in the number of procedures over the previous year. According to the United Network for Organ Sharing (UNOS), the national rate of transplants grew by 3.7% in 2022 over 2021.