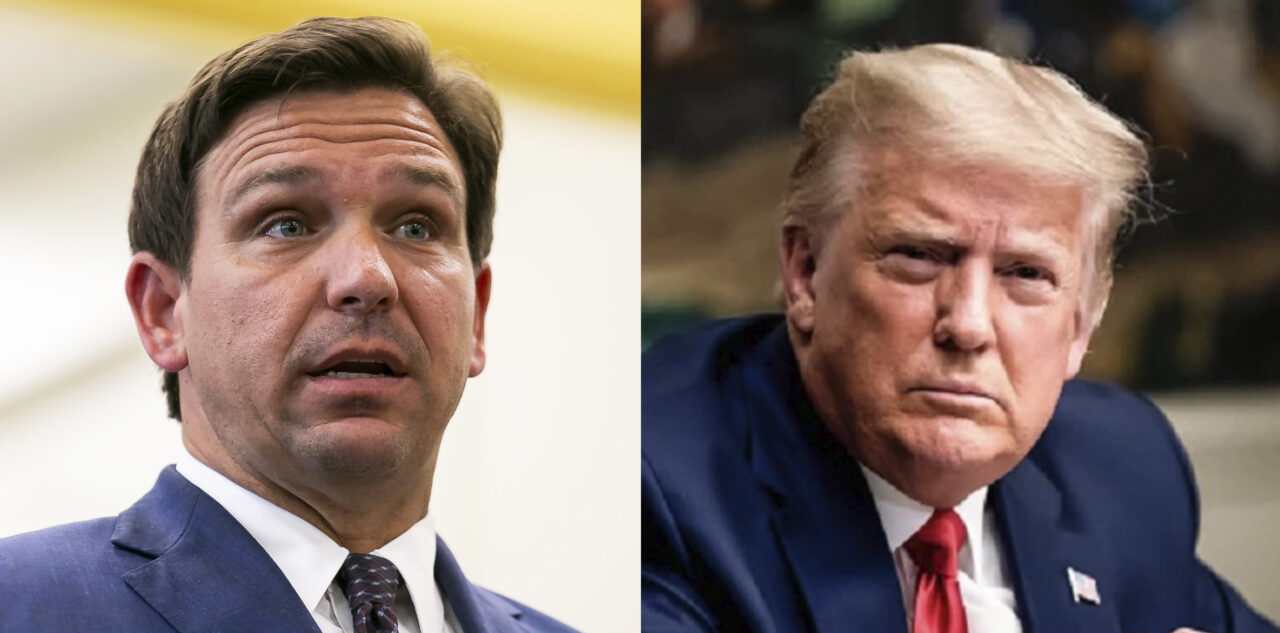 Both Ron DeSantis and Donald Trump have a path to win the state in 2024.
Gov. Ron DeSantis will be announcing his candidacy for the presidency Wednesday at 6 p.m., on Twitter with Elon Musk. This will lead the Governor into a head-on rivalry with former President Donald Trump competing for Primary votes and funding.
According to a new Florida law, DeSantis can run for President while remaining the Governor of Florida. As the third largest state by population, home to the top two main potential Republican Primary contenders, and as a winner-take-all delegate state, Florida will play a key role in the Republican Primary. DeSantis needs to win Florida to be taken seriously as a GOP Presidential Primary candidate. Does DeSantis' gubernatorial success indicate he can win the Florida Republican Presidential Primary?
Winning Florida will be no simple task. U.S. Sen. Marco Rubio embarrassingly lost his own state to Trump during the 2016 Primary races. Rubio lost by an astounding 18 percentage points, which equated to nearly half a million votes. Rubio only won Miami-Dade County, one out of Florida's 67 counties.
In 2016, Trump won 4,617,886 votes in Florida, or 48.6% of the votes. In 2020, Trump received 51.2%, or 5,668,731 votes. Trump continues to rise in popularity in many national polls due to his indictment.
Yet there is hope for DeSantis. In the 2022 Midterms, DeSantis won the gubernatorial race and received a whopping 59.4% of the casted votes. This equates to 4,613,783 votes. DeSantis won seven counties that Trump lost. These seven equate to 37% of Florida's total voters and are home to Florida's quickest-growing regions.
In fact, Palm Beach County, home to Mar-a-Lago, Trump's primary residence, voted for Biden in 2020 and for DeSantis in 2022. During the 2020 election, Trump lost by 12.76 percentage points, or 98,861 votes. In 2022, DeSantis won by 3 points, or 15,842 votes.
The pattern is similar in Miami-Dade, Florida's largest county by population. Trump lost Miami-Dade County by 7.33 percentage points, or by 85,031 votes. In 2022, DeSantis won Miami-Dade by 11.3 points, or 80,596 votes.
In Duval County, which is home to Jacksonville, where DeSantis was born, spent his early years and served as a Congressman, DeSantis won by 38,758 votes. In 2020, Trump lost Duval County by 18,794 votes.
Voter turnout in Florida was at 54% during the 2022 General Election. That far surpasses voter turnout in the 2016 and 2020 Presidential Primaries at 24% and 28%, respectively.
One strategy DeSantis can use to secure his base is relational organizing. This is a campaign strategy that focuses on building personal relationships between the campaign team and voters.
There is a large overlap between social engineering and relational organizing as a campaign strategy. An individual will feel more motivated to vote when they receive a personal text from a friend versus a spam text.
The campaign team provides information such as state voting laws, polling locations and hours of operation. Diverse communities form around campaign staff blending voters from all demographics of society. Each voter receives a score based on previous election participation. This score guides campaigns on how they should focus their time and resources on interacting with the local community.
The best campaign staffers are individuals who have preexisting relationships with the community and feel valued and empowered by the candidate. Interacting with campaign staffers gives many voters the empowering feeling that they are tapping into something larger than themselves, and contributing to the future of America.
Relational organizing has been shown to increase voter engagement by over 12%. This percentage can fluctuate significantly during a race with a low turnout, such as a Presidential Primary.
Securing votes through relational organizing and grassroots is not cheap. According to POLITICO, DeSantis spent about $100 million during his re-election campaign. This equates to approximately $22 per vote for 4,613,783 cast in his favor.
In comparison, Trump spent $733,226,981 during his 2020 presidential campaign. This equates to about $10 per the 74,223,975 votes cast in his favor. Both DeSantis and Trump currently have above $100 million in their respective war chests.
Many campaign studies suggest that it can take seven to 10 indirect impressions for a voter to recognize a candidate's name. The impression can come from ads, hearing a name on TV, seeing their face on billboards or discussing candidates among friends.
The best way for voters to have a lasting impression is by meeting the candidate themselves or interacting with a campaign team member. These impressions typically happen over the span of many months. In Florida, both Trump and DeSantis have likely reached this impression threshold. Nationwide, it will cost DeSantis more money per voter to strengthen his name recognition.
DeSantis developed a relationship with former President Trump before running for Governor. DeSantis supported Trump's foreign policy agendas and fought against allegations Trump had illicit ties to Russia as a Congressman.
DeSantis served as the Chairman of the House Oversight National Security Subcommittee, which has oversight of American embassies. DeSantis and Trump worked closely together on the relocation of the American Embassy in Israel to Jerusalem.
Months later, while President, Trump endorsed DeSantis, paving the way from Congress to the Governor's Mansion. "I knew that a Trump endorsement would provide me with the exposure to GOP Primary voters across the State of Florida," DeSantis writes in his book. While Gov., DeSantis campaigned with President Trump, helping the GOP secure Florida, a former swing state.
In Florida in 2016, Democrats made up 38% of registered voters and Republicans made up 35%. As of 2023, the share of registered Republicans has increased to 37% and Democrats' share has decreased to 34%.
Florida has brought in more than 1.5 million new voters since 2016. This growth is fueled by blue-state transplants, many of which credit DeSantis for their newfound freedom. Many of these voters have re-registered as Republicans or were previously Republican in Democrat-controlled states.
If DeSantis expands his relational organizing and grassroots operations developed during his 2022 gubernatorial race, he will be able to put up a fair fight against Trump. The Florida Presidential Primary will be held on Tuesday, March 19, 2024, alongside Arizona, Illinois and Ohio.
___
Written by: Jonathan Rubin MPA. Jonathan can be contacted at [email protected]