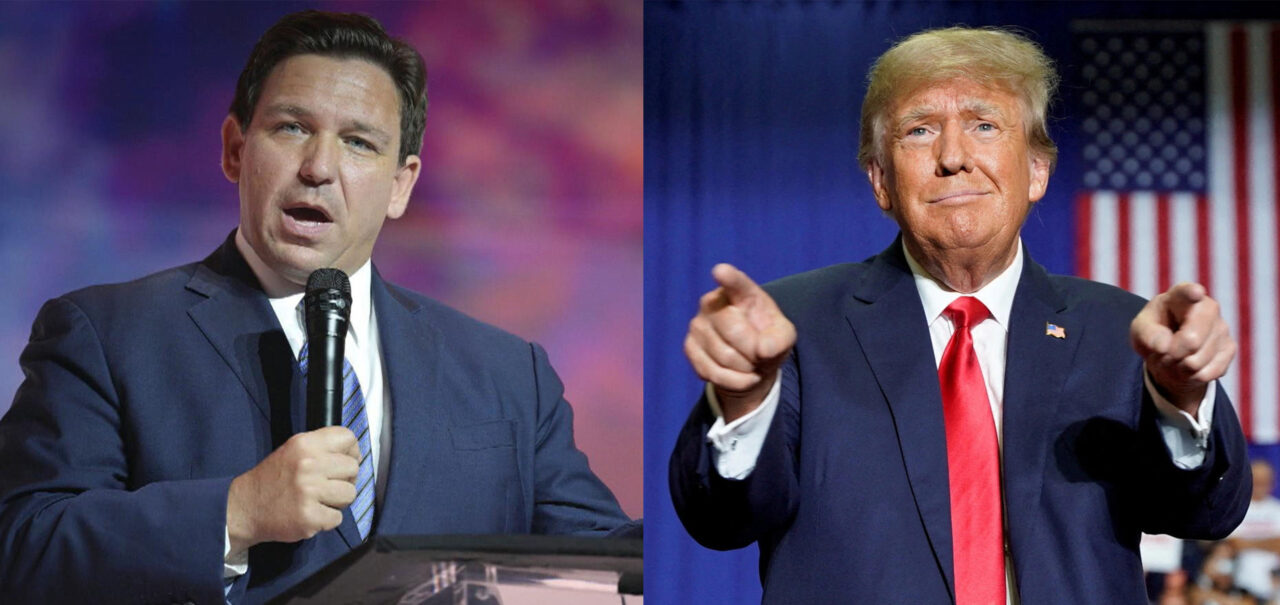 'Ron DeSantis has a big problem with women voters.'
Former President Donald Trump is responding to Ron DeSantis' criticisms of his abortion position by saying the Florida Governor is losing support from women in polls.
Trump told Newsmax's Rob Schmitt that DeSantis is "losing women voters like crazy."
"Ron DeSantis has a big problem with women voters," Trump added. He suggested women Republicans are recoiling from the state's recently passed Heartbeat Protection Act, which bans most abortions after the sixth week of gestation.
"I'm leading him by 40 and 50 points," Trump added, referring to various polls of the race without being specific.
The comments from Trump on Tuesday evening constituted the latest clapback in the abortion debate between the two rivals for the Republican presidential nomination. The former President issued them hours after searing criticism from DeSantis about his inability to say if he backed the six-week abortion ban.
"I signed the bill. I was proud to do it. He will not answer whether he would sign it or not," DeSantis said of Trump in Lighthouse Point Monday.
"Protecting an unborn child when there's the detectable heartbeat is something that almost, probably, 99% of pro-lifers support. It's something other states like Iowa under Gov. Kim Reynolds have enacted," DeSantis continued.
"And I think that as a Florida resident, you know, he didn't give an answer to the question, 'Would you have signed the heartbeat bill that Florida did that had all the exceptions that people talk about?' The Legislature put it in."
The Governor's fiery comments came after Trump offered meandering remarks in an interview published Monday.
In an interview with The Messenger, Trump said that even "pro-lifers" think the new six-week abortion ban is "too harsh."
"Well, he has to do what he has to do. If you look at what DeSantis did, a lot of people don't even know if he knew what he was doing. But he signed six weeks, and many people within the pro-life movement feel that was too harsh," Trump told reporter Marc Caputo.
Despite the six-week ban in most cases, the law allows for certain exceptions.
2022's HB 5 made no exception for cases of rape and incest, a controversy at the time. However, the new bill would allow abortion up to the 15th week of pregnancy if the woman was impregnated by human trafficking, rape or incest or a combination thereof. That exception would include statutory rapes.
Other exceptions would apply. If two doctors judge the pregnant woman to be in danger of dying or suffering "substantial and irreversible physical impairment of a major bodily function of the pregnant woman other than a psychological condition," she could have an abortion. That sole physician's recommendation would suffice if only one doctor were available.
Likewise, if the fetus had a "fatal abnormality," abortion would be permitted during the first two trimesters.