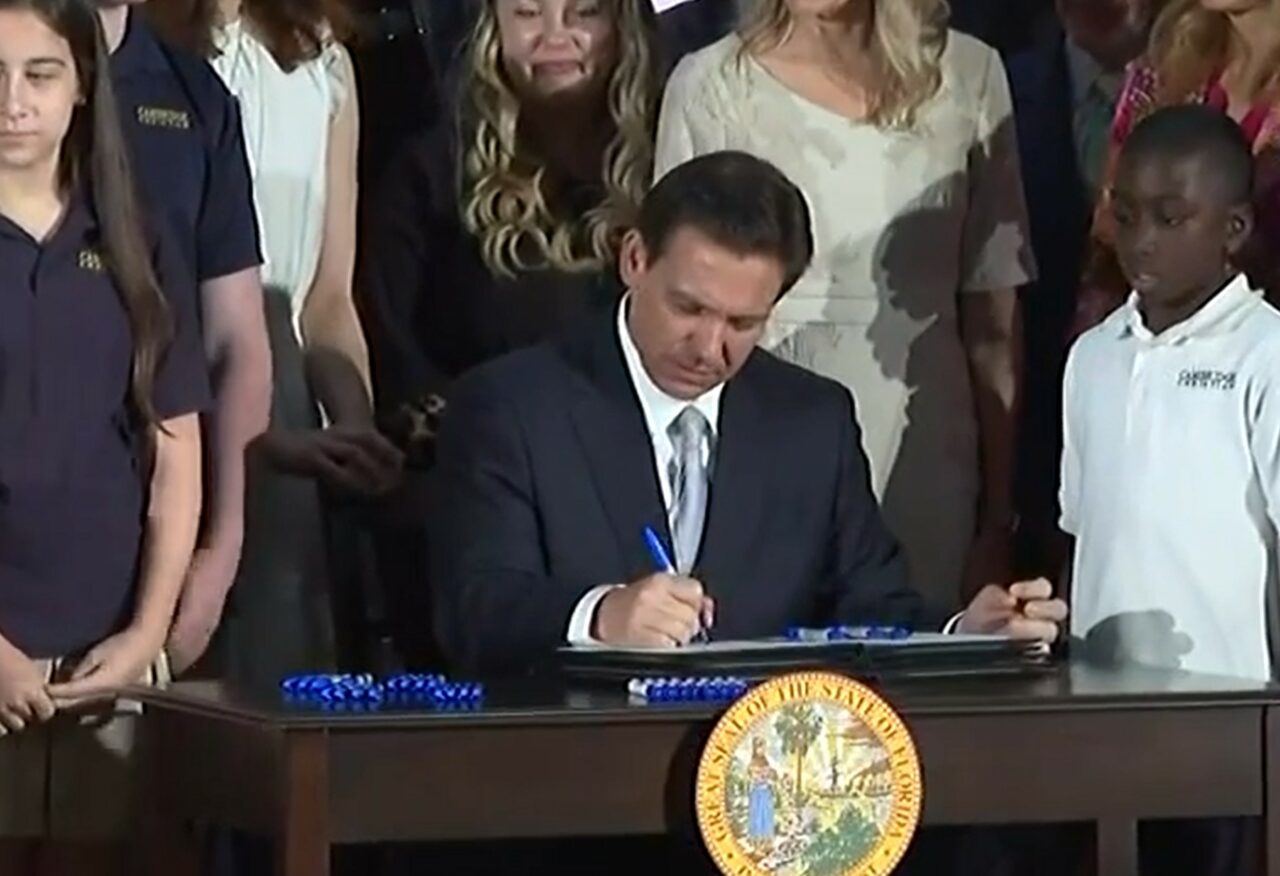 'There's these, like, drag shows. It's sexually explicit, what they're doing.'
A bill designed to punish people and venues that admit kids to drag shows, burlesque performances and other types of "lewd" entertainment is now law.
Surrounded by parents and children at the Cambridge Christian School in Tampa, Gov. Ron DeSantis signed the measure (SB 1438) codifying strictures his administration implemented last year to crack down on "lewd" performances with minors in the audience.
Titled "Protection of Children," the measure bans letting anyone underage into "any show, exhibition, or other presentation in front of a live audience which, in whole or in part, depicts or simulates nudity, sexual conduct, sexual excitement, or specific sexual activities."
That includes "lewd conduct, or the lewd exposure of prosthetic or imitation genitals or breasts," shows appealing to "prurient, shameful, or morbid interests," and patently offensive displays "without serious literary, artistic, political, or scientific value for the age of the child present."
A person who admits a child to such a performance will face a first-degree misdemeanor, punishable by up to $1,000 in fines and a year in prison.
The hotel, motel, restaurant, bar, theater, club or similar establishment hosting the event will face a $5,000 fine for a first offense, and a $10,000 penalty for each violation thereafter. The Department of Business and Professional Regulation (DBPR) will also be able to revoke the business' liquor license.
City officials who issue permits for a public event, including risqué gay pride parades that expose children to such displays, will also face misdemeanor charges.
The bill did not include the word "drag" on any of its five pages, but the Governor's comments before signing it left little doubt about its intent.
"This is sad that you kind of have to do this," DeSantis said Wednesday. "There's these, like, drag shows. It's sexually explicit, what they're doing. And look, adult entertainers — people can do what they want with some of that. But to have minors there, I mean, you have situations where you'll have an 8-year-old-girl there, where you have these really explicit shows, and that is just inappropriate."
Proponents of the law — including its Republican sponsors, Sen. Clay Yarborough of Jacksonville and Rep. Randy Fine of Palm Bay — argued it is necessary to shield children from exposure to obscenity.
Both attended the Wednesday event, which also saw DeSantis sign other bills to ban gender-affirming treatment for minors, expand legislation critics call the "Don't Say Gay" law through eighth grade, curb the use of personalized pronouns in schools, broaden parents' book-challenging powers, restrict bathroom access to a person's biological sex and impose state control over the Florida High School Athletic Association to prevent transgender athletes from participating in women's sports.
Fine repeated what became a mantra for him during Session while advocating for the measure and a fleet of other bills targeting pro-LGBTQ policies in the state: "There is evil in this world, and we are fighting it here today."
Detractors of the measure, like former Orlando Rep. Carlos Guillermo Smith, Florida's first openly LGBTQ Latino state lawmakers, decried it as puritanical overreach meant to ostracize an already marginalized community.
"This law, just like so many others, is using vagueness as a sword to intimidate people and create fear in such a way that they are scared to open their doors to drag performances for fear of retribution, fear of $10,000 fines and fees, fear of jail time," said Smith, who is now running for Senate. "But our advice for folks is simple. Don't run. Don't hide."
Angelique Young, a drag entertainer, mocked the new law as nonsensical considering how permissive clothing rules are in some areas, including the numerous nude beaches across Florida.
"We live in Florida, where more women are topless at the beach than they are in the streets, and people can walk around in places like Miami with barely any clothing," she said.
"We live in a state that the law is, as long as the hole is covered, we can walk through the streets in thongs and bathing suits and whatever we want as long as our nipples are covered and our bootyholes are covered. Basically, let's be real about it."
Of note, SB 1438 appears to be in conflict with an existing statute (847.013), which it would not overwrite, also concerning the exposure of youths to movies, live shows and other such entertainment that depicts "nudity, sexual conduct, sexual excitement" and other content "harmful to minors."
However, the older law includes an exception for people and businesses that admit minors to those sorts of shows if a parent accompanies them.
The new law does not penalize parents, but it also does not include that exception.
After Miami Sen. Jason Pizzo suggested last month that SB 1438 should be amended to address the potential conflict it would cause with existing statutes if enacted, Yarborough said he was "comfortable with the language" and unworried it might lead to confusion when it comes to enforcement.
Last July, the DeSantis administration filed a state complaint against the R House, a bar in Miami's Wynwood area, after a video circulated on social media showing a G-string-wearing dancer with breasts covered only in pasties and dollar bills leading a girl 3 to 5 years old around the establishment.
Similar actions followed elsewhere, including multiple investigations linked to the holiday-themed "A Drag Queen Christmas" show in Miami, Fort Lauderdale and Orlando. Fine also tried unsuccessfully in September to cancel the Space Coast Pride event in Melbourne.
In March, DBPR agents reported that the Orlando drag show featured no lewd acts or improper physical contact.
The other cases still pend resolution.
___
Jacob Ogles of Florida Politics contributed to this report.