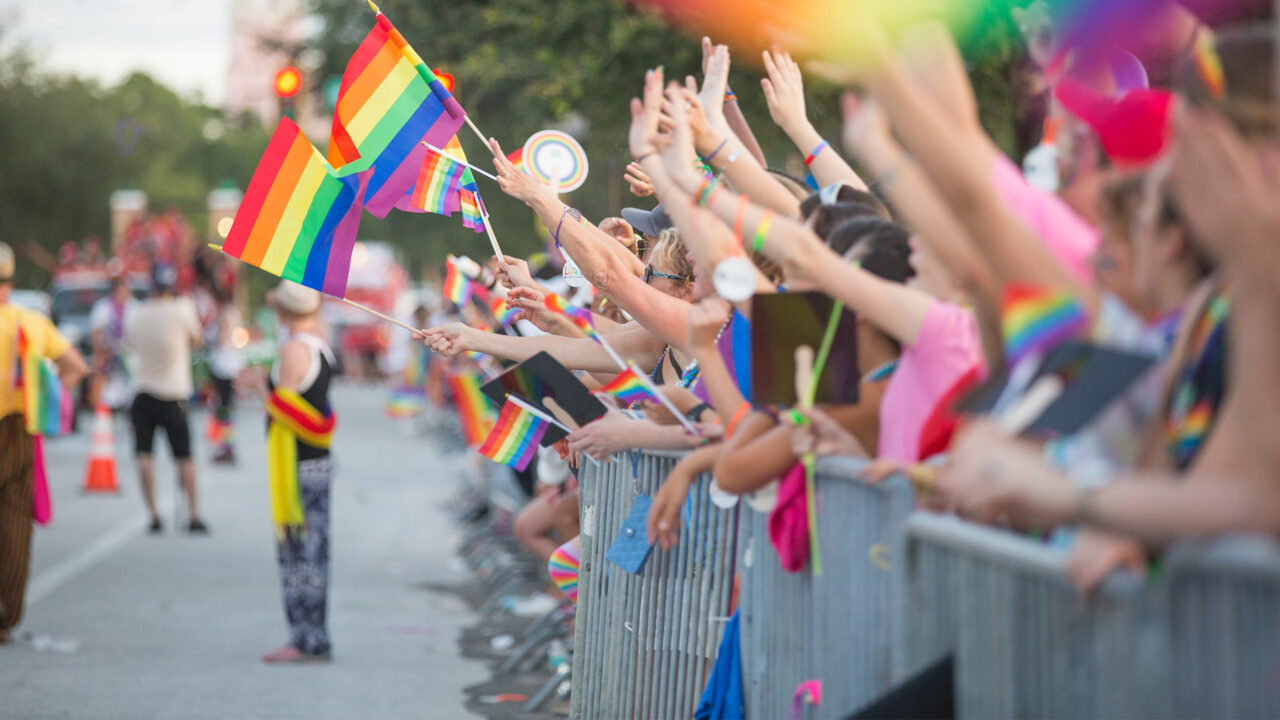 See you at Pride. If it's not canceled.
Gov. Ron DeSantis and his swarm of conservative lawmakers, media allies and constituent groupies have gotten their way when it comes to turning drag shows into, well, a drag.
But when DeSantis signed SB 1438, "Protection of Children," he unleashed a torrent of culture war strifes, economic boondoggles and hypocritical possibilities.
The law at issue is a crackdown on "lewd" performances where children are present. The law doesn't mention drag shows, but make no mistake, that's what it targets — DeSantis himself has even said so.
It bans minors from live shows that "in whole or in part" depict or simulate "nudity, sexual conduct, sexual excitement, or specific sexual activities." That also includes "lewd conduct, or the lewd exposure of prosthetic or imitation genitals or breasts." 
Look, I don't think anyone who isn't already or should be a registered sex offender thinks kids should be knowingly subjected to porn. To hear DeSantis and his foot soldiers who carried the bill describe it, that's what drag shows are.
But the vague language barring "exposure of prosthetic or imitation genitals or breasts" opens so many doors to unscrupulous overenforcement, it borders on, dare I say, government overreach.
These are the folks who want the government out of your business … unless it's a vagina, fake or otherwise.
Does showing a prosthetic boob mean it has to be fully exposed, or are we talking run of the mill cleavage here? Because there's a big difference between policing shows that include nudity and shows that have drag queens with side boob.
And the vagueness with which this law is penned is even more problematic when exploring the consequences. A person who admits a child to such a performance will face a first-degree misdemeanor, punishable by up to $1,000 in fines and a year in prison. The hotel, motel, restaurant, bar, theater, club or similar establishment hosting the event will face a $5,000 fine for a first offense, and a $10,000 penalty for each violation thereafter. The Department of Business and Professional Regulation (DBPR) will also be able to revoke the business' liquor license.
If that's not egregious enough, city officials who issue permits for a public event, including risqué gay pride parades that expose children to such displays, will also face misdemeanor charges.
That little snippet has already been tested. Tampa Pride has canceled its "Pride on the River' event saying the group "didn't want to take any chances," noting they were afraid DeSantis "would come in with his Gestapo."
And another test is coming in my hometown St. Petersburg, where the state's largest pride parade happens next month. If you've been, you know the attendees come in all varieties of dressed up revelry, from rainbow clothes and face paint right on up to booby tassels and assless chaps.
There will be kids there, most with their parents, but some older kids are known to wander the festivities sans chaperone, too.
Mayor Ken Welch hasn't yet weighed in on what, if any, steps the city is taking to protect its employees from getting a rap sheet for signing off on a parade. Sources have told me there are talks about options. So far, St. Pete Pride is full steam ahead with plans that include not only the June 24 parade, but a host of ancillary events promoting equality and celebrating the LGBTQ+ community, including its drag queens.
Given what we know about Pride events, it's almost certain the parade and many of the events would run afoul of new law, and that poses too many problems to count.
First thing's first. If anyone from the state or any other agency tries to enforce this law on Pride, we sure as hell better also see enforcement at the Gasparilla parades across the bridge, where exposed breasts are about as common as pirate hats and beads. Guaranteed some of them are, er, "prosthetic."
And if we don't see that enforcement, well there's your proof that exposed breasts are only offensive if they're attached to someone assigned male at birth.
We'll be watching.
Aside from that, DeSantis' "protect kids from drag queens" crusade could be almost as big a hit to businesses and the economy as a global pandemic. When lockdowns and mask mandates were standing in the way of economic prosperity, DeSantis was willing to gamble with lives. But when the threat is a fabulously adorned, elaborately made-up drag queen, to hell with your bottom line!
Tennessee's fiscal review committee in February found that a now-approved bill there imposing similar restrictions on drag shows would cost the state up to $2 billion in revenue. Those losses could stem from anything from people leaving the state to businesses and events shunning Tennessee in protest.
That's certainly what happened after North Carolina in 2016 passed a bill requiring individuals to use the bathroom for the gender assigned at birth. North Carolina reportedly lost $3.76 million in business revenue from companies canceling plans to locate in the state, canceled events and more.
And that's just the broad stroke. On a more individual level, businesses that rely on drag show revenue could find themselves in ruin — either by lost revenue from canceling events to avoid enforcement, or through fines if they don't.
An owner of a Tennessee restaurant that hosts drag brunches, bingos and trivia, told Marketplace that "if you took the drag away, then it's just another boring bar," noting that those events are a major draw for the business.
Google drag queen bingo in your area and see how many hits you get. Then imagine all of those businesses going under.
This is not a pro-business law.
And it's part of a wider attack on the LBGTQ+ community that is, quite literally, going to kill kids.
At the event where DeSantis signed the drag show bill, he also signed legislation banning gender-affirming care for minors; expanding his "Don't Say Gay" legislation through eighth grade; banning requirements that teachers use requested pronouns if they don't align with a students gender assigned at birth; broadening parents' ability to challenge books; restricting bathroom access to the gender assigned at birth; and imposing state control over school athletics to keep trans athletes from participating in girls' sports.
A national Library of Medicine study, part of the National Institutes of Health, found that the suicide rate and suicidal tendencies among transgender people are "considerably high compared to general population," at anywhere from 32% to 50%. The study notes a number of factors that put transgender individuals at greater risk of suicide or suicide ideation, including "discrimination and ill treatment" in heath care systems and rejection among the community.
Whether DeSantis wants to call it that or not, the bills he signed are, in fact, anti-trans. They create discrimination in health care by denying treatment and it exemplifies rejection not just in a community, but the whole damn state.
The bottom line is this: DeSantis' culture war attacks on the LBGTQ+ community, particularly the trans community, is bad for business, it's bad for the economy and it's bad for public health.
Yet our Governor remains not only complacent, but an active cheerleader for policy that will cripple businesses and hurt, not protect, kids.
See you at Pride. If it's not canceled.