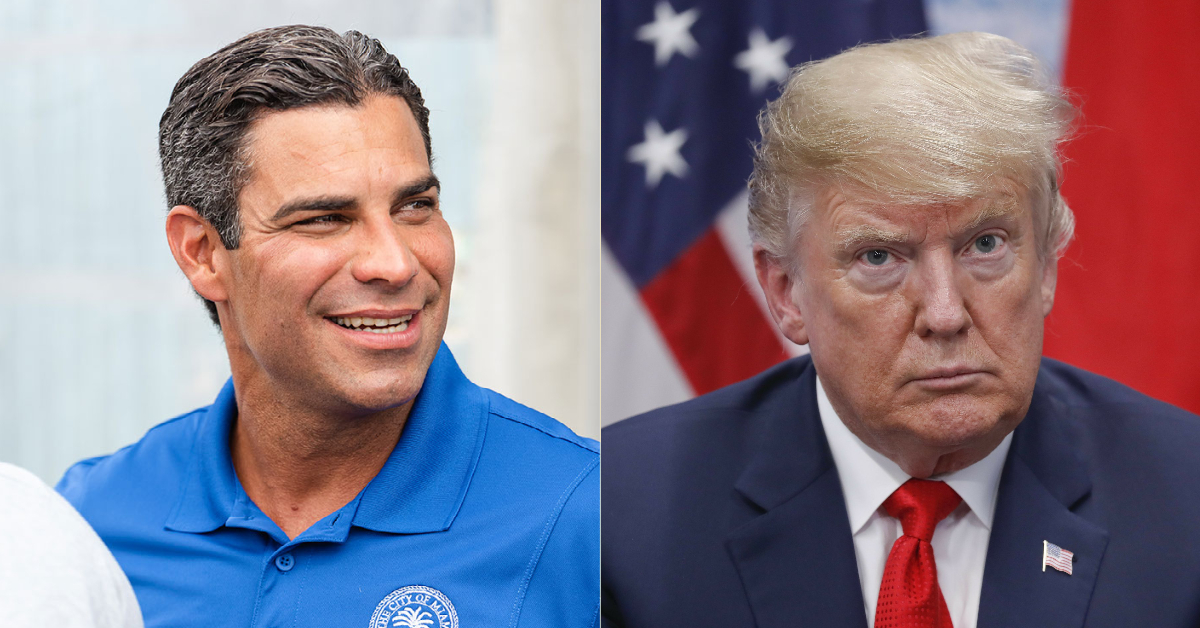 Miami's Mayor believes he can capture the under-30 vote Joe Biden won in 2020 and resonate more with city voters and Hispanics.
While again stopping short of confirming a run, Francis Suarez says he'd have an inside track in a theoretical faceoff with Donald Trump, the current leader in the 2024 GOP race for President.
"I'm aspirational and inspirational," he said on "Face the Nation," adding that he represents "something different" than the former President.
"I can appeal to a different segment of our country, which is voters under 30 that (Joe) Biden won by 26 points, people in cities that I won in my city by 86% and was re-elected (by in 2021) by 80%, and Hispanics," he said. "I think it's important to be able to connect with a voting demographic that's growing and that's trending more."
The comments came after host Margaret Brennan asked Suarez for his thoughts on an idea Trump adviser Kellyanne Conway floated that he and the former President should join forces rather than compete.
Conway suggested Suarez should run as Trump's Vice President. Suarez sidestepped that notion when Brennan brought it up Sunday morning, as well a question about whether Trump — whose indictment this year the Suarez called a "slippery slope" — is "divisive" or "a unifier."
"Look, it's flattering to be in any discussion for the vice presidency or the presidency," he said. "My parents came to this country at 12 and 7 from Cuba, exiled from their country of birth. I never thought in a million years I would ever be on Face the Nation with you talking about the possibility of running for President.
"I think that demonstrates the greatness of this country, that this country provides opportunities to everyone who cares about the American dream, and that's how I've grown up … as a citizen of this country."
Asked about a Miami Herald report on previously undisclosed payments totaling at least $80,000 that he received from a developer in the city through March 2023, which were made public as part of a lawsuit against the company, Location Ventures, Suarez turned his answer into another example of how he differs from Trump.
"Will you release your tax returns if you run for President?" Brennan asked.
"Of course. I have to disclose all the jobs that I have," said Suarez — a real estate lawyer who also works as counsel for the litigation firm Quinn Emanuel and senior operating partner for DaGrosa Capital Partners, a private equity firm — before arguing his work concurrent to his public service to  'really shouldn't matter."
"Our success story in Miami is very incredible, you know. We've lowered taxes to the lowest level in history and grown (jobs by) 12%, the second-most in recorded history. We have the lowest per-capita homicide rate since 1964, and this year we're 40% below that number, you know, and No. 1 in the nation in wage growth (and) unemployment," he said.
"So, I don't know why my local paper is obsessed with how many jobs I do. I think you should be focused on the job of being Mayor, which I think a do a great job at."
Suarez has not disclosed his private clients to the public in his nearly six years as Mayor, a largely symbolic post with little governing power that pays $97,000 yearly plus an expense stipend of roughly $33,000.
His tenure working for Location Ventures, one of many clients, is unknown. His annual disclosure forms through 2021, the most recent year for which information is available, showed no income for the company.