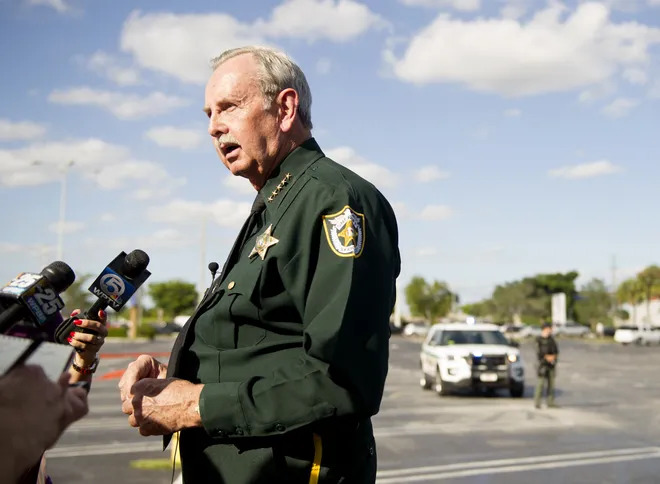 The longest-serving Palm Beach County Sheriff is facing a challenge from his longtime, former No. 2.
On the hunt for his sixth term, Palm Beach County Sheriff Ric Bradshaw is highlighting endorsements from Democrats, Republicans, elected leaders, union and community groups.
The longest-serving Sheriff in Palm Beach County history Tuesday received the backing of county constitutional officers State Attorney Dave Aronberg, who's been in his post for more than 10 years, and Clerk and Comptroller Joseph Abruzzo, who was first elected in 2020. Aronberg called him "the only choice."
"Sheriff Ric Bradshaw is the experienced law enforcement professional Palm Beach County needs," Aronberg's prepared statement reads. Aronberg extolled his leadership, prioritizing mental health and support for all levels of public safety.
"He is a strong partner of mine as we work together to keep Palm Beach County safe," Aronberg said.
Bradshaw, running as a Democrat, is facing a challenge from two candidates he already defeated and also Michael Gauger, who was Bradshaw's second in command for 16 years and now wants to take his boss' job, running as a Republican. Bradshaw already has a Primary rival, Alex Freeman, a former major with the Riviera Beach police, who Bradshaw defeated in 2020.
Abruzzo also cited Bradshaw's experience. In March, Bradshaw officially outlasted the previous longest-serving Palm Beach County Sheriff, Richard Wille, who served 18 years and retired midway through his fifth term in 1995, according to  Palm Beach Post.
"Sheriff Ric Bradshaw is tested, proven, and the most prepared to serve as Sheriff of Palm Beach County. He is a partner our office relies on and has a track record that speaks for itself," Abruzzo said.
Bradshaw also highlighted support from County Commissioners Republican Michael Barnett, Democrat Mack Bernard and Democrat Maria Sachs. School Board members Alexandria Ayala and Karen Brill have also endorsed him.
The police union chief also indicated there's no reason to change leaders now. Last year, however, Bradshaw was out of the office for a few months because of health issues.
"From improving our working conditions to negotiating superior contracts, Sheriff Bradshaw has always had our backs," said John Kazanjian, President of the Palm Beach County Police Benevolent Association. "He holds everyone to the highest standards and so do we."
State lawmakers endorsing him are Democrats:
— Sen. Lori Berman;
— Rep. Kelly Skidmore; 
— Rep. David Silvers.
Bradshaw also received backing from city elected officials:
— In Belle Glade, Mayor Steve Wilson and Vice Mayor Joaquin Almazan.
— In Boynton Beach, Mayor Ty Penserga and Commissioners Angela Cruz and Aimee Kelley.
— In Delray Beach, Vice Mayor Ryan Boylston, Deputy Vice Mayor Rob Long and City Commissioner Adam Frankel.
In Greenacres, Mayor Joel Flores, Deputy Mayor John Tharp, Councilwoman Paulette Bousquet.
— In Palm Beach Shores, Mayor Alan Fiers and City Commissioners Scott McCranels, Tracy Larcher and Brian Tyler, along with former Mayor Myra Koutzen.
— In South Bay, Mayor Joe Kyles and City Commissioner Albert Polk.
— In the village of Wellington, Vice Mayor Michael Napoleone, Councilmen Michael Drahos, John McGovern, and Councilwoman Tanya Siskind.
— In West Palm Beach, Mayor Keith James and City Commissioners Christy Fox, Christina Lambert, Joe Peduzzi, Cathleen Ward and Shalonda Warren.
— In Westlake, Vice Mayor Greg Langowski.
Organizations endorsing Bradshaw are:
— Palm Beach County Police Benevolent Association;
— Florida Police Benevolent Association;
— National Association of Police Organizations;
— Broward County Police Benevolent Association;
— South Florida Police Benevolent Association;
— International Union of Police Associations, Local 6020;
— Palm Beach County Human Rights Council;
— Association of Hispanic Ministers of Palm Beach County; and
— HISPAC Political Action Committee.
The Sheriff's Office is Palm Beach County's largest law enforcement agency with six departments, 4,300 employees, and a budget of more than $810 million.