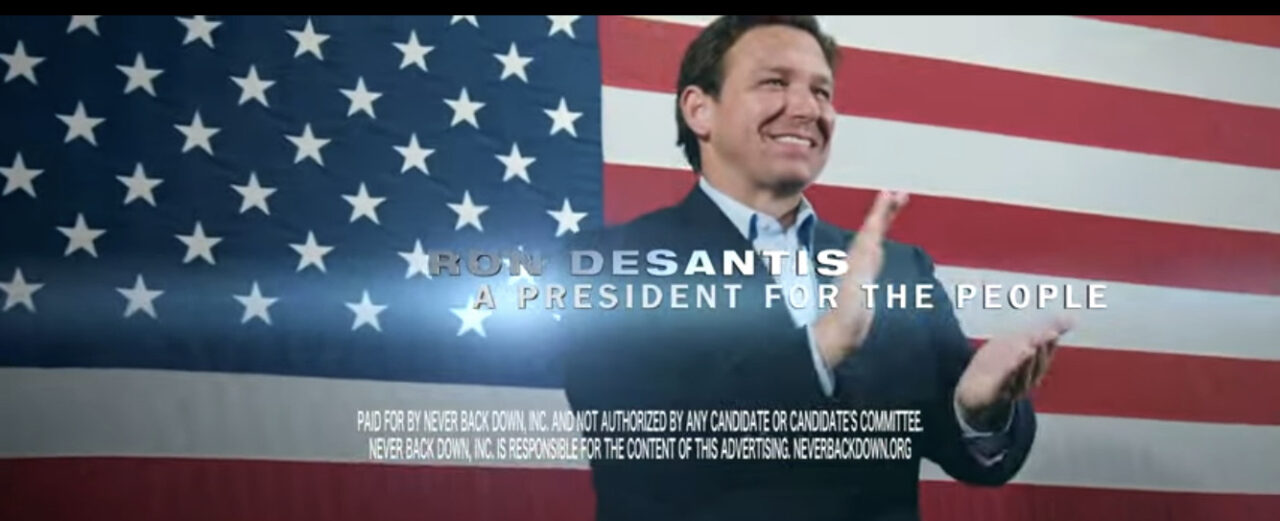 The 60-second spot revisits familiar themes.
Gov. Ron DeSantis is ready to launch his presidential campaign, and his super PAC has new content for the occasion.
Never Back Down's new 60-second spot declares DeSantis a "President for the People," returning to familiar themes to present the Florida Governor as a vibrant and patriotic alternative to incumbent Democratic President Joe Biden.
The spot begins by positioning Biden as weak, with news conference footage on a TV showing the President saying, "There's nothing special about being an American. None of you can define for me what being an American is."
From there, a series of shots intended as apocalyptic visions: mass shootings, newscasters bemoaning inflation, border crossings, riots in the streets, a drag queen, and Biden toasting China's Xi Jinping.
"America has fallen," the narrator and graphic say, setting up the introduction of DeSantis as the singular figure who can help the country restore its national pride.
"Who will stand?" the narrator continues. "From a family of steelworkers, Ron DeSantis served our nation."
Shots of steel being forged and of his military service give way to the Governor's oratory.
"When the world went mad, we stood as the citadel of freedom," DeSantis says, with shots of Dr. Anthony Fauci and someone wearing a mask due to fear of COVID-19 offered as juxtaposition.
"Freedom is here to stay," the Governor continues, as triumphant characters peel off their COVID-19 masks.
DeSantis "stood for what is right," the narrator continues, over a graphic proclaiming him a "leader that will save the nation."
Shots of the Governor signing legislation banning trans athletes from women's sports follow, juxtaposed over cheering crowds and more jump cuts of drag queens and a book called "Woke Baby."
"We fight the 'woke' in the schools, We fight the 'woke' in the corporations. We will never, ever surrender," the Governor vows.
The super PAC shared the ad first with POLITICO Playbook, but you can see it below.