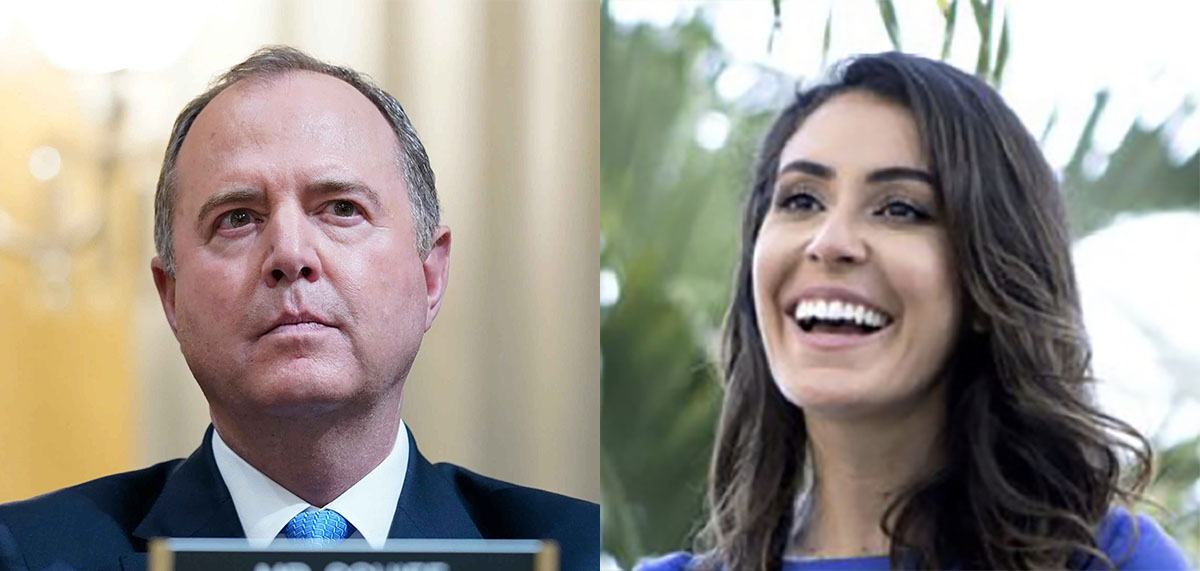 The Republican wants the former Intelligence Committee Chair expelled from Congress.
U.S. Rep. Anna Paulina Luna wants one of her colleagues to leave office and pay $16 million.
The St. Petersburg Republican filed a privileged resolution seeking to censure and fine U.S. Rep. Adam Schiff, a California Republican who previously chaired the House Intelligence Committee. That came days after she filed a separate resolution seeking to expel Schiff from Congress.
"It is the obligation of House Leadership to back up this motion for the American people and hold this feckless man accountable," Luna said.
She took the action after a report was published by Special Counsel John Durham that questioned the origins of Special Counsel Robert Mueller's investigation of Russian meddling in the 2016 Presidential Election. Schiff repeatedly said he has seen noncircumstantial evidence of collusion between former President Donald Trump's campaign and Russia.
Luna, who has endorsed Trump for President in 2024, has said Schiff knowingly misled the American people.
"Adam Schiff lied to the American people. He used his position on House Intelligence to push a lie that cost American taxpayers millions of dollars and abused the trust placed in him as Chairman. He is a dishonor to the House of Representatives," Luna said.
"The Durham Report makes clear that the Russian Collusion was a lie from day one and Schiff knowingly used his position in an attempt to divide our country."
She notably filed her resolution to expel Schiff immediately after the Republican-controlled House shot down a resolution to boot U.S. Rep. George Santos, a New York Democrat facing federal charges of money laundering, fraud, theft of public dollars and false statements. The House voted against expelling Santos and all Republicans, including Luna, voted to instead forwarded charges to the House Ethics Committee.
Democrats had filed the expulsion motion as a privileged motion, forcing a floor vote. Luna is employing the same tactic with her Schiff resolutions.
"This is a privileged resolution and it is the right thing for House Leadership to support and bring accountability and respect back to the House of Representatives," Luna said. "ALL Members of Congress must be held to this standard."
She wants Schiff to be fined half the cost of Mueller's investigation.
"The GOP Conference agrees that Adam Schiff has betrayed the trust of the American people, purposely abused positions of extreme authority, lied continuously, and as such, must be held to account," Luna said.
"Accordingly, the resolution requires Rep. Schiff to pay a $16 million dollar fine, half of the cost American taxpayers were forced to pay for the Russia hoax investigation. I, alongside my Republican colleagues, look forward to an imminent vote coming to the floor to hold Rep. Schiff accountable."
Schiff, for his part, has called the Durham investigation biased.
"This was an investigation that started in a flawed manner, it was conducted in a flawed manner, and its conclusion is a flawed conclusion," Schiff told MSNBC.
He has also fundraised off Luna's resolutions as he runs for U.S. Senate in California.
"Last week a GOP Representative filed a motion to expel me from the U.S. House of Representatives," Schiff tweeted. "Just now that same representative filed a motion to censure and fine me — to the tune of $16 million. They aren't getting the message: It will not work. I will not back down."