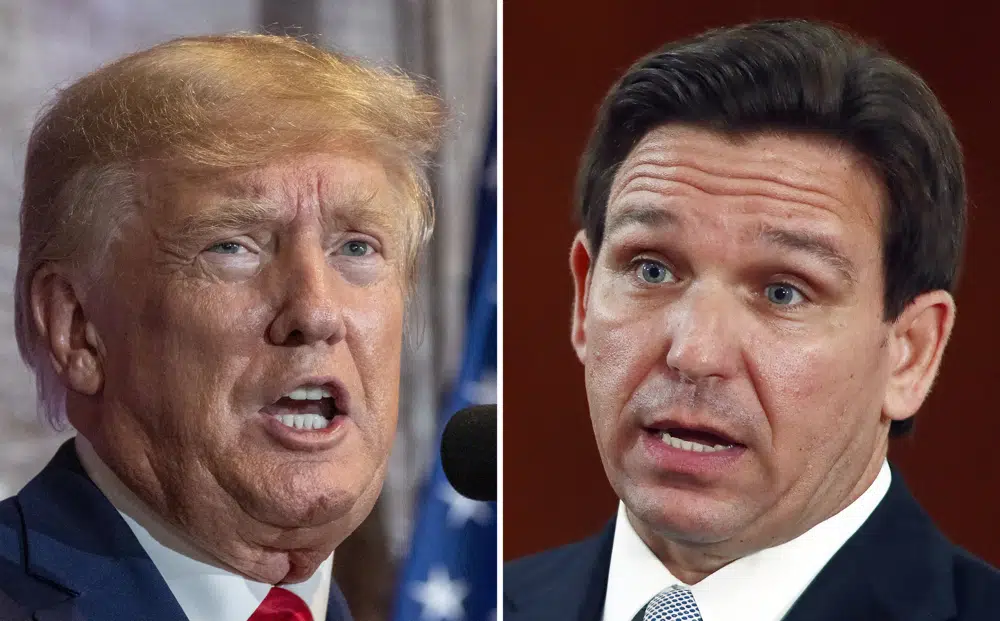 Still, there were plenty of positives for DeSantis in the survey.
Ahead of Ron DeSantis' formal 2024 campaign launch, polling continues to show him struggling against Donald Trump.
A new survey from The Economist and YouGov shows the former President taking 60% support from Republicans in a two-way race against the Florida Governor, who musters just 28% among the 408 GOP voters surveyed.
Among independent voters, who can vote in Primaries in some states, Trump leads DeSantis 24% to 17%.
Trump also leads across the whole sample regardless of the respondents' political ideology. Conservatives back Trump 53% to 31%. Moderates prefer Trump also, 30% to 24%. And even liberals, who will not matter in the fight for the Republican nomination, favor Trump, 22% to 16%.
Republicans also believe Trump is better positioned to win the 2024 election, 58% to 27%. Among conservatives, 52% share that belief, versus just 30% who think DeSantis is the better bet.
Democrats and independents agree with that, albeit by smaller margins: 2 points and 5 points, respectively.
The polling wasn't all bad news for DeSantis.
In terms of overall favorability, Republicans, conservatives, and Trump voters from 2020 all regard him well. He enjoys 74% approval with GOP registrants, 77% with conservatives, and 78% with those who voted for the former President three years ago.
He gets similarly high job approval marks from those cohorts, with 77% of conservatives saying the Florida Governor is doing a good job, along with 76% of GOP registrants, and 81% of Trump voters in the 2020 election.
Regarding the Governor's "perceived ideology," those key groups agree that DeSantis is a conservative.
Overall, 76% of conservatives believe DeSantis is "conservative" or "very conservative," along with 67% of Republicans and 71% of Trump 2020 voters.
He gets even higher marks for being a strong leader, with 86% of conservatives, 83% of Republicans, and 88% of 2020 Trump voters taking that position.
The survey of 1,500 total respondents was conducted between May 20 and May 23.