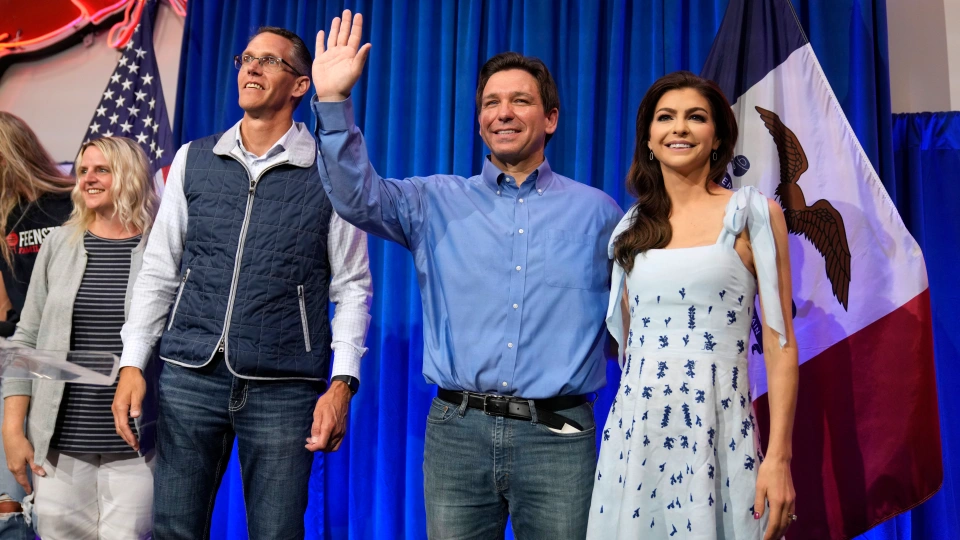 'These are not popular positions here in Iowa.'
Though polling of Iowa Republicans puts Ron DeSantis in second place in next year's caucuses, he's top of mind among the state's Democrats.
Ahead of a two-day tour kicking off with his campaign launch rally Tuesday in West Des Moines, Iowa Democratic Party Chair Rita Hart previewed the Governor's return to Iowa, including addressing DeSantis' contention that Florida is the "Iowa of the Southeast."
Hart noted that like DeSantis in Florida, Gov. Kim Reynolds of Iowa has governed more conservative than her campaign suggested she would.
"These extreme positions that we have seen come into play most recently in this last Legislative Session that are similar to the things that DeSantis has put forth in Florida were not things that Gov. Reynolds ran on," Hart said. "We didn't see ads for banning books."
"We didn't see a push to make sure that wealthy people in Iowa were going to be able to take public taxpayer dollars so that their children could be educated in private schools," Hart added, referring to programs that increase access to scholarship funds in K-12 competitors to traditional public schools.
"These are not popular positions here in Iowa," Hart said. "I think that we're also seeing that they're not so popular in Florida either."
Hart argued that "DeSantis and the MAGA agenda that he has enacted would be incredibly harmful to the people of this state," contending that "even before he was Governor of Florida, DeSantis focused on serving special interests, which resulted in a rollback of people's Freedoms."
She cited DeSantis' membership in the House Freedom Caucus and painted him as an acolyte of former President Donald Trump.
"Just like Trump, he supported cutting Social Security and Medicare and repealing the Affordable Care Act: all critical programs that so many Iowa seniors and families rely on. Then after Trump handed him the Governor's mansion in Florida in 2018, DeSantis has continued to double down on pushing extreme policies," Hart said, citing Florida's recent changes to abortion laws as one example.
"We know that the majority of Americans and Iowans don't want this kind of government overreach," Hart said. "Florida women and even young girls have already been forced to make the horrifying choice of having to flee from the state or to carry a medically risky pregnancy that puts their lives at risk."
"This is the reality that Ron DeSantis wants to take nationwide," Hart added.