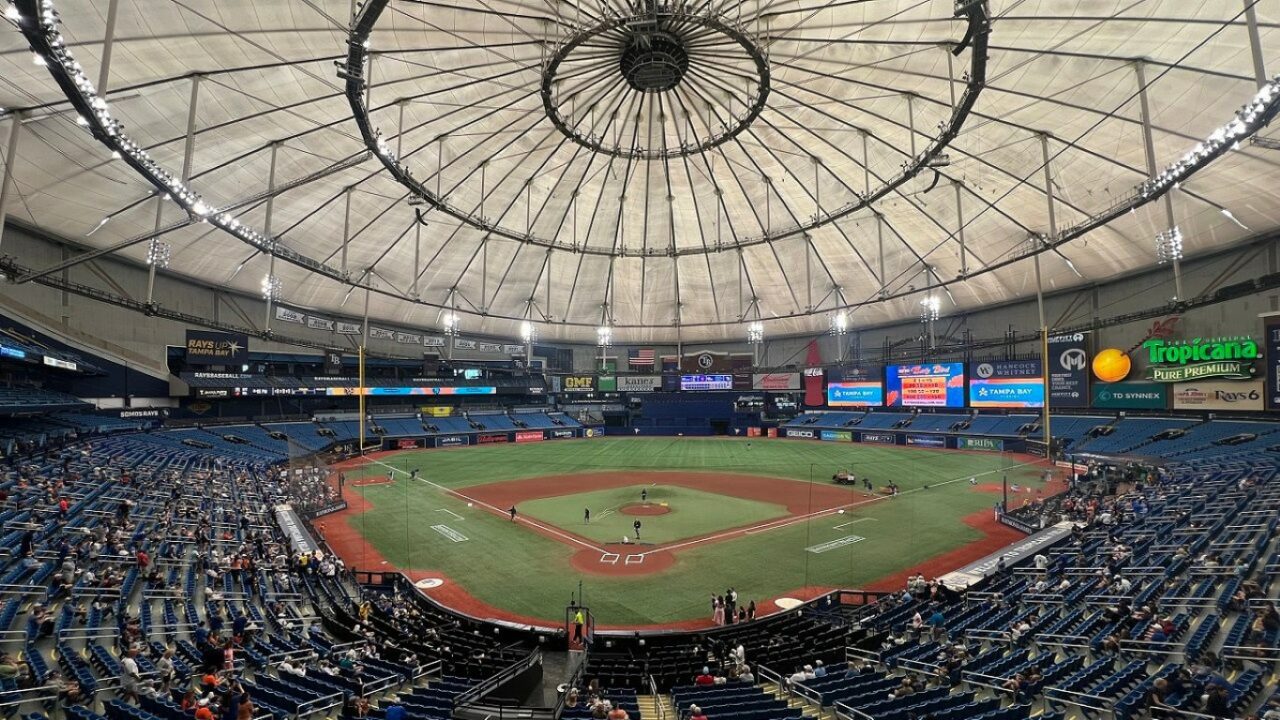 Relatively cheap beer and inexpensive admission make the Trop one of baseball's most affordable stadiums.
Catching a Tampa Bay Rays game is one of the cheapest Major League Baseball experiences in the league. 
A Sportingpost.com analysis of the average cost for a family of four to attend a ballgame puts Tropicana Field in St. Petersburg in the No. 3 spot for value, at just $182.02 for a whole family experience. That's a major savings compared to the most expensive ballpark, Fenway Park, where the same experience would cost families more than $374 to catch a Boston Red Sox game. 
The analysis calculates the cost at each ballpark for four tickets, four hot dogs, two beers, two soft drinks, two souvenir hats and parking.
The calculation assumes $5 beers, sodas and hot dogs; $12.50 each for the hats and parking; and just over $26 each for game tickets. 
Of course, the budget for a family baseball outing could get much pricier depending on food selection, a choice of premium beer or a larger sized beer; better seating; or swankier swag. 
The Rays home field is only more expensive, on average based on these metrics, than LoanDepot Park in Miami, where the Marlins play; and Chase Field in Arizona where the Diamondbacks host its games. 
In Miami, tickets can be nabbed for as little as $23.27. A small beer is the same as Tropicana Field, at $5, but soda is cheaper, at $3. So too can fans save on hot dogs, which are just $3. But parking and souvenir hats are more expensive, at $21.99 for a ball cap and $15 for parking. 
Chase Field boast hats for under $10, while parking will set you back nearly $14. But hot dogs are just $2 and tickets can be found for under $23. The cost of beer and soda is about the same as in Miami, at $4.99 and $2.99, respectively. 
The Rays don't have a very generous 'kids get in free' policy, with only those under 1 year able to enter the park sans ticket. Other ballparks in the top 5 allow free entrance to those under 2 or 3. Camden Yards in Baltimore, where the Orioles play, has the most generous kids policy, with kids under 9 entering at no charge. 
Some ballparks base kids' free entrance on height rather than age, including at Target Field in Minnesota; Petco Park in San Diego; Kauffman Stadium in Kansas City; Citi Field in New York; Guaranteed Rate Field in Chicago; and Globe Life Field in Texas. Those fields cap height at 30 inches (Target Field); 32 inches (Kauffman Stadium; Citi Field); and 36 inches (Petco Park; Guaranteed Rate Park; Globe Life Field).
The Red Sox home field at Fenway Park lands in the most expensive spot thanks to expensive tickets ($61.71); pricey parking ($23+); as well as higher prices on beer ($9.50); soda ($5.50); hot dogs ($6); and team hats ($25.)
Beer lovers might most enjoy Coors Field where the Colorado Rockies play, which not surprisingly based on its name, offers the cheapest beer at just $3. But it'll cost twice as much for a hot dog and $2 more for a soft drink.