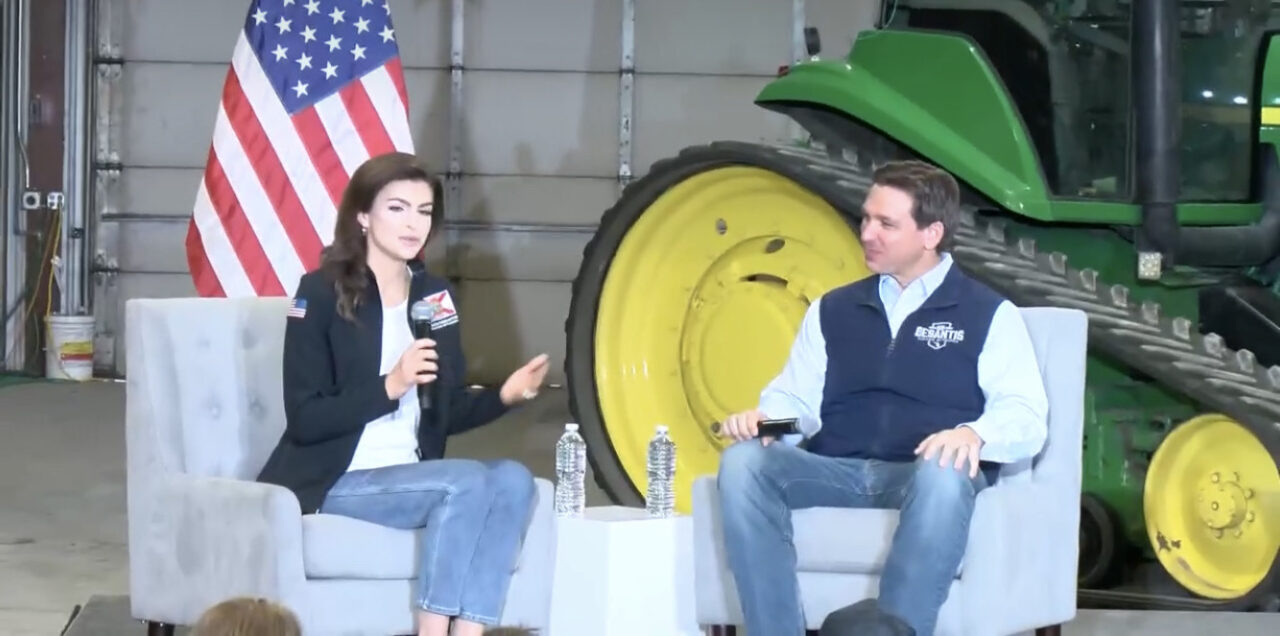 'It's like drunk Florida State students and me and Mason going through the drive-thru.'
In Sioux City making the case for Ron DeSantis' White House ambitions, the First Couple also delivered relatable content about their three children.
Noting that the kids will be in Iowa on Saturday for U.S. Sen. Joni Ernst's "Roast and Ride" event, the Governor and First Lady Casey DeSantis delivered a number of stories about their children and the hijinks that ensue when three young kids are raised in the crucible of the Governor's Mansion.
The stories included one about young Mason becoming a professional football fan, with the son diverging from the historic Tampa Bay loyalties of his father.
"Well, he wanted to go to a game this past year and then when we got to the playoffs, the Jags were in the playoffs and so were the Chiefs and I made, I made a decision that, OK, the Bucs are on the way down. I knew Tom Brady was going to retire after this year," DeSantis said.
"Whereas Jacksonville, their quarterback is 23 years old, they were kind of on the upswing. So I took him to the Jags-Chargers game. It was a great game," the Governor noted. "He fell asleep at halftime and the Jags were getting killed."
At that point, the Governor and his son left, just before the historic comeback.
"So, since he fell asleep, you know, we went home, but by the time we got home, we saw the comeback and he was so excited when he saw that. So he got really into it and he wanted to go the next week. And I explained to him, I was like, 'Well, they don't have any more home games. They're playing in Kansas City.'"
"And then he got up, he got obsessed about doing Kansas City," the Governor added. "So I decided to take our 6-year-old and 5-year-old to the Chiefs-Jaguars playoff game at Arrowhead Stadium."
The snow was falling, the Governor noted, and the kids "had Trevor Lawrence jerseys on, Jags jerseys." But they were confused by a Kansas City Chiefs trademark.
"And so they know Florida State Seminoles and if you know college football, Florida State is the Tomahawk chop. Well, so are the Kansas City Chiefs. So the Chiefs fans get up and they start doing the chop. Our kids didn't know any different," the Governor noted.
"They were the only two fans in Jaguar jerseys doing the Tomahawk chop with all the Kansas City fans, the Chiefs fans like it. They appreciate it. They, a lot of them recognize me and they're like, 'Hey, we're Chiefs fans but we're all Republicans: go get them.'"
The Chiefs would go on to win.
The First Couple also discussed taking the children to drive-thru chicken restaurants, which are popular in Tallahassee.
"So I'm going through taking (Mason) through the, like a late night drive through at Raising Kane's chicken fingers," the Governor noted. "I don't know if they have that here, but it's good."
"But, you know, on like a Saturday night at that time it's like drunk Florida State students and me and Mason going through the drive-thru and so we do it and I'm just thinking to myself like, I mean, you know, this is a pretty crazy whirlwind, you know, that we're doing here as you know, as parents."
The First Lady also explained, as she did Tuesday in West Des Moines, the difficulty of getting 3-year-old Mamie to behave.
"So you tell them like, look with your eyes, don't touch with your hands, sort of thing, not to destroy Florida's irreplaceable history," she said, likening instructing her daughter not to color on surfaces with "permanent marker" to feeling like a "hamster on the wheel."
Seatbelts are also a challenge for Mamie, Mrs. DeSantis noted.
"But it's so funny because we have the entire Florida Department of Law Enforcement, this detail, this motorcade that's getting ready to go. And all you can hear in the background is our 3-year-old saying 'I do it.'"