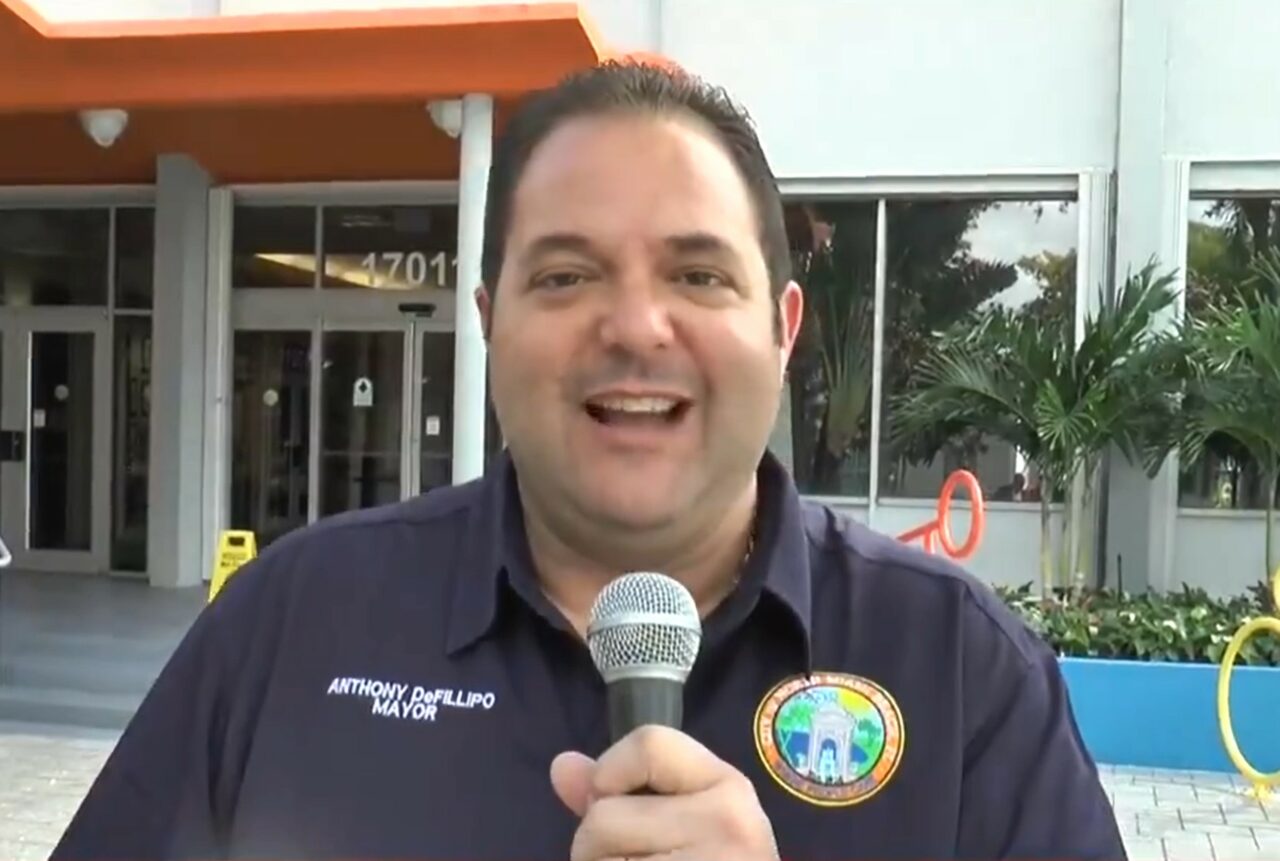 The Democratic Mayor has faced allegations in recent months that he does not live in North Miami Beach, a requirement for elected city officials.
North Miami Beach Mayor Anthony "Tony" DeFillipo has been arrested and faces up to 15 years in prison for voting from an address where he doesn't live.
He is charged with three third-degree felony counts of illegal voting, State Attorney Katherine Fernandez Rundle confirmed. Each carries an up to five-year prison sentence, $5,000 in fines and five years probation.
"We in law enforcement take actions which violate our election laws very seriously. They are crimes," she said on Twitter.
During an afternoon press conference Wednesday, Fernandez Rundle said her office has evidence DeFillipo voted illegally three times.
She said locational data from DeFillipo's cell phone will prove he traveled from Broward County to North Miami to cast ballots in August, October and November 2022 despite no longer being a resident of the city.
Records show DeFillipo was booked just before noon Wednesday at Turner Guilford Knight Correctional Center on a $5,000 bond.

The Democratic Mayor has faced allegations in recent months that he does not live in North Miami Beach, a requirement for elected city officials, and instead resides in a $1.2 million Davie home he and his wife bought in July 2022.
DeFillipo has repeatedly denied the allegation he doesn't live in North Miami Beach, insisting he's been estranged from his family due to "marital issues" and resides in a rented, one-bedroom condo within the city's bounds.
That explanation didn't convince some in the city, including Commissioner McKenzie Fleurimond and a resident who filed a complaint with the Miami-Dade Commission on Ethics and Public Trust, which opened an inquiry into the matter.
In a 184-page deposition released in March, DeFllipo acknowledged owning two homes in Davie, one of which the family sold last summer, but denied either was his main residence. He'd previously lived for 14 years in a North Miami Beach home, which he sold in December 2021.
Asked whether he slept more than 15 consecutive days in the Davie home he still owns, DeFillipo said he was unsure, adding, "I try to spend as much time with my family as I can."
He also admitted to being president of the homeowners association governing his Davie property, a post he resigned from on Jan. 19.
Two days before he stepped down from the HOA, DeFillipo tried unsuccessfully to change the city charter to reduce the Commission quorum after three City Commissioners — Fleurimond, Daniela Jean and Michael Joseph — refused to recognize him as Mayor, saying he'd broken city rules, and began boycotting meetings.
The Commission voted 3-1 on May 17 to remove Joseph from his seat for failing to attend a meeting for more than 120 days. Jean voted "no," while Fleurimond and Jay Chernoff — who share a personal attorney, Michael Pizzi, with the Mayor — recused themselves.
Joseph is now fighting in court to regain his seat.
Pizzi told the Miami Herald that DeFillipo anticipates a "speedy exoneration."
The turmoil this month trailed other instances of unrest at City Hall, including the March 16 resignation of City Attorney Hans Ottinot, who complained he and his firm been targets of "unfair political attacks because of our adherence to the law," and a 6-1 vote six days later to fire then-City Manager Arthur Sorey III without cause.
DeFillipo, the sole no vote, voted earlier in the evening to fire Sorey with cause, a move that would have blocked 20 weeks of severance pay.
A former City Commissioner, DeFillipo won the North Miami Beach Mayor's race in November 2018 with 54% of the vote following years of corruption problems in the city.
His immediate predecessor in the Mayor's office, George Vallejo, resigned seven months early after pleading guilty to campaign finance violations.
Wednesday's arrest marks the third time criminal charges have been levied against DeFillipo in Miami-Dade. He was also booked for petty theft in July 1990 and cannabis possession in May 2013, county Clerk records show.