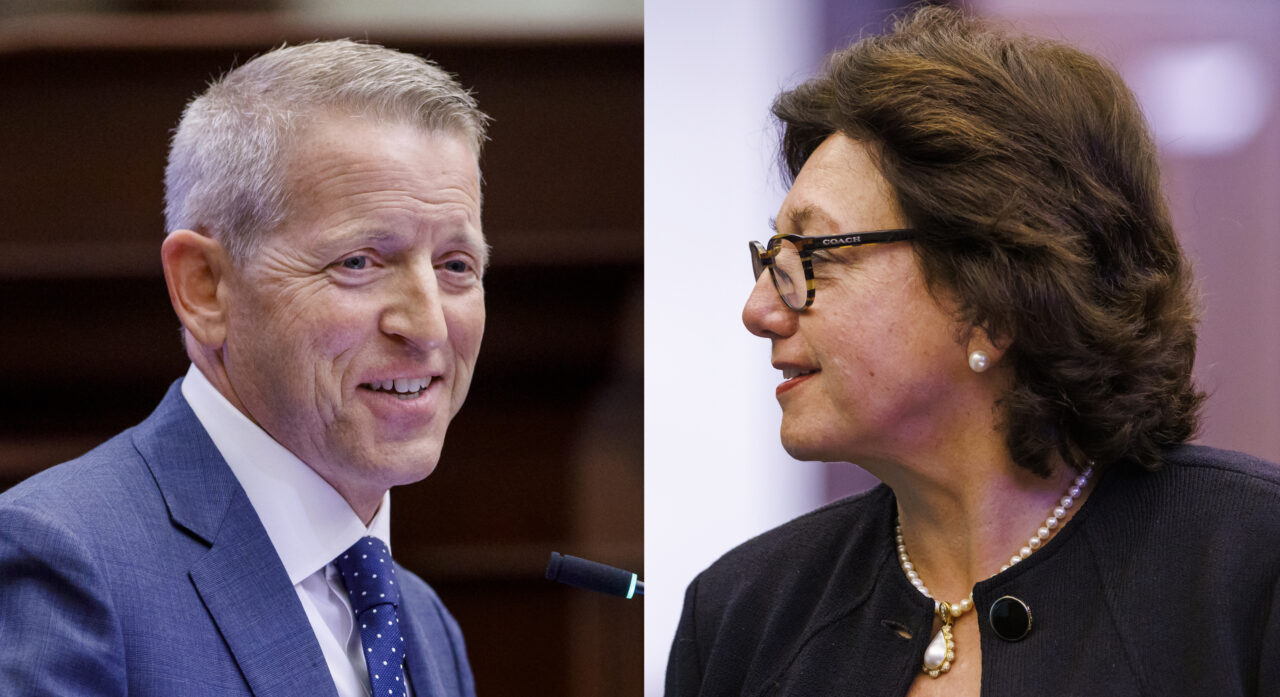 The group celebrated Kathleen Passidomo, Paul Renner, Travis Hutson, Linda Stewart, Tommy Gregory and Tom Fabricio.
Associated Industries of Florida has released its grades on the business voting records for the Florida Legislature. The group also identified a half dozen lawmakers, a bipartisan group, as this year's "Champions for Business."
Champions this year include Florida Senate President Kathleen Passidomo and House Speaker Paul Renner, as well as state Sens. Travis Hutson and Linda Stewart and state Reps. Tommy Gregory and Tom Fabricio.
AIF President and CEO Brewster Bevis said the selections came after exhaustive research and tracking votes on 42 bills this Session.
"Each Legislative Session, AIF works tirelessly, day in and day out, to advocate on behalf of Florida's business community and ensure lawmakers understand the impact that proposed legislation would have on employers throughout our state," Bevis said.
"We track everything — bills, amendments, votes — and we're committed to keeping the business community informed of what happens in Tallahassee. That's why each year for the last 49 years AIF has compiled its Voting Records report, to provide businesses with a thorough review of how lawmakers voted on the issues that matter to them and let them know who their greatest advocates are."
The group bills itself as the "Voice of Florida Business," looking at issues through an economic lens more than a partisan one. But the group's agenda certainly found stronger support on the right than the left. Republicans as a group in the Legislature supported AIF's positions 83% of the time, while Democrats voted with the organization 63% of the time. Of note, Senate Democrats supported the AIF agenda 67% of the time while House Democrats supported it just 60% of the time.
With lawmakers overall voting supportive 77% of the time, that's actually lower than any year AIF tracked over the last decade except for 2022. Yet massive priorities were approved for AIF overall.
The organization has tracked legislation for decades and has comparisons of legislative sessions dating back to the early 1990s available online. Overall, AIF leaders called the Session a win for business.
"Florida's business community saw some significant victories this Legislative Session, from transformative tort reform legislation that will help end lawsuit abuse to a comprehensive workforce housing package that will help Floridians live where they work," said AIF Vice President of Governmental Affairs Adam Basford.
"But not every bill passed will have a positive impact on our state's job creators, so we will continue to work with our members and legislators to hopefully continue to improve the business landscape in Florida. This is also why AIF's Voting Records report is so important. It takes a complete look at every relevant bill filed and every vote cast to provide a full picture of where every lawmaker stands on the issues that really matter to the business community."
The top issue for AIF this year was a tort reform bill (HB 837) passed and signed early in the Session. The legislation was carried by Hutson, a St. Augustine Republican, in the Senate, while House language was crafted by Gregory, a Lakewood Ranch Republican and House Judiciary Committee Chair.
The group also called Passidomo an "essential part" in passing the bill. In spotlighting Renner's support, the group said his leadership helped clear the "most monumental civil justice reform bills in history."
Stewart, the only Democrat celebrated as a Champion of Business by the group, cast the only Democratic vote in either chamber in favor of the bill. Stewart also carried a bill (SB 1002) aimed at limiting litigation over auto glass claims. Fabricio earned notice for being a prime co-sponsor on the bill, and for additionally sponsoring a change (HB 761) to the Florida Telephone Solicitation Act to limit legal exposure for businesses making legitimate calls to consumers.
AIF gave the highest report card scores in the Senate to Sens. Dennis Baxley, Blaise Ingoglia and Debbie Mayfield, all Republicans who voted with the group's priorities 88% of the time. In the House, similarly high scores went to Reps. Robbie Brackett, James Buchanan, Mike Caruso, Wyman Duggan, Fabricio, Juan Fernandez-Barquin, Griff Griffitts, Sam Killebrew and Keith Truenow, all Republicans.
The lowest score in the Senate went to Sen. Victor Torres, a Kissimmee Democrat with a 60% grade. But of note, Sen. Erin Grall, a Vero Beach Republican, was graded at just 67% after voting against the tort reform bill. That put her score equal with Senate Minority Leader Lauren Book.
Rep. Johanna Lopez, an Orlando Democrat and former Orange County School Board member, landed a grade of 50%, the lowest of all lawmakers. The lowest score for a Republican in the House went to Rep. Mike Beltran, a Riverview Republican who earned a 65%.