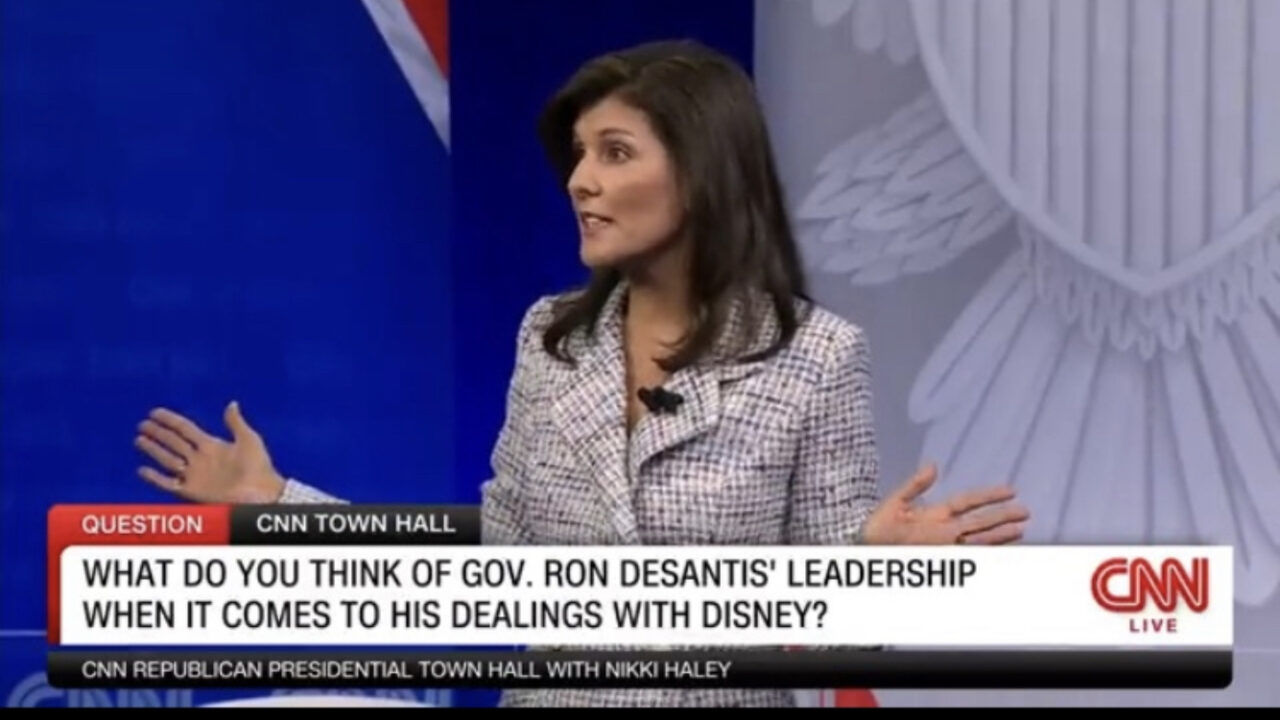 The former South Carolina Governor bashed DeSantis for his Disney dealings.
Nikki Haley had choice words for Ron DeSantis on a number of topics during her CNN Town Hall Sunday night.
On the ongoing conflict between DeSantis and the Walt Disney Company, the former South Carolina Governor again urged him to "pick up the phone, deal with it, settle it the way you should."
"Look, it's the hypocrisy of the whole thing," Haley said.
"What I'm talking about is the fact that here you have a woke company. They've been woke for years. I remember when Disney went after President Donald Trump for immigration, this is nothing new," Haley said.
Haley went on to accuse her 2024 rival of "vendetta stuff."

"So here you have DeSantis who accepted $50,000 in political contributions from Disney. He went and put their executives and their lobbyists on prominent boards throughout Florida and he went and basically gave the highest corporate subsidies in Florida history to Disney. But because they went and criticized him now he's going to spend taxpayer dollars on a lawsuit. It's just like all this vendetta stuff."
Haley also slammed DeSantis and Trump for not being upfront about necessary and inevitable changes to Social Security and Medicare.
"And I know that Trump and DeSantis have both said we're not going to deal with entitlement reform. Well, all you're doing is leaving it for the next President," Haley said. "That's leaving a lot of Americans in trouble."
"I think it's important to be honest with the American people. We are in this situation, don't lie to them and say, 'Oh, we don't have to deal with entitlement reform.'"
In Congress, DeSantis once was in favor of increasing the age for eligibility for retirement programs, but modified his position this year while decrying "Democrat attacks" from Trump, who has spent millions of dollars messaging the Florida Governor's former position.
Haley went on offense against Trump and DeSantis on the issue of Ukraine also.
"What we need to understand is that Ukraine has the ability to win, but we have to, to think bigger than that and for them to sit there and say that this is a territorial dispute," Haley said, directly referencing one of the Governor's phrases about the Russian invasion.
"That's just not the case to say that we should stay neutral. It is in the best interests of America it's in the best interest of our national security for Ukraine to win."
Haley has called DeSantis "weak in the knees" on Ukraine, and clearly still sees his dovishness as a liability in a Republican Primary.