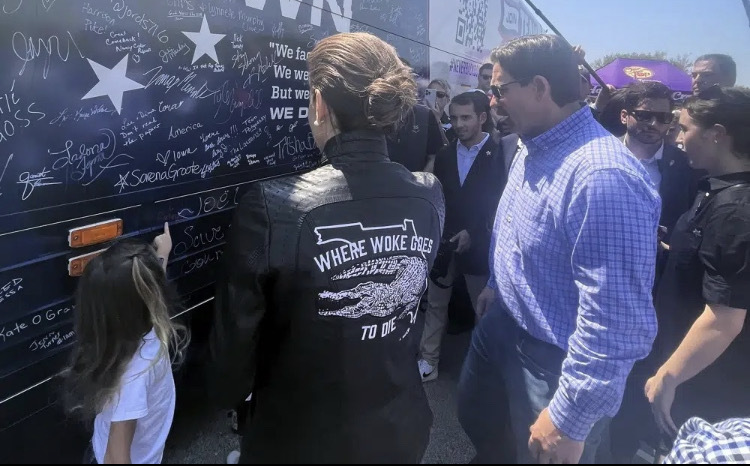 'We're actually in really good shape in the long run.'
Florida's Governor is unfazed by surveys showing him trailing Donald Trump in early 2024 GOP Primary states.
Ron DeSantis told Brian Kilmeade he's only just begun his campaign and that his campaign is in "really good shape" despite being down by double digits in pivotal early states.
"I just started running. I mean, a lot of people didn't know I was going to run or weren't sure. So I think we're actually in really good shape in the long run," DeSantis said. "We've got a great plan and I think we're going to be very strong in Iowa, New Hampshire, South Carolina, which is what you need to do if you're going to be able to win these things."
In Iowa, the Race to the White House polling average shows Trump ahead, 55% to 23%.
In New Hampshire, Trump is up 42% to 20%, with Gov. Chris Sununu's 14% good for a competitive third place. And in South Carolina, Trump leads 41% to 21% for DeSantis, with former Gov. Nikki Haley within striking distance of second place, at 14%.
DeSantis' political operation is telling donors the Governor is "better liked" than Trump, and that he's only losing "left-of-center" voters. Perhaps public polls will reflect that in time.
Meanwhile, DeSantis is skeptical about the polling.
"Some of these same pollsters that are putting some of this stuff out, they were putting out polls in my re-election saying I was only up by one or two points and I won by 20. So I take some of this stuff with a grain of salt. I think there's an effort to try to create narratives with polls for different people's agendas."
The Governor said he believes attacks from Trump, Democrats and "the corporate press" belie the polls and indicate he should be taken more seriously than these public surveys suggest.
"Trump has run almost $20 million in negative ads attacking me, you know, with frivolous and false smears. The corporate press is attacking me more than anybody else. The Democrats are attacking me. They would not do that if they didn't think I was a threat," DeSantis said.
"If they thought that I wasn't, you know, in shape to really win this thing, they would just be ignoring me, but they're not, they're coming after me. I'm the one that's taken most of the fire."