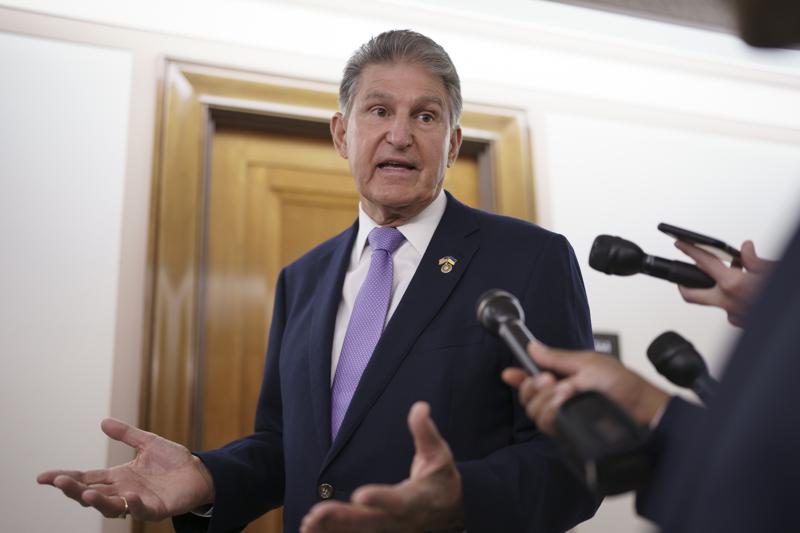 The West Virginia Senator suggests the 2024 race needs a centrist 'Plan B.'
While it's by no means certain West Virginia Sen. Joe Manchin will run for President, polling is already testing the question.
An Echelon Insights survey from late May suggests that should the West Virginia Democrat mount a third-party run instead of running for re-election, it would affect Ron DeSantis more than Donald Trump in a race against incumbent and presumptive Democratic nominee Joe Biden.
Trump would hold a one-point advantage over Biden, 42% to 41%, with Manchin taking 9% and 8% unsure in a hypothetical General Election.
Meanwhile, Biden would be up four points over DeSantis, 42% to 38%, with Manchin pulling 8% support. Another 12% would be unsure of who they would support in that potential election.
Echelon polled 1,035 likely voters between May 22 and May 25, with a sample made up of 38% Republicans, 37% Democrats, and 35% independents. The margin of error is ±3.9%.
Polls show Manchin is behind in a potential re-election matchup against Republican Jim Justice, the current Governor of West Virginia. Perhaps with that in mind, the Senator is publicly mulling a White House run.
"Not ruling anything in, not ruling anything out," Manchin said on Fox News Sunday, positioning himself (or someone) as a potential centrist "Plan B."
"You better have Plan B because if Plan A shows that we're going to the far reaches of both sides, the far left and the far right, and that people don't want to go to the far left and the far right — they want to be governed from the middle," he said.
"I'm not saying who it's going to include or exclude," he added. "I'm saying you better have Plan B ready … because that's what it's going to take for this country to remain the superpower of the world."