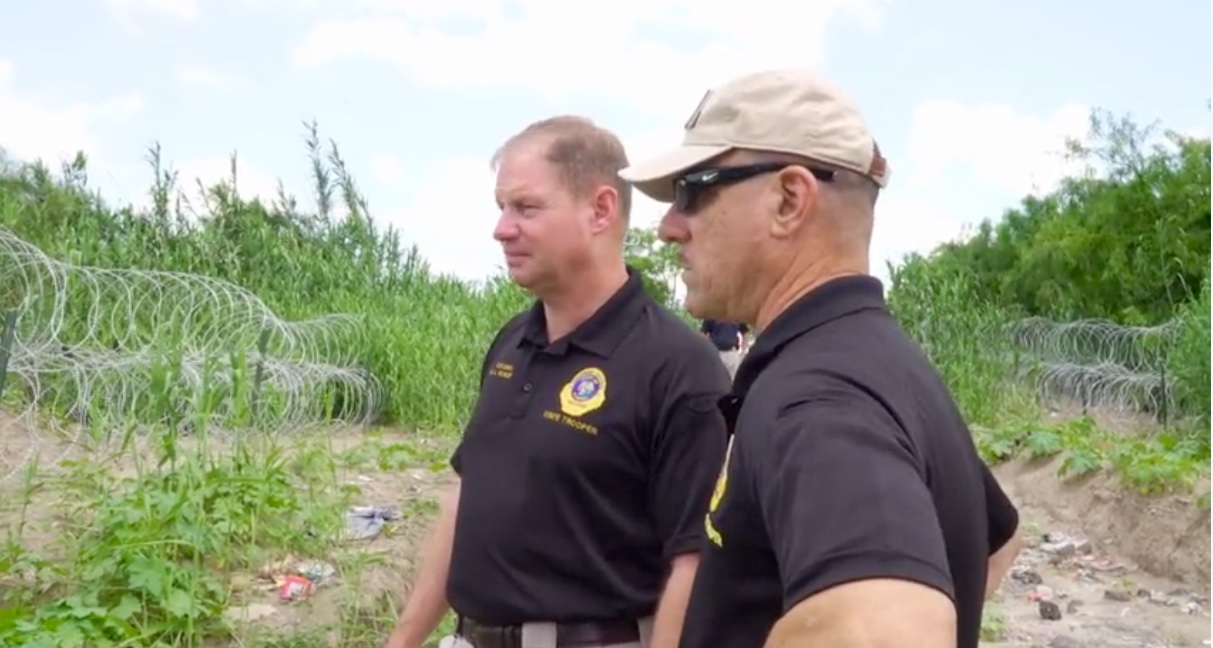 The personnel was sent in response to Texas Gov. Greg Abbott putting out a call for help controlling the southern border.
Florida muscle — hundreds drawn from the Florida National Guard and other law-enforcing agencies — have swung into action in Texas, making contact with more than 5,800 undocumented migrants since May 25, according to information provided by state officials.
More than 550 Florida personnel have been on water patrols, foot patrols and even provided perimeter security around a school in the immediate area near the Texas/Mexico border where gunfire was reported. Florida has assisted in 190 arrests, 700 traffic stops and even the apprehension of an MS-13 gang member on the U.S. Terror Watch List, according to a news release from the Florida Department of Emergency Management.
On May 16, Gov. Greg Abbott put out a call to his fellow 49 governors for help securing the southern border. Within hours, Gov. Ron DeSantis had answered. And Florida's boots for Operation Lone Star were officially on the ground May 25. Governors in Idaho, Virginia and West Virginia also responded to the call.
At an Arizona roundtable with Attorney General Ashley Moody on Wednesday, along with Arizona and Florida Sheriffs, DeSantis expounded on the need for it.
"Our country is falling on its face with respect to ensuring the sovereignty of our country," he said.
He took aim at drug cartel activity at the southern border, even hitting on China and Mexico working together, causing a major threat to the United States.
"They are controlling our own border in our own country, and they're getting away with murder, killing tens of thousands of Americans by moving all this product into our country," DeSantis said.
"Obviously the federal government could solve most of these (problems) if it had the will to do so. And maybe it will get the will to do it at some point in the future. But in the meantime, I think we need to come and work hard together."
A news release broke down the extent of the Texas operation, agency by agency.
Activities include:
— More than 400 Florida National Guard personnel supporting the Texas Military Department, assisting with "mass migration" on the border with static observation, roving patrols and overcoming obstacles.
— 30 Florida Department of Law Enforcement special agents and nine support team members assisting with more than 190 arrests, including one with a capital murder warrant. Charges have involved human smuggling, drug paraphernalia, unlawful weapons and money laundering.
— A total of 101 Florida Highway Patrol members conducting nearly 700 traffic stops, eight commercial vehicle inspections and seven pursuits that resulted in gang members identified and undocumented migrants concealed within vehicles.
— 20 officers with Florida Fish and Wildlife Conservation Commission assisting with rescue efforts, officer safety and emergency medical services.
So far, the Floridians have encountered undocumented migrants from Bolivia, China, Cuba, Haiti, Honduras, Mexico, the Dominican Republic, Venezuela, Columbia, El Salvador and Middle Eastern countries. They were turned over to the U.S. Border Patrol, according to a news release.
A joint task force investigation with FDLE and Texas state and federal partners resulted in seizures worth more than $263,000 in cash, coins, one kilo of cocaine, and one pound of cannabis.