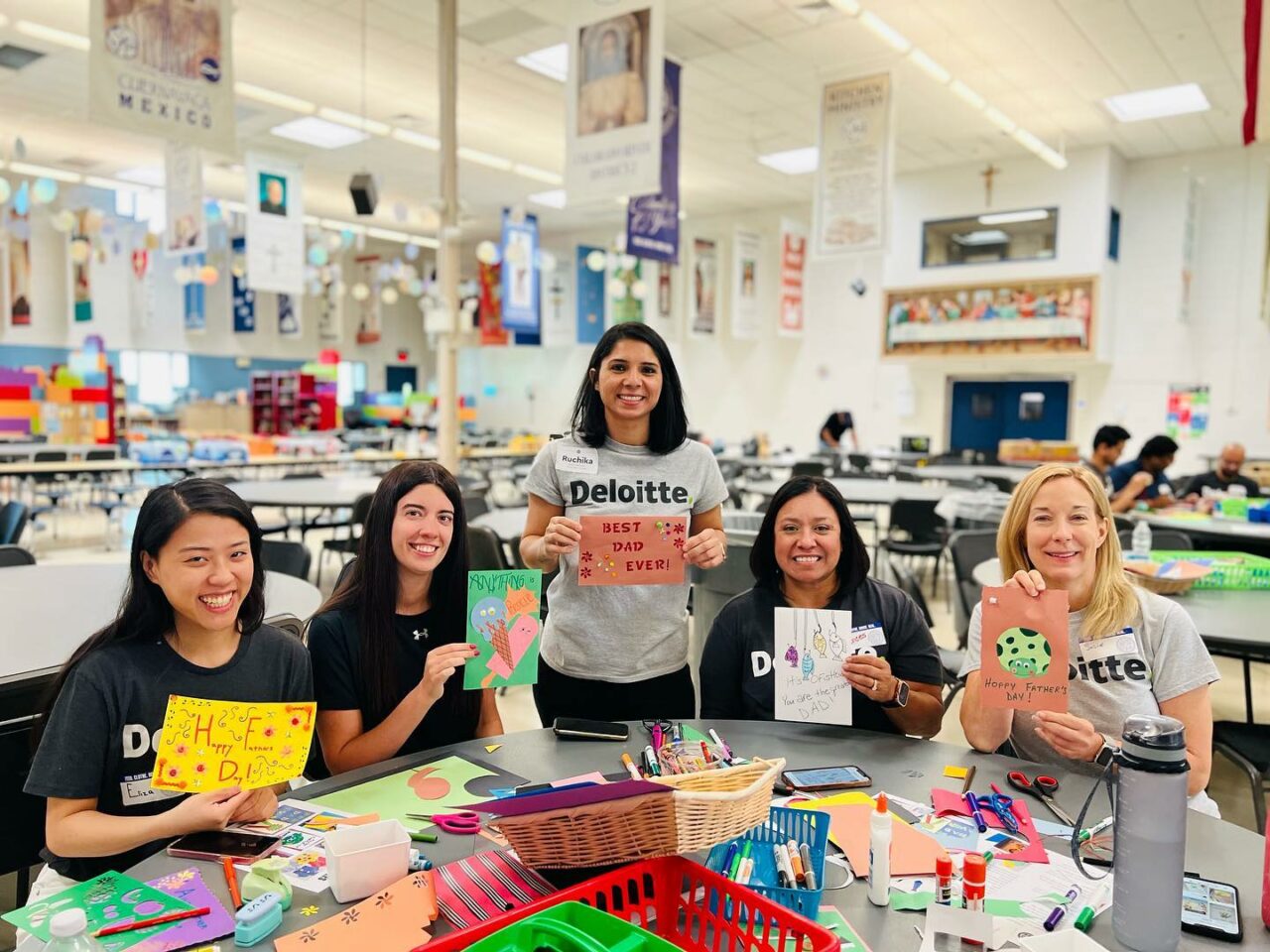 Impact Day featured more than 1,000 volunteer projects in 80 cities across the United States.
More than 1,800 Deloitte team members across Florida spent Friday, June 9, volunteering to support nonprofit organizations in the communities where they live and work. The massive volunteer effort is part of Deloitte's Impact Day, an annual day of service that celebrates the organization's year-round commitment to collectively making an #ImpactThatMatters.
"Deloitte Impact Day is an important tradition for us," said David Friedman, principal, Deloitte Consulting LLP, who leads Deloitte's work for the State of Florida. "Our Florida team members donating their time and talent to support local nonprofits is a reflection of our organization's deep commitment to serving the communities in which we live and work."
Deloitte's Impact Day has been a tradition for more than two decades. Since 1999, it has been an opportunity for Deloitte professionals to support their passions, drive social impact, strengthen communities, and help change lives.
Volunteer events took place Friday across the Sunshine State, from South Florida to the Big Bend.
In the Capital City of Tallahassee, 25 Deloitte volunteers focused on beautification efforts at the Tallahassee Museum. The museum sits on 52 acres and provides people of all ages with the opportunity to experience and learn about Florida's history, natural flowers and wildlife.
"I grew up in a small town where my family was very active in giving back to the community," said Christine Brubaker, Deloitte Consulting's Tallahassee office leader. "Deloitte's commitment to volunteerism anchors me in how I was raised and also serves as a wonderful opportunity for our team to come together and continue to support our neighbors."
In Hialeah, Julien Guynet, a Deloitte senior manager and Christophe Mangin, a Deloitte partner, spent their Impact Day at the Miami Diaper Bank assembling diaper bundle packs for families with young infants and children.
"Teaming up with the Miami Diaper Bank is an excellent way to support new families in our community," said Guynet. "As a dad, I know the demands on parents, and I am glad to pitch in to help others."
The Miami Diaper Bank is a nonprofit that supports low-income families and babies with diaper needs throughout South Florida. The organization collects, stores and distributes free diapers and essentials to ensure every baby in South Florida has enough diapers to remain clean, dry and healthy. The diaper bundle packs will be delivered to other nonprofits, service agencies and shelters to support families and expectant mothers.
Inspired by a female colleague who discovered the Miami Diaper Bank featured on a local news segment, Julien and Christophe teamed up with 25 colleagues to organize the event.
In Orlando, 20 Deloitte volunteers focused on fighting hunger by feeding hope with the Second Harvest Food Bank of Central Florida. The private, nonprofit organization collects, stores and distributes donated food to more than 625 feeding partners in seven Central Florida counties, including, Brevard, Lake, Orange, Osceola, Seminole, Volusia and Marion.
Two Orlando-based Deloitte team members led the effort: Tapan Borah, a solutions manager, and Tiana Tucker, a solutions specialist.
"This is my first Impact Day but, in many ways, it feels like a full circle moment," shared Tiana. "Volunteering has always resonated with me; my first job out of college was serving as a crisis counselor at a local food bank. It is so special for me to engage with our community during Impact Day and serve others in need, making a real-life difference here in Central Florida."
In addition to helping feed those in need, Second Harvest also transforms dozens of lives directly every year. Economically challenged adults who graduate from the organization's 16-week culinary training program are eligible for job placement to set them and their families on a path to economic self-sufficiency.
In West Palm Beach, a group of 30 Deloitte volunteers spent Impact Day painting the home of an 87-year-old woman.
The Deloitte team partnered with Paint Your Heart Out (PYHO) Palm Beach County for the second year in a row. PYHO facilitates opportunities to give a clean coat of paint on homes of low-income, qualifying, grateful residents in their communities.
Julie Seda, a senior administrative assistant at Deloitte, who has participated in Impact Day for 22 years, led the PYHO project. A seasoned volunteer, Seda helps coordinate all the volunteer opportunities for Palm Beach and Broward County every year.
 "Deloitte's Impact Day is an amazing opportunity to help others and brighten our community," said Seda. "This annual event brings joy to us, as well."
This year, Impact Day featured more than 1,000 volunteer projects in 80 cities across the United States.
This national, one-day event reflects Deloitte's year-round commitment to making an impact that matters, which includes volunteerism, workplace giving, pro bono services, social impact innovation, nonprofit board service, and the Deloitte Foundation.