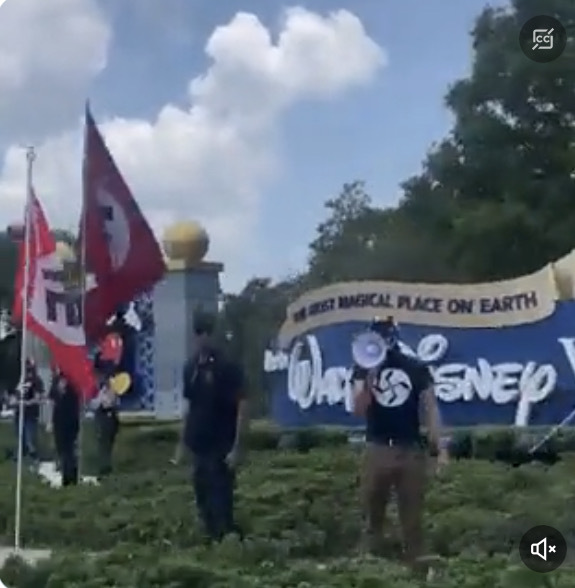 The Governor is in Oklahoma for a political speech; we have reached out for comment.
Gov. Ron DeSantis is in Oklahoma delivering a political speech, but that doesn't mean disturbing news isn't happening closer to home.
Rep. Anna V. Eskamani tweeted on Saturday video of Nazi demonstrators outside of Disney World.
A second image, from Twitter user Shannon Watts, contends that "two dozen white supremacists are outside the main Disney World entrance in Orlando right now, marching with signs featuring Gov. DeSantis's face, swastikas, the n-word and homophobic slurs."
Florida Politics reached out to the Governor's Office for comment.
DeSantis has had to address neo-Nazi demonstrations in Orlando before, including back in 2022 when group of neo-Nazis lined a bridge in eastern Orange County, hanging the swastika flag and banners — including a banner with the pro-Donald Trump slogan "Let's Go Brandon" — and yelling profanities and antisemitic slurs at passing cars.
He was more concerned with Democrats talking about the issue in remarks after the fact.
"So what I'm going to say is these people, these Democrats who are trying to use this as some type of political issue to try to smear me as if I had something to do with it, we're not playing their game," DeSantis said back in 2022.
"Some jackasses doing this on the street, first of all, state law enforcement is going to hold them accountable because they were doing stuff on the overpass. So they're absolutely going to do that, and they should do that," DeSantis added before going back on the political counteroffensive.
"But I'm not going to have people try to smear me who belong to a political party that has elevated antisemites to the halls of Congress," DeSantis said, singling out Rep. Ilhan Omar of Minnesota.
In a tweet posted after the incident and later deleted, press secretary Christina Pushaw responded to Twitter outrage over the Orlando Nazi demonstration by asking, "Do we even know they're Nazis?"
Pushaw then sought to clarify that statement. "I don't know what you mean by 'denying Nazis.' I was referring to this event in VA, when a group of Democrats dressed up as White supremacists to discredit a (Glenn) Youngkin rally," she told Florida Politics at the time.
Similar demonstrations including Nazi regalia and pro-DeSantis flags recurred in 2022.