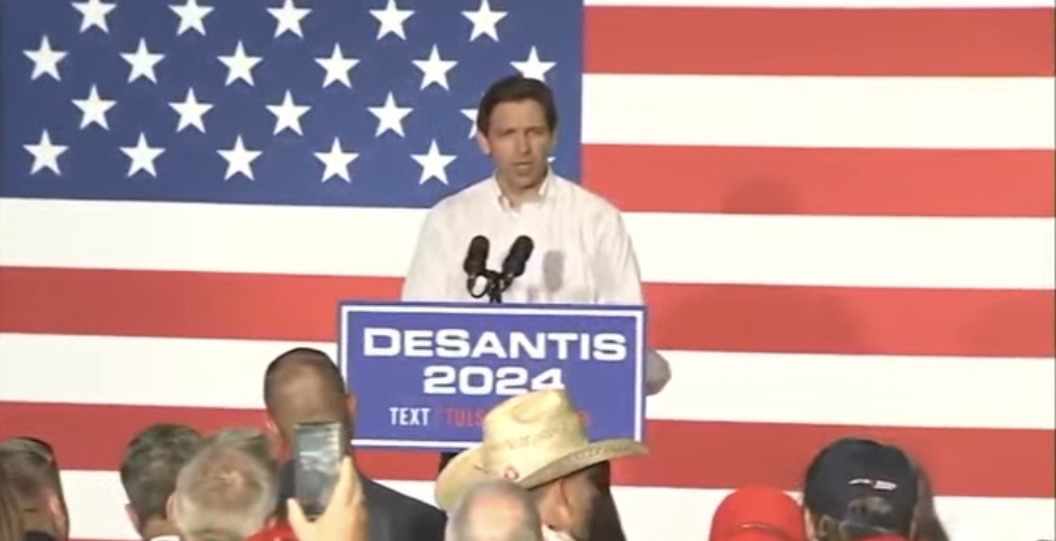 The Oklahoma Governor is '100% endorsing Ron DeSantis for President.'
Ron DeSantis got a hero's welcome — and a key endorsement — in Tulsa Saturday, ahead of a speech heavy on applause and the high points of the Governor's record.
"I believe he is the right guy to beat Joe Biden and to be in office for eight years," said Gov. Kevin Stitt. "I am officially 100% endorsing Ron DeSantis for President."
DeSantis hailed the "tremendous endorsement" from Stitt, vowing to "do him proud," ahead of a speech where he outlined the path to "American renewal."
Stitt's endorsement continues Oklahoma momentum; DeSantis has already been endorsed by 20 legislators in the state, including Rep. Jon Echols, Majority Leader of the Oklahoma House.
The familiar talking points were there: the reference to a "Faucian dystopia," along with bashes of Democratic Governors Andrew Cuomo and Gavin Newsom, the former formerly of New York and the latter still running California.
The ban on Chinese land purchases ("no farmland, no nothing") and the ban on "woke banking" also got strong applause. Denunciations of DEI and amplification of "election integrity measures" were also crowd pleasers, as was a strong stance against the World Health Organization, "vax mandates," and "transgender ideology."
The ritual denunciation of "woke" got an amen from one crowd member, as did the Governor's comments on the military having "lost its way."
"People don't want to join a woke military," DeSantis said, vowing to "rip it out by the roots" on "day one."
Public polling of the Sooner State is scant, but one survey from March showed DeSantis competitive with former President Donald Trump.
As first reported by The Oklahoman, Trump held a modest 9-point lead over the Florida Governor. In a survey from Cole, Hargrave, Snodgrass and Associates, 38% of the 300 registered Republicans polled said they back Trump, with 29% preferring DeSantis, and 11% of voters saying they are undecided.
Other candidates were farther back in the survey, as 6% of respondents said they backed either former Vice President Mike Pence or former South Carolina Gov. Nikki Haley. An additional 4% said they backed U.S. Sen. Ted Cruz of Texas, the winner of the 2016 Oklahoma GOP Primary. Cruz has ruled out a 2024 run to concentrate on his Senate re-election campaign.