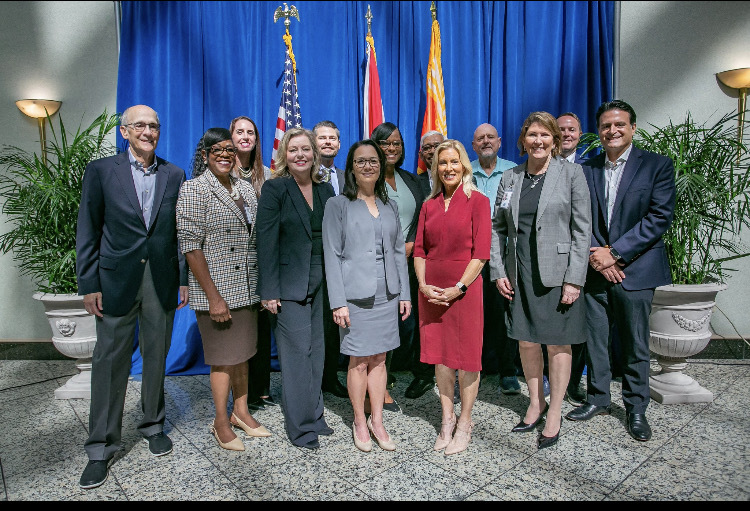 The 'culture of collaboration' begins.
Jacksonville Mayor-elect Donna Deegan is building her administration with some names with City Hall experience mixed in with people pivotal to her victory in May, names that will advance a "culture of collaboration" to "bring positive change to Jacksonville."
Deegan has tapped Karen Bowling to be Chief Administrative Officer.
"As someone who is new to all this, I don't know how we would have survived the last few weeks without Karen," Deegan said.
Bowling is the former CEO of Solantic Urgent Care, a company she co-founded with former Gov. Rick Scott in 2001.
After Solantic's sale in 2011, Bowling went to work for Jacksonville Mayor Alvin Brown as the city's Chief Administrative Officer, then left for other roles shortly before the election, including a role at the University of North Florida.
Former City Council President Anna Brosche will serve as Deegan's Chief Financial Officer.
Brosche ran for Mayor in 2019 after her one term on the City Council as a Republican, losing to Lenny Curry. But she returns to the St. James Building as a pivotal member of the executive branch, and is now a Democrat. Brosche endorsed Deegan on the eve of the election in May, a pivotal endorsement, even if a late one.
Mike Weinstein will be interim CFO until October due to Brosche fulfilling current employment commitments, meanwhile, handling a lot of "big rocks," including the negotiations of the Jaguars stadium deal for the city.
Deegan's former campaign manager Pat McCollough, a former Marine, will be Chief of Staff. She's new to City Hall, but will enter with respect from members of the outgoing Curry administration.
"She is a transition adviser and managed my campaign to perfection," Deegan said.
Melissa Ross will serve as Director of Strategic Initiatives and liaison to the press, leaving a gap to fill at WJCT's First Coast Connect.
"You'll have to get used to someone new for your morning radio," Deegan quipped.
Erica Connor will serve as executive assistant. She ran Deegan's campaign for Congress in 2020.
Phil Perry will handle communications, after having done so for Deegan's campaign for Mayor.
Dr. Sunil Joshi will be chief health officer, a new role and a fulfillment of a Deegan campaign pledge.
Lakesha Burton, a former candidate for Sheriff, will be Chief of Public Safety. She was a 24-year police officer and a public safety analyst for WJXT.
Dr. Parvez Ahmed will be Director of Diversity and Inclusion, yet another new role for the new administration.
Former General Counsel Jason Gabriel will chair the qualifications review committee to evaluate new General Counsel candidates. The respected Bob Rhodes will be interim GC until a final pick is made.