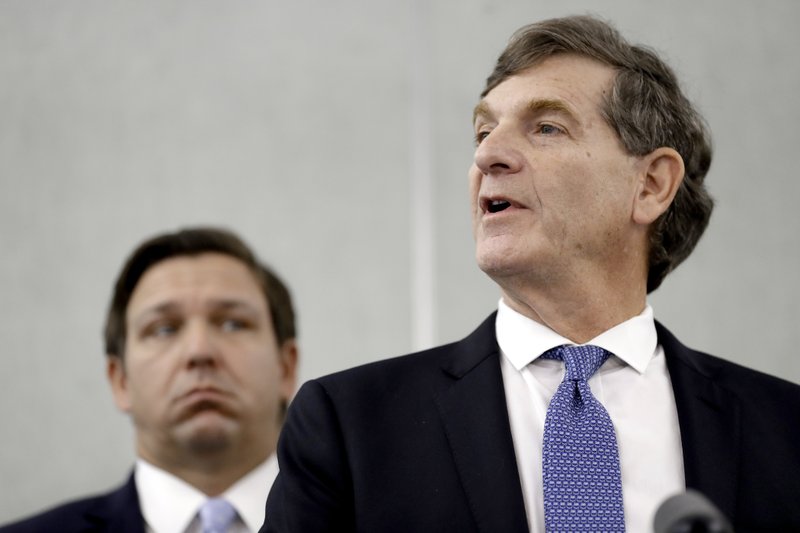 'It breaks my heart thinking that things could have turned out differently....'
Former Florida Surgeon General Scott Rivkees is finally having his say about the state's pandemic response.
During an interview with the New York Times, Rivkees retroactively spoke out about concerns he had with Gov. Ron DeSantis, who became a vaccine skeptic as the pandemic wore on, a move that Rivkees claims came with personal costs.
"These were preventable deaths," Dr. Rivkees told the Times. "It breaks my heart thinking that things could have turned out differently if people embraced vaccines instead of this anti-vax stuff."
Rivkees also spoke out to federal officials, the Times notes, including Dr. Deborah Birx about DeSantis' adviser Scott Atlas and what Rivkees called Atlas' "let-'er-rip philosophy" regarding COVID-19 mitigation.
The former Surgeon General was effectively sidelined for months in his role, having been removed from a pandemic roundtable with the Governor just weeks into the state response, but serving for more than a year afterwards without much in the way of microphone time after saying at a year of social distancing may be required given the unknowns about the pandemic.
"We don't have a vaccine at the present time, so our mitigation measure is the social distancing, six feet away from each other," Rivkees said in April 2020. "As long as we are going to have COVID in the environment, and it is a tough virus, we are going to have to practice these measures so that we are all protected."
As Rivkees was out of the public eye, Division of Emergency Management Chief Medical Officer Dr. Kenneth Scheppke frequently appeared with DeSantis during pandemic events.
The DeSantis administration had nothing but kind words for Rivkees when his departure was reported in August 2021
"We thank Dr. Rivkees for his meaningful work during the most challenging pandemic of our lifetime. We appreciate his service to the people of Florida and wish him the best in his future endeavors," DeSantis press secretary Christina Pushaw said in a statement.
We have reached out to the DeSantis administration for comment on Rivkees' assertions that the state's approach to COVID-19 led to "preventable deaths."
According to the Centers for Disease Control and Prevention, Florida had the lowest per-capita death rate of any state in the Southeast. States outside the region, however, proved better able to mitigate mortality.