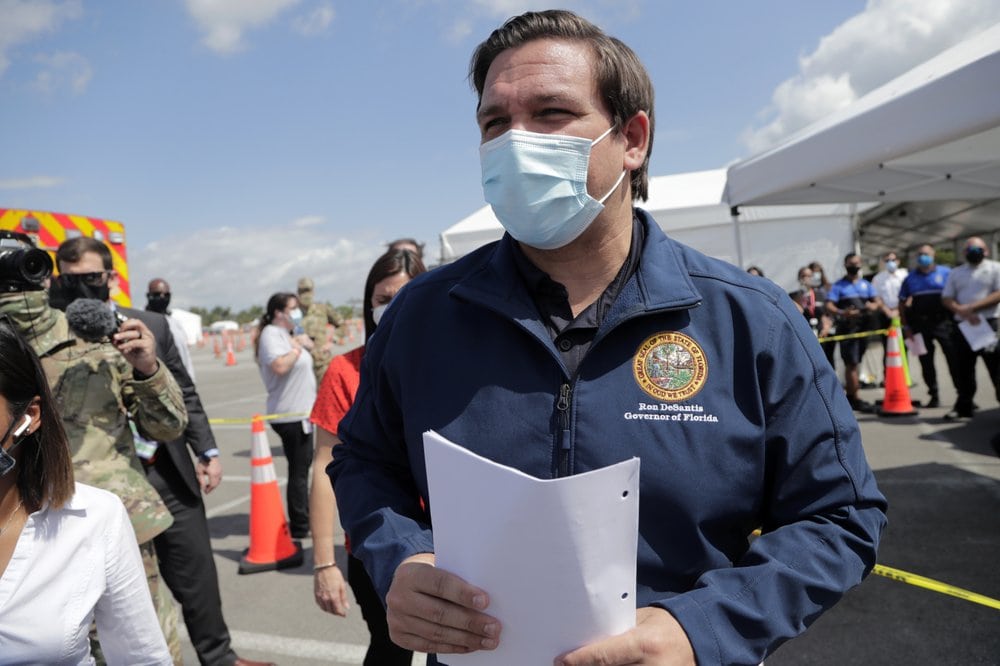 'We were told that these vaccines prevented infection.'
Florida's Governor is offering a new take on his inoculation against COVID-19 early in the pandemic. He says he got it so he could keep doing his job.
During a press conference with reporters in New England, Gov. Ron DeSantis explained that he got the "one and done" Johnson & Johnson shot so he wouldn't run the risk of being "out of pocket" during a critical time for the state.
"We did do one shot of the Johnson & Johnson. And that was it for me. And basically the reason why I did it, even though I'm low risk for COVID, is because we were told that these vaccines prevented infection. And so I was Governor and I didn't want to be out of pocket for two weeks because I got infected," DeSantis said.
"Well, it turns out that these vaccines really didn't prevent infection. And so, and then the booster data was very, very poor. So we never did any of the booster shots," he added.
These comments accord with DeSantis' previous statements.
"I've done whatever I did, the normal shot, and that at the end of the day is people's individual decisions about what they want to do," DeSantis said when he was asked if he had received a booster shot by host Maria Bartiromo on Sunday Morning Futures in December 2021.
DeSantis had once been enthusiastic about the one-shot "great vaccine" as key to the state's strategy, saying earlier 2021 that senior citizens were enthusiastic about getting "one shot and then go about your business."
The Associated Press reported in April of that year that DeSantis had received the single-dose vaccine. The information was confirmed belatedly by the Governor's Office. DeSantis did not do a public press event where he got vaccinated, a contrast to many other politicians of both parties. But he did lend his political capital to the vaccine.
In that same month, he said President Joe Biden and Vice President Kamala Harris had personally contributed to vaccine hesitancy by "saying this was a bad vaccine."
Later that month, the Centers for Disease Control and Prevention and the U.S. Food and Drug Administration issued a temporary pause on the J&J vaccine over limited reports of blood clots in six women in the days after vaccination.
At the time, DeSantis acknowledged the need to issue appropriate warnings with vaccines, but criticized the move to "hastily" pause shots despite negative health outcomes.
"That was a very high-demand vaccine prior to that happening," added the Governor.