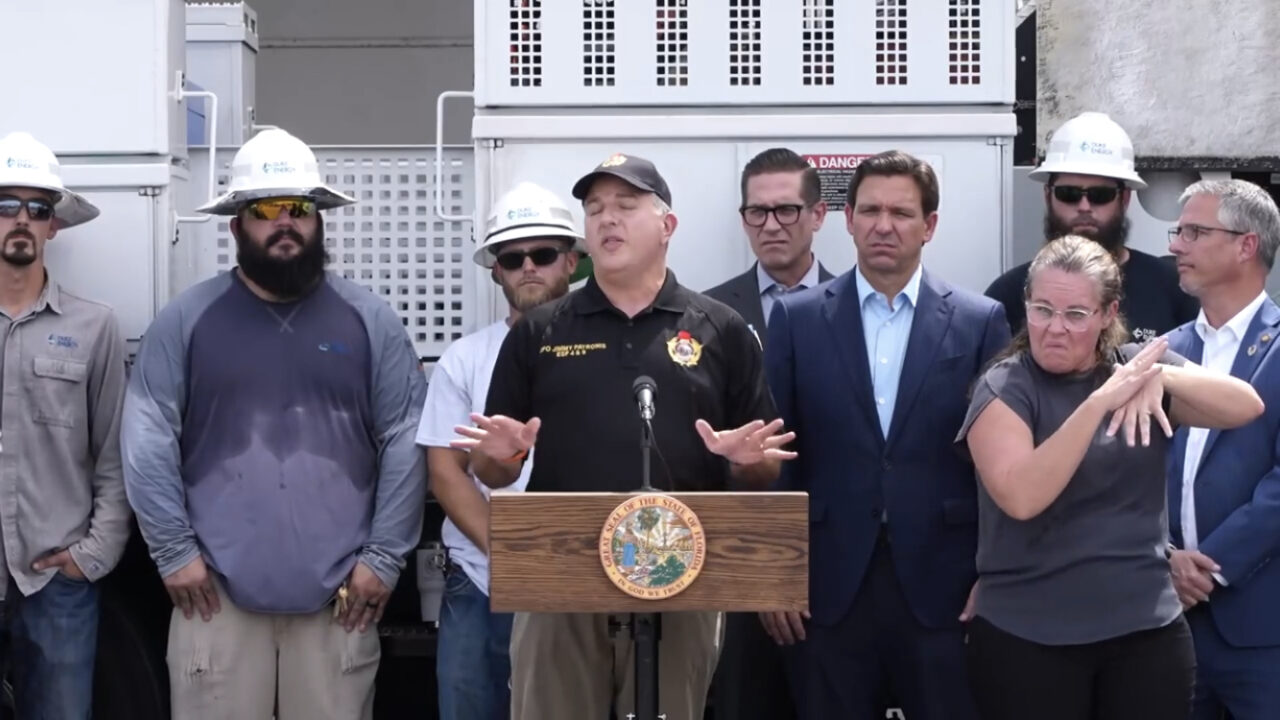 The Governor was out of state when the rain fell, and also when he asked for federal help.
State leaders are warning of the iapproaching Hurricane Idalia, but some of their comments require short memories to take at face value.
During a press conference in Wildwood, CFO Jimmy Patronis invoked what he called "catastrophic" flooding in South Florida this Spring as a reminder of what storms can do.
"Just a few months ago in Southwest Florida, we had over 24 inches of rain in a 48-hour period. So that type of catastrophic flash flood event is going to create challenges for our first responders," Patronis said.
Patronis misidentified the location of the rain event; it was actually in Fort Lauderdale, in Southeast Florida, back in April. Patronis added, regarding Ron DeSantis and his response to Idalia, that "that's what this Governor does. He protects you. That's what he does every day when he gets up every single morning."
As critics at the time noted, the Governor was out of state when the Fort Lauderdale flooding happened and left it to others to respond.
In Ohio, addressing the Butler County Republican Party's Lincoln Day Dinner, DeSantis said he represented so-called "Ohio values."
"I can stand here representing Ohio values because the two most important women in my life (are from Ohio)," DeSantis said. "My mother is from Youngstown, and my wife is from Troy, and so my family reflects your family."
Critics had their say as to the seeming disconnect between the Governor and his official duties at the time.
"My heart is with Fort Lauderdale and all of South Florida as the region confronts historic, widespread flooding," said Miami-area Democratic Sen. Shevrin Jones in a prepared statement at the time. "It is disgraceful and telling about his priorities that Gov. DeSantis chose to campaign and continue his book tour in Ohio instead of govern in Florida. He has failed as a leader."
"Fort Lauderdale is under water and DeSantis is campaigning in Ohio right now instead of taking care of the people suffering in his state," carped Donald Trump, Jr.
Coincidentally, DeSantis was on another campaign trip, this time to Utah, when he requested a major disaster declaration from the White House later in April.
DeSantis said then that he "was recently visiting with some folks in Iowa and people said, you know, Iowa, they're really the Florida of the Midwest with all the conservative stuff they're doing. Well, let me just tell you maybe it's a little secret, but it might just be that Florida is the Utah of the Southeast."
___
Anne Geggis of Florida Politics contributed to this report.