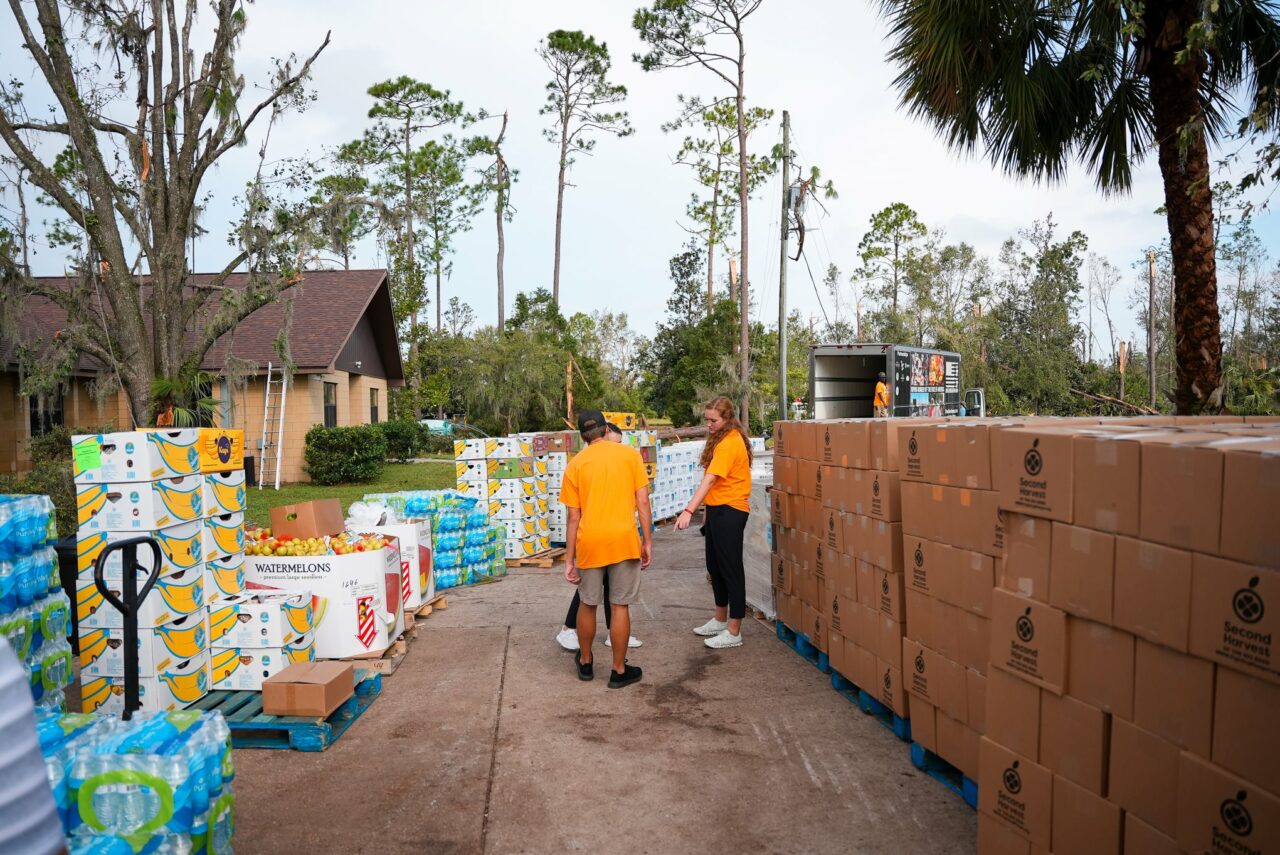 By Friday, the group had set up 2 mega-distributions in the cities of Perry and Cross City where more than 2,000 households were able to obtain critical resources as they recover from the storm.
The Feeding Florida network of food banks has been hard at work since even before Hurricane Idalia made landfall in the Big Bend area, preparing to mobilize food and other resources to affected communities.
Following last week's landfall, the nonprofit network immediately began damage assessments and mass distributions of critical resources.
Feeding Florida, through partnerships with the Division of Emergency Management, the Department of Children and Families (DCF), the Governor's Office and others, have been providing MREs and water to the hardest hit counties, in addition to other resources such as ice, meal boxes and supplies.
The Federal Emergency Management Agency (FEMA) and Gov. Ron DeSantis have declared seven Florida counties disaster areas. Three of Feeding Florida's food banks provide direct service in those areas, including the hardest-hit areas served by Second Harvest of the Big Bend in Dixie, Hamilton, Lafayette, Suwannee and Taylor counties.
There, the agency deployed staff as early as Thursday to assess damage, access and safety, and connect local food pantries to agency partners. By Friday, the group had set up two mega-distributions in the cities of Perry and Cross City where more than 2,000 households were able to obtain critical resources as they recover from the storm.
Through partnerships with DCF's HOPE Florida project, Feeding Florida delivered MREs and water to Family Resource Centers in Taylor, Suwannee and Madison counties, as well as other DCF-run Family Resource Support Centers.
Outside of the hardest hit areas, Feeding Florida, its food banks and partners have also served areas affected by flooding and other storm-related damage, including in Northeast Florida and the Tampa Bay region.
Feeding Northeast Florida, which serves Levy, Gilchrist and Alachua counties, is working to establish a food pantry in Cedar Key that was lost to the storm; its branch warehouse, Bread of the Mighty, managed the distribution. Feeding Northeast Florida was able to hold a mega-distribution event in Chiefland on Friday.
Feeding Tampa Bay is assisting in flooded areas, primarily in Pinellas County. The Feeding Pinellas pantry was opened Wednesday and supplied hot meals, water and other resources while assessing damage. Distribution events have been held in Manatee, Pinellas, Hillsborough and Pasco counties.
The entire network is banding together to stage MREs and water for distribution in the Big Bend area. Feeding South Florida and All Faiths Food Bank delivered several trucks filled with MREs, water and other needed products were deployed for distribution and staffing at resource delivery events.
Additionally, Feeding the Gulf Coast, Treasure Coast Food Bank, Harry Chapin Food Bank and Second Harvest of Central Florida have all staged and sent resources, such as food boxes, MREs, water and products, in affected areas.
The nonprofit continues to deploy its food bank network to collectively and collaboratively ensure all of its service areas have the supplies they need to recover from the storm, in addition to its day-to-day operations providing support to those in need.