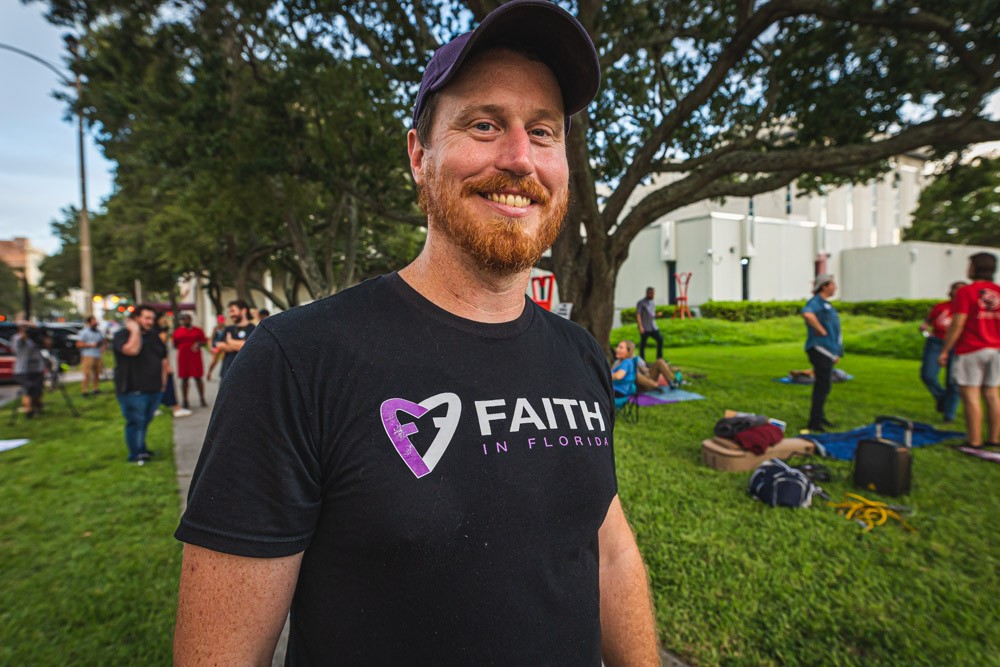 The chemist-turned-grassroots organizer announced a bid for the District 3 seat now held by Ed Montanari.
In February 2022, over a hundred people rallied on the steps of St. Petersburg City Hall, demanding rent control. The sound of people protesting outside could be heard inside City Council chambers during the council's weekly meeting. Faith in Florida organizer Nick Carey spoke to council members about their refusal to acknowledge the housing crisis, even if through only symbolic means.
"We are demonstrating because we've petitioned our government in every means we know how to and we need help now," Carey said at that meeting. "The people outside right now need to know that the plan is to stop them from being displaced."
Carey was outside City Hall weeks later when many camped out on the sidewalk in protest of the city's continued inaction on the housing crisis. He's pushed for local ownership of the historic Gas Plant district redevelopment, even as the contract was awarded to an out-of-town developer. Now Carey tells Creative Loafing Tampa Bay he's running for City Council.
Council member Ed Montanari, who voted against many housing justice initiatives Carey and others have brought forward, is being term-limited off of council. Carey is running for Montanari's District 3 seat.
Carey and his wife Aileen moved to St. Pete from North Carolina in 2017. Radicalized by the murder of George Floyd and Breona Taylor in 2020, Carey left his career as a chemist to organize for Faith in Florida.
Carey spoke with CL via phone about why he's running for office and why he believes in guaranteed housing for all now more than ever.
St. Petersburg's Primary Election is on Aug. 20, 2024.
Creative Loafing Tampa Bay: Tell me about your decision to run for District 3. What was the impetus for your decision to run?

The big moment for me was when we were pushing for rent control…There were about 60-plus people at council just begging to not be left out, just wanting to be part of the city. There were folks on Council more upset that we were trying to use a different process…than the fact that folks were in danger of being homeless.
For me, it's about making sure the people dealing with the issues facing our city are centered in the conversations about what the solutions look like.
 How did you get involved in St. Pete's housing justice movement?

One of my Faith in Florida statewide priorities is reducing gun violence…We tried to extend that in early 2021 and keep the conversation going, particularly in Black communities that can see the equivalent of a mass shooting every week…We canvassed people knocking on their doors and saying hey, St. Pete is getting $45 million (in American Rescue Plan Act or ARPA funds). How would you like to see it spent?
Violence was definitely up there but far and away everyone was talking about, "I can't afford my rent, I don't know where I'm gonna go." It was really the community that told us that housing was the thing that they were worried about.
You've mentioned that St. Pete is more inclusive in its policies than many other cities. That may be true but in terms of actual actionable items regarding housing, what have they done?
I think we should acknowledge that, basically, any local government and Florida is fighting with one arm tied behind their back because of preemption. That being said, the threat of preemption is used as an excuse for why we shouldn't do certain things far too often.
I think rent control is the prime example. Even now, it's like see, we told you that rent control was gonna get preempted. I think that's a way to shift the narrative away from the fact they didn't really put any pressure on [the state] not to preempt it.
What are your goals if elected to City Council? What are you worried might stand in your way?

One of the most important things to me is evaluating some of the processes and being more inclusive of having working people be able to participate and the types of decisions that are made about them.
A big thing in District 3 is going to be around flooding infrastructure. Both from an environmental angle and an infrastructure angle. We need to look at what other cities around the world are doing, who are in a similar situation to St. Pete. We live on a shrinking peninsula.
If you're elected, you'll join several other housing justice-forward council members; Richie Floyd, Brother John Muhammad, and Deborah Figgs-Sanders. What would that mean for the council to have another person focused on housing at the grassroots level?

Part of the reason I'm running is that St. Pete is starting to see a very interesting conglomeration of grassroots people in office. I want to add to those numbers.
District 3 currently has a city council member who's on the opposite side of council members Deborah Figgs-Sanders, Richie Floyd, and Brother John Muhammad. I think this is a real opportunity to take that seat in a much more progressive direction.
How did you end up in St. Pete? And what brought you to work with Faith in Florida?
My wife Aileen and I moved here right after she finished graduate school. At the time, I was actually a chemist in pharmaceuticals. We were drawn to St. Pete by the people and the beautiful weather…We found Allendale Methodist Church and it has been central to connecting my faith and the idea of justice.In 2020, Aileen and I were both out of work and Allendale helped us with temporary jobs so we could pay our mortgage. It really informed where I wanted to go with my life. It was Pastor Andy Oliver who connected me to Faith in Florida.If elected, will you continue pushing for local ownership in the historic Gas Plant district redevelopment?
Absolutely, the Gas Plant is the biggest example of how we give far too much power to developers to decide basic things like what our city looks like. What can the city do to take back control of basic infrastructure?…One of the things that cities like Seattle are pushing for with public development is not just jobs and housing, but also childcare.
Is there anything else you're hoping to accomplish with this campaign?
Folks don't feel included, they feel isolated. So it's about approaching the conversation not just with compassion, but making sure people's voices are heard.
_____
This article originally appeared in Creative Loafing Tampa Bay. Republished with permission. Reporting by Arielle Stevenson.