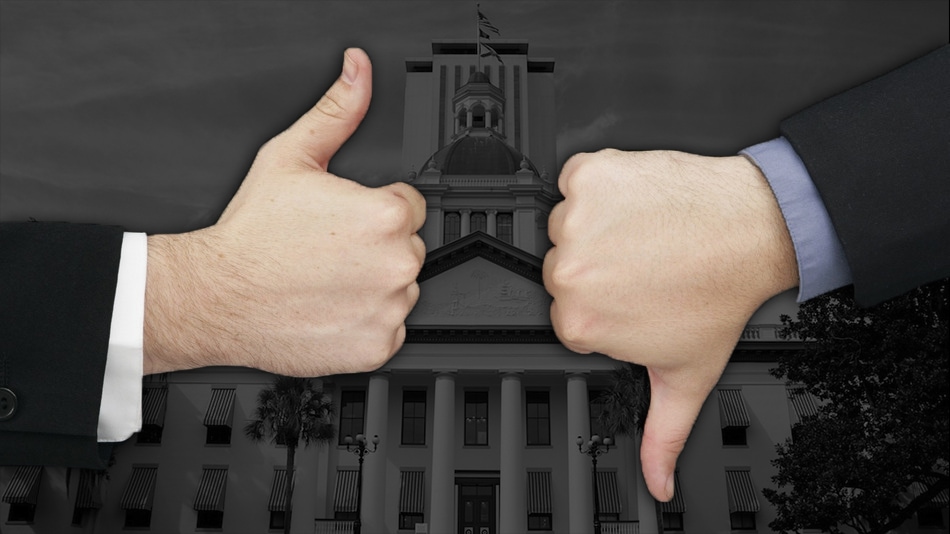 Schools are back open after Idalia, and UF and FIU got a major reputation boost. But Enrique Tarrio will have 22 years to sit and think about his actions on Jan. 6.
Another week, another batch of drama from the Ron DeSantis 2024 camp.
Reports emerged Friday that DeSantis and Jeff Roe, the adviser for the pro-DeSantis super PAC Never Back Down, are feuding. DeSantis was reportedly particularly incensed at Never Back Down's decision to publicly release a debate strategy memo ahead of the GOP Primary debate last month. That memo called on DeSantis to, among other things, defend Donald Trump, and was widely mocked.
DeSantis' camp has unsurprisingly denied the report, calling it "totally false" and backing Never Back Down's efforts so far, even though the Governor has been steadily falling in the polls for months.
But Hannah Knowles of The Washington Post tells a different story, citing multiple people familiar with the campaign, including a donor who said complaints about Roe came from DeSantis himself.
There has been tension for a while between the Governor's campaign team and staff of Never Back Down, with each side jousting for influence over the 2024 bid. Now it seems like more of that tension is spilling out publicly.
This news came on top of a report on private comments Roe made confirming that he is spreading dirt on Vivek Ramaswamy, who has risen in the polls and is seen as a threat to DeSantis' second-place standing in the field.
"Everything you read about him is from us," Roe told donors in private, per Alex Isenstadt of POLITICO. "Every misstatement, every 360 he's conducting or 180 that he is going through in life, is from our scrutiny and pressure. And so, he's not going to go through that very well, and that will get worse for him."
And the week prior, leaked audio showed Never Back Down pressing donors for $50 million in funding, despite the super PAC's already deep coffers.
Yes, these disclosures show a bit of friction and desperation within the campaign machinery. But more so, that these stories keep leaking is more evidence that DeSantis' typically tight operation is beginning to fray, whether because of infighting or stress about the campaign's standing in the polls.
DeSantis certainly can't be pleased with these developments. It's unclear whether any changes will come of it, but the more we talk about the stack of problems piling up for the Governor's 2024 bid, the harder it is going to be to break that pattern and regain the standing among GOP voters that has slowly evaporated over the monthslong 2024 campaign.
Now, it's on to our weekly game of winners and losers.
Winners
Honorable mention: Rick Scott. As our publisher, Peter Schorsch, mentioned on X, these columns are typically wrapped late Friday. So we didn't have an opportunity last week to shout out U.S. Sen. Scott for magnanimously meeting with President Joe Biden last Saturday while praising the federal government's response to Hurricane Idalia.
Yes, the National Oceanic and Atmospheric Administration dropped the ball by having all of its Hurricane Hunter planes being downed. But that hiccup aside, Scott said the federal government reacted quickly to make resources available for those preparing both for the storm and for recovery in its aftermath.
"First off, the President did a great job with the early declaration before the storm hit the coast," Scott said. "That was a big deal. It helped all these first responders. And then how fast you approved through (the Federal Emergency Management Agency) the individual assistance, the public assistance … it's a big deal to every one of these communities."
Scott's meeting with the President came as Gov. DeSantis visited other parts of the state, declining to meet with the President. Nevertheless, Biden also praised the Governor's work and said the two were coordinating.
But for Scott to meet in person with the President and offer such kind remarks stands out in a political climate that seems to see both sides relentlessly tearing each other apart at every opportunity.
Seeing these leaders come together in a time of crisis should be expected. But it deserves acknowledgement in this political era. Props to Scott for acting like an adult in the room and putting people above politics. We could use more of that from our leaders, and not just in emergencies.
Almost (but not quite) the biggest winner: Florida K-12 students. Speaking of Idalia, just over a week after the storm hit, state officials announced all school districts would be open as of this past Friday.
That's welcome relief for a storm that hit the Big Bend and other regions hard.
"As Hurricane Idalia approached Florida, we worked to ensure schools had what they needed to weather the storm and get back on their feet once it passed," DeSantis said. "Florida's preparation and immediate recovery efforts have enabled all school districts to be back open just one week after a major hurricane. Thank you to the Superintendents, principals, and teachers who put students first by reopening quickly and safely."
Workers from nearby counties stepped in to help clear debris from affected school sites, allowing students to get back in the classroom more quickly.
For an administration that has emphasized the negative impacts of COVID-19 keeping kids at home, it's not surprising that officials in the DeSantis administration would work to get students back in school. That they succeeded in such a short period of time deserves credit.
"We are grateful for all of the hard work it has taken to get these school districts open," Education Commissioner Manny Diaz Jr. said. "This will have a huge impact on our students and communities as they are working to return to normalcy. We will continue to do all we can to aid our school districts as they continue in the recovery process."
The biggest winner: UF and FIU. The University of Florida and Florida International University got some major recognition this week in The Wall Street Journal's rankings of universities nationwide.
UF was ranked No. 15 in the country, with FIU sitting at No. 29. But among public universities, UF was No. 1 in the nation, with FIU taking the No. 4 spot.
Last year's rankings saw UF at No. 54 overall, while FIU was No. 337. So why the sharp rise one year later?
Well, that's due to The Wall Street Journal working with a data firm called Statista to update their methodology.
"In effect, colleges aren't just rewarded for their raw performance in traditional metrics; rather, they're also evaluated against a benchmark that shows how the schools improve the trajectories of their students' careers," The Journal wrote in its explanation.
More specifically, many of the students who go to some of the nation's top schools are already on a trajectory of success, whether it be due to their background, their family situation, etc. Of course those elite schools are effective, but do they deserve all the credit for those students' success? Or would many of those students have been fine if they had chosen one of a dozen or more different institutions?
FIU, meanwhile, has a proven track record of sending students from more humble backgrounds into success, per The Journal's new evaluation system.
"Nearly half of the students at FIU receive Pell Grants, and the relatively high salaries earned by graduates illustrate how the school excels at setting students on a path toward well-paid jobs after commencement."
By using a fuller analysis, The Journal showed Florida has two of the most effective universities in the nation at generating prosperity for its students, regardless of their background. You can bet both UF and FIU will be using this as pitches to potential freshmen in the years ahead.
Losers
Dishonorable mention: Tom Wright. Reporting emerged this week that police issued a trespass warning for Sen. Wright after an apparent confrontation between Wright and an employee at a domestic violence shelter.
According to Mark Harper of The Daytona Beach News-Journal, it's not fully clear why Wright was at the Beacon Center, a shelter for domestic violence victims.
Wright apparently told police he had planned to walk through the shelter. The shelter's former CEO, Angie Pye, said Wright had previously accused the shelter of enabling human trafficking and drug use.
When Wright stepped onto a bus outside the shelter housing victims, a worker confronted him, saying the victims' identities are protected and that Wright could not be on the bus, per the News-Journal. Wright said he was simply trying to speak with a driver.
Nevertheless, video reportedly shows Wright confronting that worker and putting his hand on her before backing off.
It's clear there is quite a bit of background that led up to such a dramatic scene. But no one, especially a Senator, should put his hands on anyone else absent a physical provocation. And you have to wonder what could be going through a Senator's head to make him act in a way that nets him a trespass warning at a domestic violence shelter, of all places.
We expect that more on this will likely emerge in the weeks and months ahead.
Almost (but not quite) the biggest loser: Mike DiNapoli. Details came out this week about the allegations which led the Florida Housing Finance Corp. to place DiNapoli, its leader, on leave in July.
As Lawrence Mower of the Tampa Bay Times laid out, those allegations included sexist comments and various other forms of verbal abuse. Since DiNapoli was hired in February, with support from Gov. DeSantis, about 10% of the workforce quit or was fired.
But after this Inspector General report led to DiNapoli being placed on leave, the DeSantis administration overrode the finding and reinstalled DiNapoli. But after the newly released details, the board again placed DiNapoli on leave.
In addition to reports of abusive behavior, the Inspector General report also uncovered questionable leadership tactics by DiNapoli. For instance, he reportedly ordered the Florida Housing Finance Corp. to sell its Disney bonds amid the Governor's ongoing war with the entertainment giant.
We recommend reading the Times' report for all of the details. But despite those allegations, the DeSantis administration is somehow twisting this into a conspiracy to attack his hand-picked choice.
"If anyone wonders what the deep state looks like, this is it," DeSantis Press Secretary Jeremy Redfern said. "It's clear to us that at least some members of this Board believe they can wield unchecked power to recklessly disparage a public official and tarnish his reputation without basic fairness and due process."
That sounds like an administration ready to battle over this issue despite the Inspector General's findings.
The biggest loser: Enrique Tarrio. Tarrio — the riot organizing, campaign event disrupting, failed congressional candidate who also doubled as an FBI informant and former leader of the extremist group of the Proud Boys — is set to spend 22 years in jail following sentencing for his role in the Jan. 6 riot.
That's the longest sentence for anyone involved in the events of Jan. 6. Tarrio, notably, was not even present at the riot. He was arrested just prior to the events that day.
Tarrio was raised in Little Havana, and has been a nuisance in the South Florida political scene for years.
He featured a prominent role in a rowdy 2018 protest as then-House Speaker Nancy Pelosi visited with then-Democratic congressional candidate Donna Shalala. That event featured Tarrio calling Pelosi a "fucking communist" and saw protesters angrily bang on the door of the building where Pelosi and Shalala were meeting.
The next cycle, Tarrio tried running in the GOP Primary to compete against Shalala. But after struggling to raise money, he didn't even appear on the ballot.
Tarrio also consistently defended the actions of the Proud Boys, which has been involved in multiple violent altercations over the years.
None are as infamous as what happened on Jan. 6. Tarrio is one of several Proud Boys members and members of other militia groups who netted major sentences following the attack.
We've written previously about the distinction between dubbing the Jan. 6 events as a "riot" or an "insurrection." An insurrection implies some organized plan to overthrow the government. It's clear, however, that the vast majority of ne'er-do-wells that day were idiots who broke into and wandered through the Capitol with zero coherent idea of what to do next.
Maybe they got carried away. Maybe they just had the IQ of a granite stone. But they went in, accomplished nothing to help their God Emperor to steal another term, and ended up in prison because of it.
The Proud Boys, however, very much organized to create terror that day. Tarrio had even claimed credit for the chaos. "Make no mistake," he wrote in a message about the attack. "We did this."
They also accomplished nothing aside from inflicting terror and pain among law enforcement, elected officials and others nearby that day. But the group had a history of violence at its protests and deserved to be treated differently.
Tarrio tried to rationalize his actions and deflect blame in pre-sentencing comments. "On Nov. 3, 2020, something that I never expected happened — my candidate lost," Tarrio said. "I felt like something was personally stolen from me. Every media channel that I turned to told me I was justified."
If the standard going forward is that every time someone's candidate of choice loses, they can tune into unsupported propaganda from one side or the other and rile themselves up so much that they break into the Capitol and assault law enforcement along the way without getting the book thrown at them, it's hard to fathom how we have a country going forward.
Thankfully, that didn't happen here and Tarrio got the lengthy prison sentence he deserved.
This should be a message to potential agitators in the future not to pull this crap. Unfortunately, that message only gets received if it gets broadcasted first. And some conservatives — including our Governor during his run for President — are trying to argue these sentences are too harsh, essentially turning these guys from cautionary tales into martyrs.
That's an incredibly dangerous message to be preaching. But all we can say is, if anyone gets it in their head to try something similar next election or any one thereafter, don't say you weren't warned of the consequences.