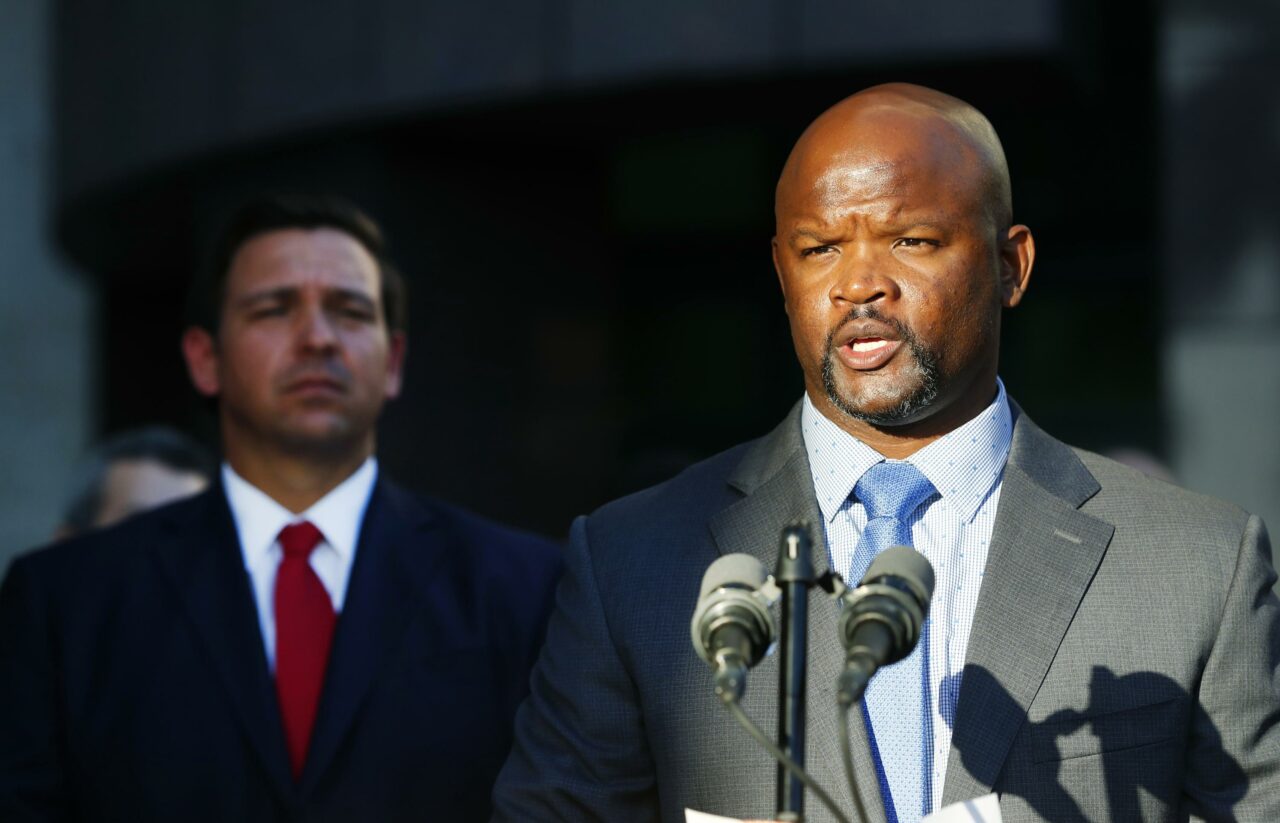 The state Commission on Ethics found Gregory Tony misused his office when he did not reveal on a police job application he had killed someone when he was a juvenile.
Embattled Broward County Sheriff Gregory Tony has announced a bid for his re-election to a second complete term leading the largest fully accredited Sheriff's Office in the nation.
Gov. Ron DeSantis appointed Tony to oversee the 5,800-employee office in 2019. But Tony has been under fire, and the focus of a state ethics case, since it came out that he did not disclose a juvenile arrest and other omissions at the time he was being selected for the Sheriff's position, as well as when he applied for a job at the Coral Springs Police Department.
The case has been put on hold and was declared at an impasse in May, according to the Sun Sentinel. But Tony is ready to submit to voters' judgment in 2024, according to a Wednesday news release.
"Today, I proudly announce my bid for re-election, reaffirming my commitment to serving the great people of Broward County," Tony's prepared statement reads. "We must maintain a Sheriff's office where public safety is the priority — not politics."
Tony became the county's first Black Sheriff, overseeing a budget of nearly $1 billion in the state's second-most populous county of 1.8 million people after Gov. DeSantis appointed him to succeed Sheriff Scott Israel. Three days into his first term as Governor, DeSantis removed Israel from office in response to what many felt was a botched response to the state's worst school shooting in Parkland.
Tony won re-election in his own right in 2020 despite revelations that he had failed to disclose that he killed another man in 1993, when he was a juvenile living in Philadelphia's projects. It has also been revealed that he wrote a bad check and used LSD.
Since then, however, the state Commission on Ethics has found that Tony misused his office and lied because he did not disclose these past incidents.
Tony opted for a hearing before the Division of Administrative Hearings instead of trying to negotiate a settlement of the ethics finding that he misused his office. But that hearing ended in an impasse last May and may mean a full-fledged trial on the case, according to the Florida Bulldog. The DOAH website shows Tony's motion to dismiss the case against him was denied Aug. 24.
Tony switched his political affiliation from Republican to Democrat soon after his appointment to lead the county that leans heavily Democratic and handily won re-election after a tight Primary contest with Israel.
Tony highlighted his accomplishments as Sheriff in his news release as promises made, promises kept over the last five years.
"My administration has made unprecedented enhancements in the area of public safety," his prepared statement reads.
"I've successfully developed a state-of-the-art Real Time Crime Center and Threat Management Division allowing for enhanced school safety, the building of a new Research, Development, and Training Center, created strict policies and practices to ensure transparency and accountability, established varying degrees of community policing models throughout our county, and we've invested in the future of our youth."
Another Democrat, David Howard, Pembroke Park's Chief of Police, has also filed to run for the office, the Broward Supervisor of Elections website shows.